Healthcare Video Production
Looking for a healthcare video production company to help you create some custom video content? You're in the right place! Video Igniter Animation has been helping hospitals, healthcare providers, healthcare startups, and medical device companies produce custom 2D and 3D animated videos for nearly a decade.
In this article, we'll explain:
1). The healthcare video production process
2). The different types of healthcare videos
3). Examples of healthcare videos
4). The benefits of using animation to create healthcare videos
5). What does it cost to produce healthcare videos
6). How long does healthcare video production take?
…and more!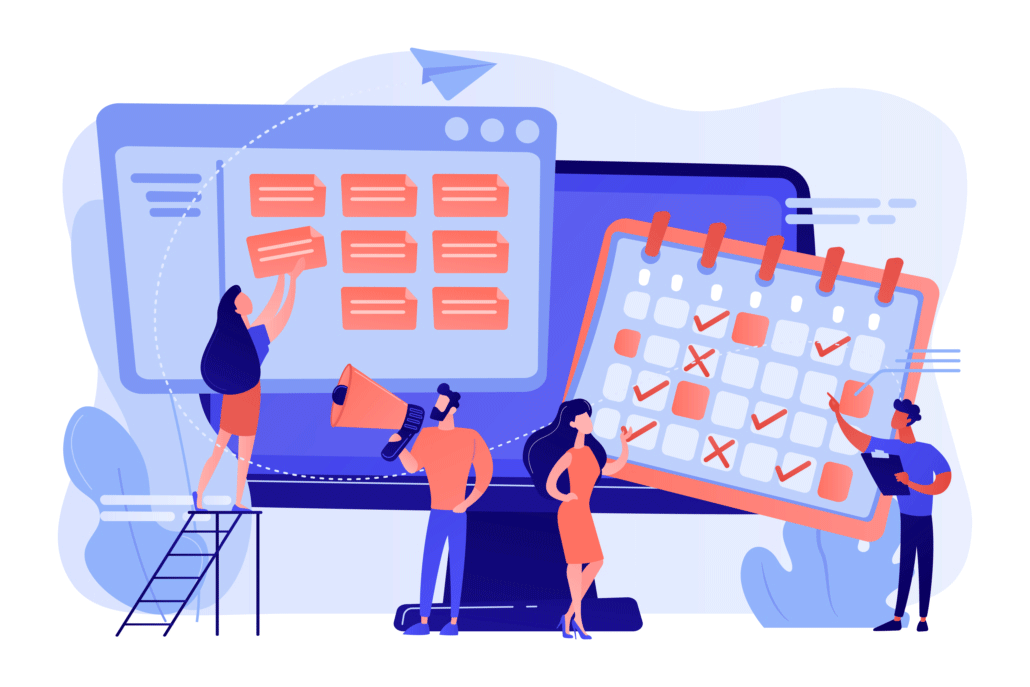 What is the healthcare video production process like?
Kick Off Call + Questionnaire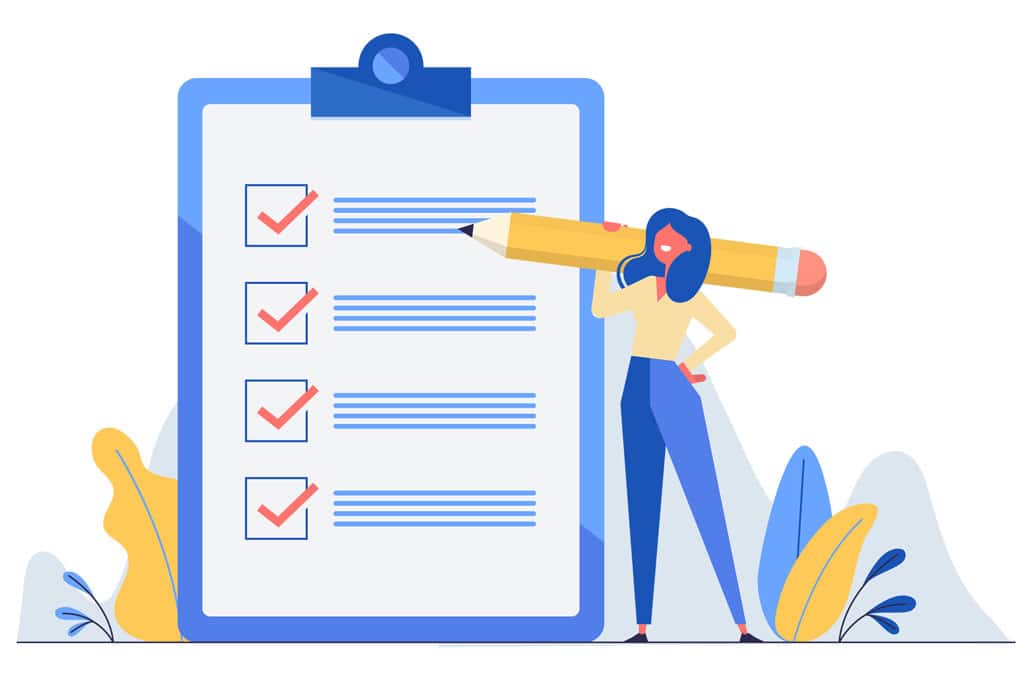 Production starts with a kickoff call and or a questionnaire (usually both) to understand what you want to communicate in your video. Healthcare videos tend to have a lot of specific scientific information that our team needs to gain a basic understanding of in order to help you create custom animated visuals that accurately show what needs to be shown.
The kickoff call and questionnaire are a starting place to help us get there. Often times we will use this information to create a draft of the script and come back to your team to help us fill in any gaps in our understanding.
Script
Now that we know what we're supposed to show and convey in your animation, our team will develop a script that covers all your key talking points. If there are any gaps in our scientific understanding of the content or visuals that need to be shown, we will set up time to meet with your team to iron out those details.
When the first draft of your script is ready, we recommend sharing it with members of your target audience to ensure they understand the content you're presenting. Collect everyone's feedback and share it with us so we can incorporate your revisions. You get another opportunity to review the script before approving it for production.
Storyboard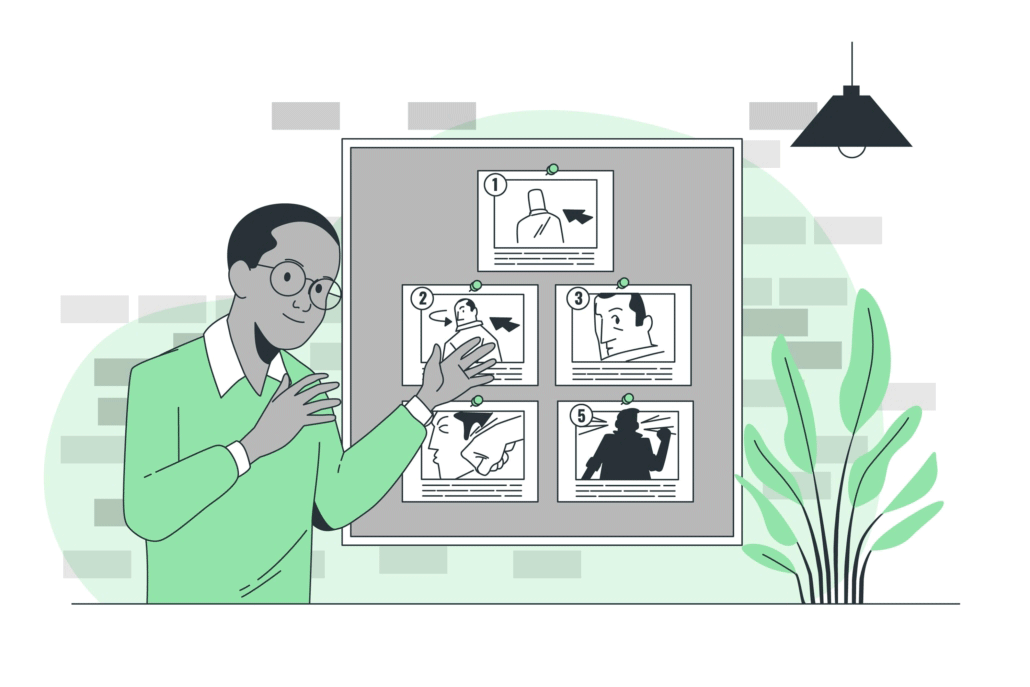 After your script is approved, we'll develop the storyboard for your healthcare video. A storyboard is like a blueprint for your animated video. It informs the illustrators and animators about what they're supposed to create. Here's a diagram that shows what each page looks like:
At this stage in production, your goal is to review the visual concepts. The script is pretty much set in place and now we're focusing on creating clear instructions for the production team so that they understand what level of detail they need to include in the visual and motion design. You will get an opportunity to review the storyboard and suggest revisions before approving the storyboard for production.
Illustrations

At this stage in the healthcare video production process, our art director will work with you to develop the custom visual style for your animated video. They will start by reviewing your storyboard, brand guidelines and any style references you provided. Then, they'll develop some custom visual concepts for one of the key scenes in your healthcare video.

Share your honest feedback with our art director. They'll work with you to refine your preferred visual concept until you love it.
Then, they will oversee the creation of all of the illustrations for your animated video. You get an opportunity to review all of them and request revisions before approving the art for production.
VoiceOver
We will help you audition voiceover talent for your healthcare video. You will receive multiple auditions to review. Once you've selected your favorite, we will oversee the full recording to ensure the recording uses the proper pacing, tone and pronunciation.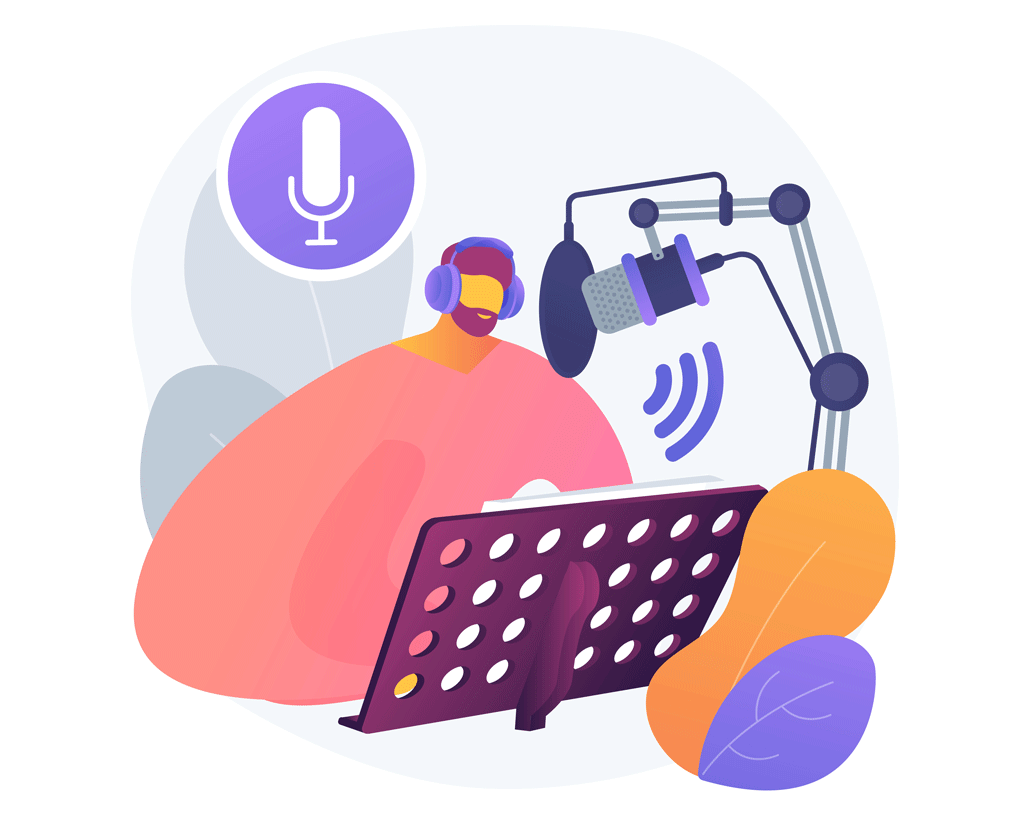 You will get an opportunity to review the full voiceover recording and request revisions before approving the voiceover for production.
Sound
You will receive several soundtrack options from our team that we feel will enhance the presentation of your animated healthcare video. Some light background music helps to set a professional tone and helps keep viewers focused on the content of your video. After you've selected your preferred soundtrack, we will license it for use in your video.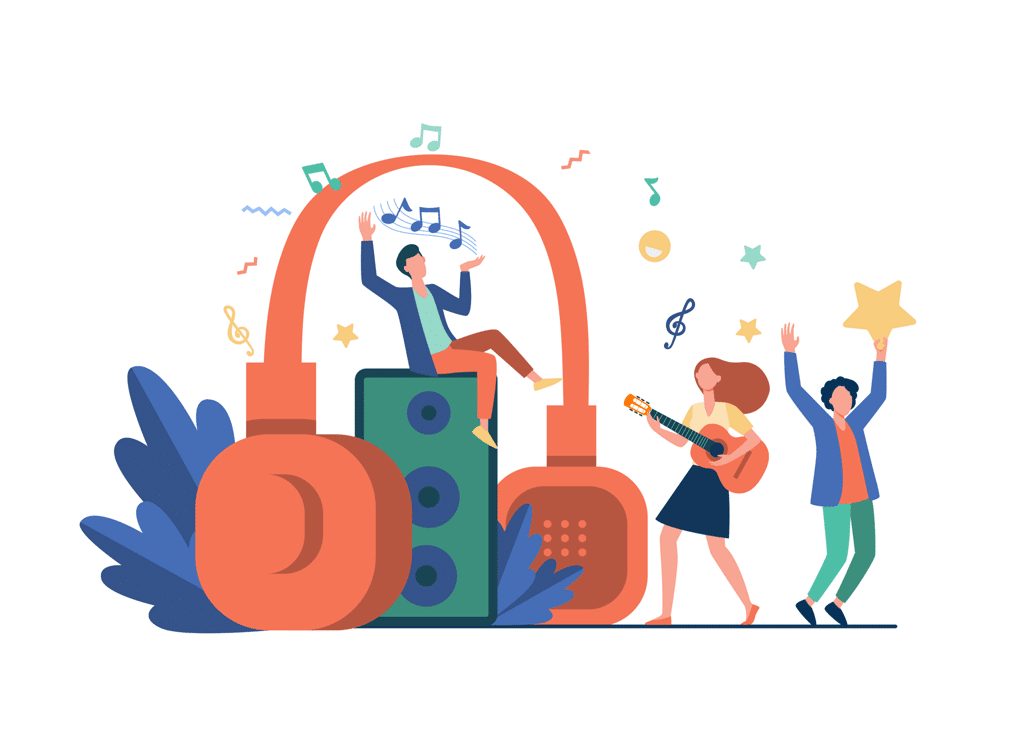 Animation
Now that everything is approved, we can animate! It takes about a week to animate a 60-second 2D healthcare video. When the first draft is ready, give it a detailed review with your team (and ideally, members of your target audience). Collect everyone's feedback and send it to us so that we can incorporate your revisions and render out the final draft.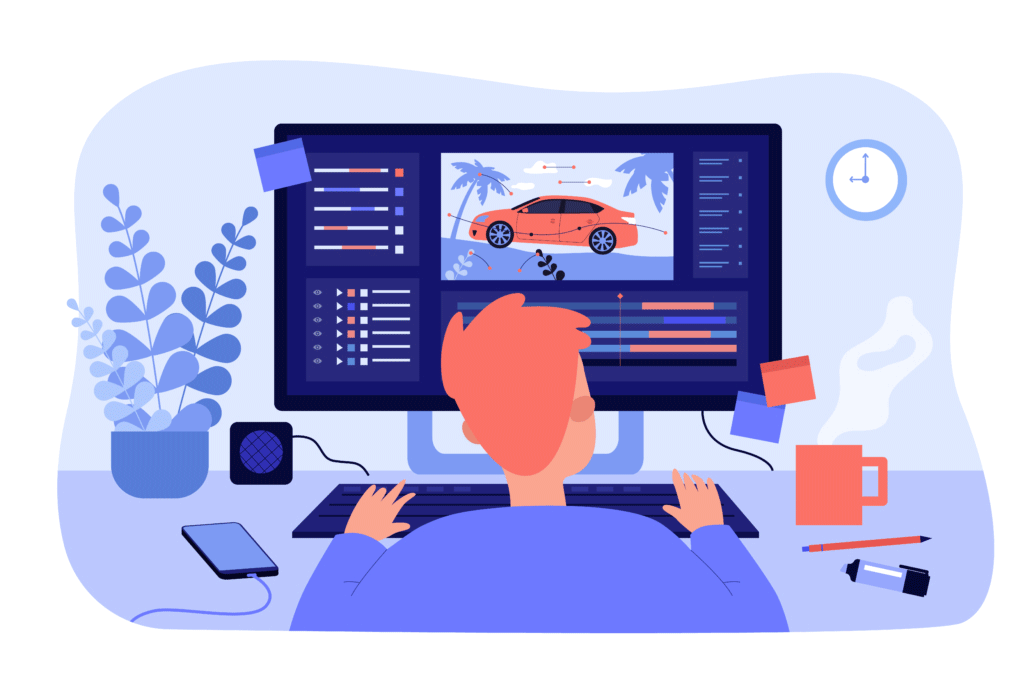 3D Healthcare Video Production
If your healthcare video production includes 3D animation, we recommend reviewing our article on 3D animation so that you can have an understanding of the extra steps involved with producing a 3D animated healthcare video.
Types Of Healthcare Videos
2D Animated Healthcare Videos
Many of the healthcare videos we produce are 2D animations that explain a process, procedure or piece of medical equipment. These types of videos are best for explaining the medical benefits of a process, prescription, procedure or medical device.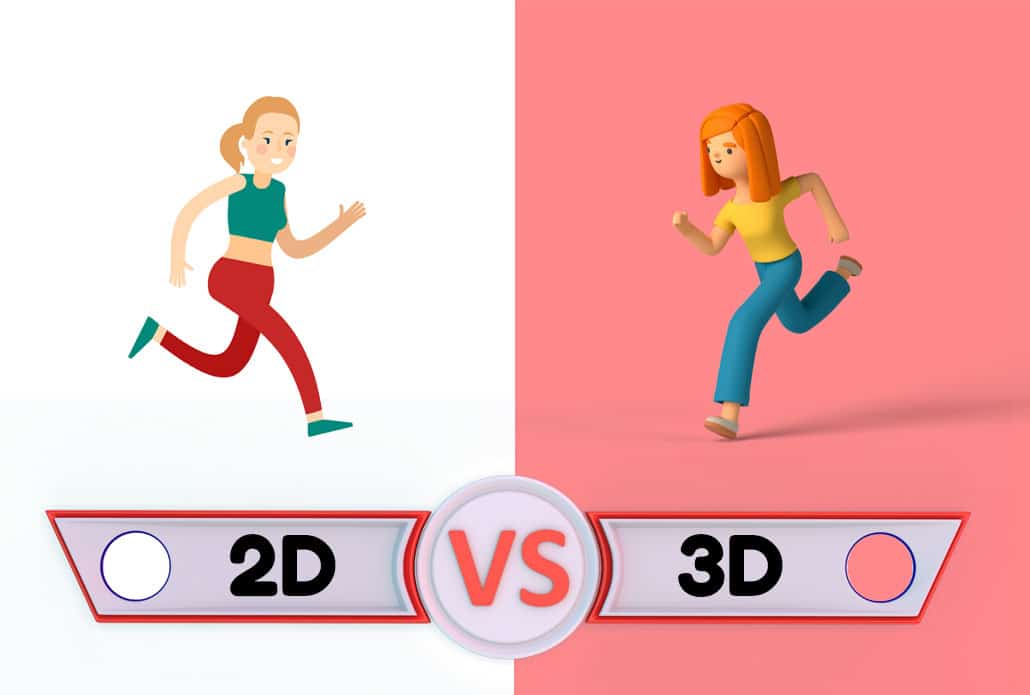 3D Animated Healthcare Videos
When you need to show a process in detail or visualize something smaller than the eye can see, 3D animation is a great way to help people see and understand these parts of the body. 3D animations are also great for demonstrating new medical devices
Live Action Healthcare Videos
Some healthcare videos are live action (filmed) videos. These are best for when you want to show the actual process on a live human. These videos tend to be geared more towards doctors. Patients are usually shown animated versions of procedures because videos of live medical procedures can make patients queasy.
Procedure Demonstrations
Most healthcare videos are produced to help people understand how a procedure is going to work. They can be created using 2D animation, 3D animation or live action film.
Self Care Videos
Healthcare facilities and practitioners create home-care videos so that their patients have a clear visual understanding of how they're supposed to take care of themselves at home. This can include videos that show how to perform certain stretches and how to treat and replace wound bandages at home.
Promotional Videos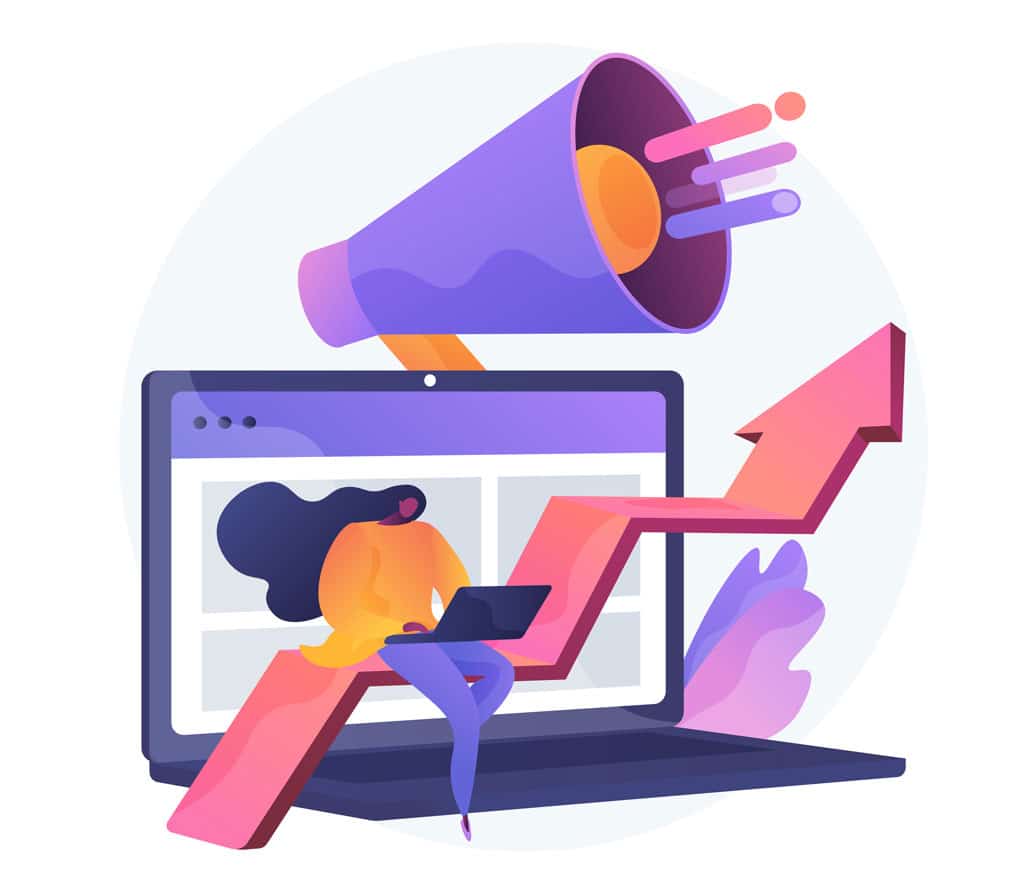 Healthcare providers, hospitals, medical tech startups and device manufacturers all create animated promotional videos to show what their offering is, how people will benefit from their care and how it works.
Testimonials
Healthcare testimonials are a great way to boost trust and confidence in your medical practice.
Examples of Healthcare Videos
What healthcare companies has Video Igniter worked with?
South Asian Heart Center
Columbia Children's Health
EnergyPoints
Herzan
Iris.co
EarlySense
MediBlock
Vydhy
Reset.me
Smart Stack
MWD
Bonobo Lab
Umbie Dental Care
What are the benefits of using animation to produce healthcare videos?
Watching a video of a procedure helps increase trust, understanding and puts patients at ease before going into the procedure. ✅
Patients can make better informed decisions about their healthcare treatment options when they understand what's involved. ✅
Animation makes it easy to understand things that are hard to see with your own eyes. ✅
Animated visuals hold people's attention longer than a video of a doctor talking on camera. ✅
People are able to retain information longer when they learn something from an animation with a voiceover. ✅
What does healthcare video production cost?
2D healthcare video production costs between $3,000-$10,000 for a 60 second animation. 3D animations cost north of $5,000 and require a custom quote. If you want to figure out the healthcare video production cost for your video, use this page to get a quote.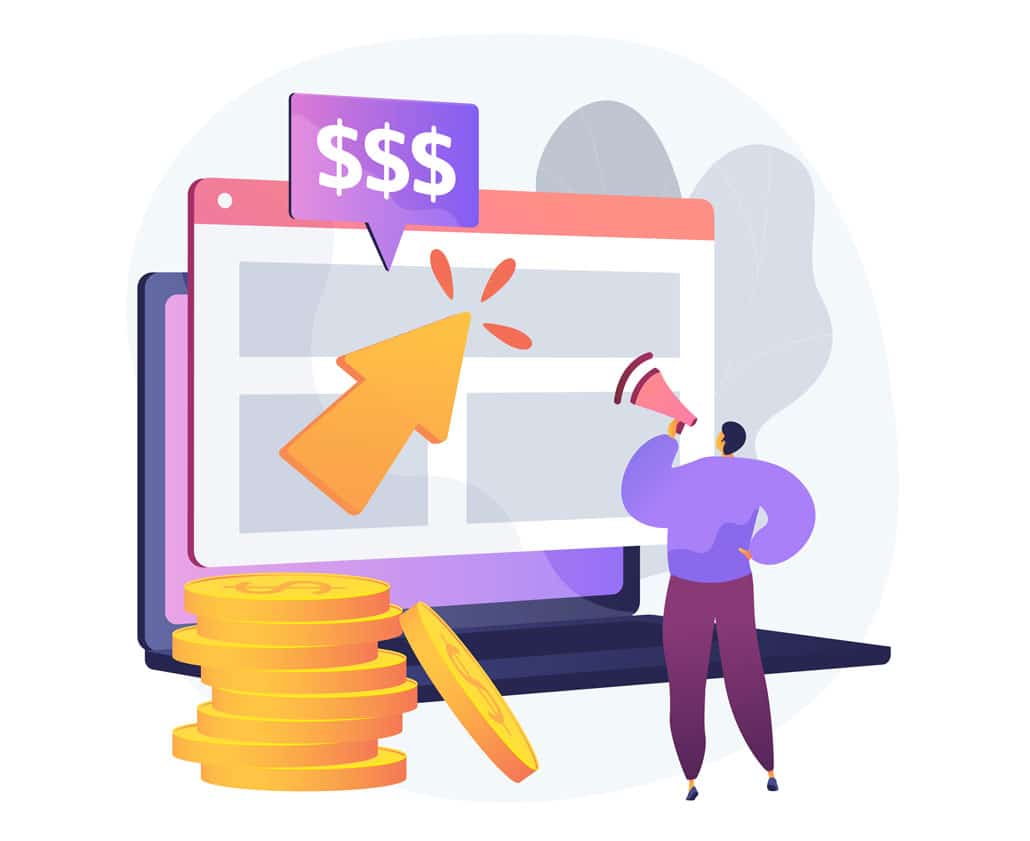 How long does healthcare video production take?
Production for a 2D healthcare video takes about 4-6 weeks for a 1 minute video. 3D animations take 2-3x as much time to create. Want to figure out how long it will take to get your healthcare video produced? Use this page to send us a message.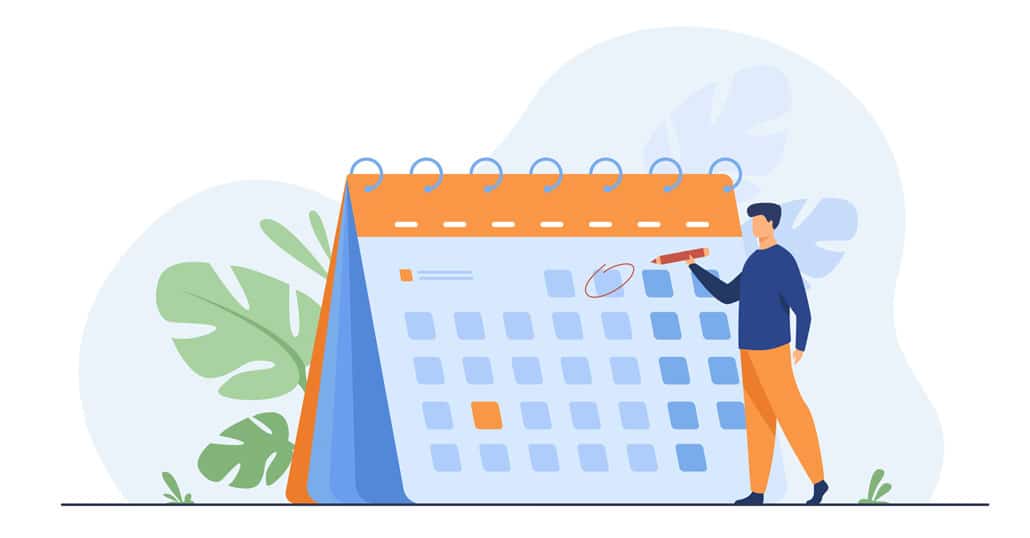 Still have questions about healthcare video production?
Do you have a question about healthcare video production that wasn't addressed in this FAQ? Use this form to send us your question and we'll follow up with an answer. We'll also post the question and answer to this page so other people can benefit from the knowledge.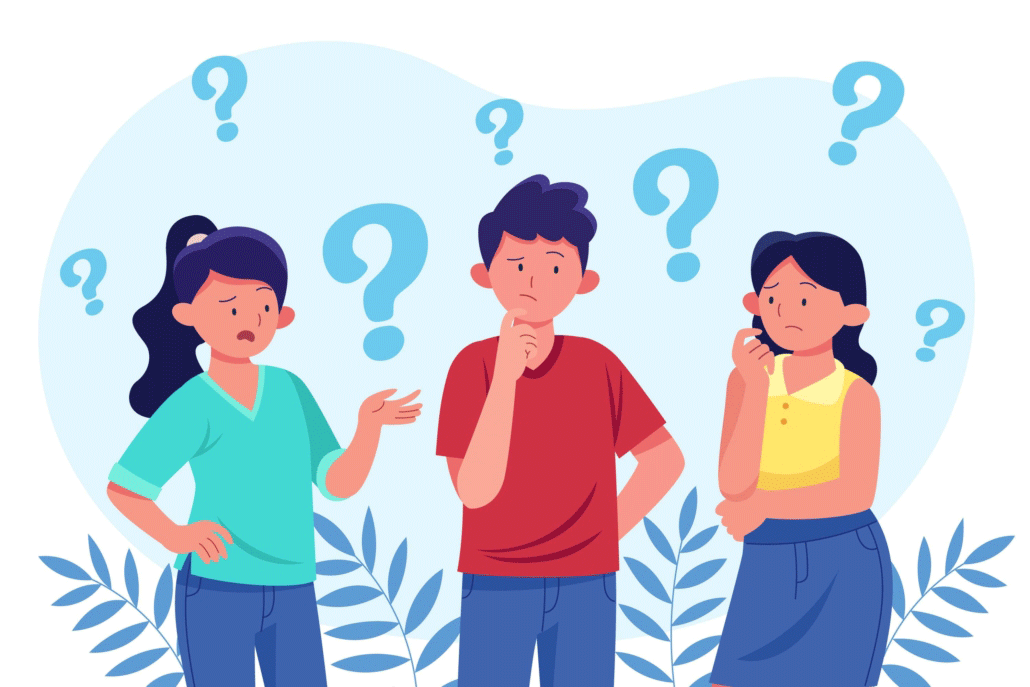 What is Video Igniter Animation?
Video Igniter Animation is an online animated video production service. By working with our team online, you can get your custom animated video produced faster and for less than hiring a brick and mortar animation studio.
We can help you create any kind of 2D animated video or 3D animation you can imagine. Check out our animated video portfolio!
Need help syndicating your animated video? Ask us about video promotion!
Watch the explainer video on our home page to learn more about how we can help you create an animated video. For examples of the kinds of animation our team can produce, check out the demo reel below:
Looking For An Animated Video Company In The U.S.?
Video Igniter is headquartered in Seattle, Washington.
Success Stories & Testimonials
"Video Igniter came to us with a number of creative and engaging ideas and were able to create an exciting, impactful video in a short period of time. And the best part was that it cost much less than other options of similar quality. The video they made is a great marketing tool for us."
Alex Raymond – Founder, Kapta Systems
"Video Igniter offered us the critical combination of creative value, clear communication, and patience with stakeholder feedback. We ended up with truly high-quality design assets for our video series largely due to the extra level of commitment — and the right balance of efficiencies with flexibility in the process when called for."
Larry Schlessinger – Sr. Creative Program Manager, Amazon Web Services
"I am beyond satisfied with my experience with Video Igniter. The first drafts of the work were almost exactly what I had in my head when developing the concept. After that each step along the way was seamless until arriving at a perfect finished product. And all this at a tremendous value. Anyone who has considered creating a marketing video should check out Video Igniter."
Anonymous Customer Feedback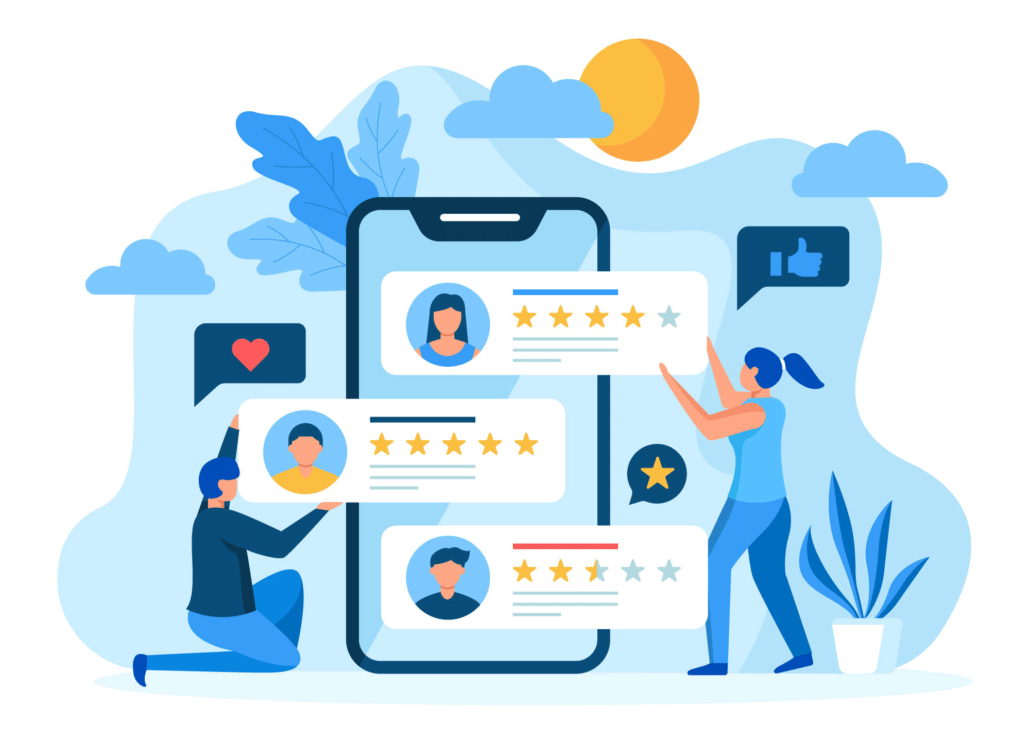 Get in touch!
Schedule a call with our production team to discuss your animated video project.
Get a quote for us to create your animated video.
Request access to our newest price sheet.
Create your Video Igniter account, fill out a creative brief for your video and we'll begin production as soon as we receive your production deposit.

https://videoigniter.com/wp-content/uploads/2023/03/Healthcare-Video-Production.svg
77.7
87.7
videoigniteradmin
/wp-content/uploads/2020/02/logo-v2.svg
videoigniteradmin
2023-03-31 18:59:18
2023-08-14 22:05:16
Healthcare Video Production