Custom Animated Video Frequently Asked Questions
Interested in making a custom animated video? This article is our most comprehensive resource to answer all the most frequently asked questions we get about making custom animated videos. Here, you'll learn how to make custom animated videos, how to keep your costs low and tips to maximize the effectiveness and presentation of your animation.
If you have a question about custom animated videos that isn't answered in this article, you can use our contact form to ask your question or click the image below to schedule a call with a member of our production team:

Why do people make custom animated videos?
Animated videos are great for getting awareness
When you scroll through a social media feed, what does it look like? Smartphone video. Smartphone video. Professionally filmed clip. GIF. Smartphone video. etc. Animated videos stand out, get more people to click play and in turn help you get more awareness for the message contained in your custom animated video.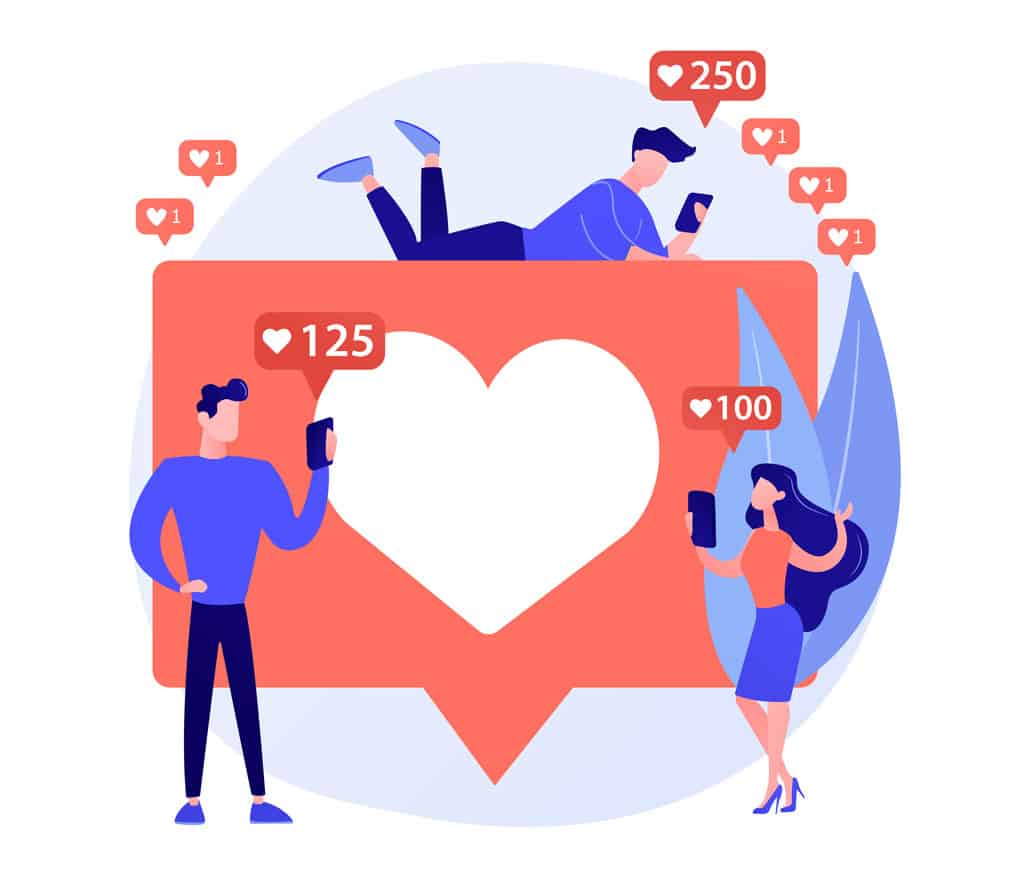 Short animated videos have high engagement rates
If you've ever produced a >30 second animated video for a marketing campaign, you know from your analytics dashboard that your engagement rates are through the roof! Long videos have quick drop off rates. Live action (marketing) videos also have quick drop-off rates. Short animated videos are pleasurable to look at and are harder to look away from. If you want people to stand a chance of sticking around for your whole 30 second pitch, consider producing your pitch in animated form so that people will stick around long enough to take in the full pitch.
Animated videos are great for explaining new information
We all need to learn new things from time to time but picking up a book isn't the easiest way to understand something. Nor is watching an expert stare you down and explain something via a video or in a classroom. Animation presents a user-friendly alternative to make it easier to learn new information. Custom created illustrations designed to present relevant information help the viewer focus on the specific details of the information being presented. Motion designs and accents keep viewers focused and engaged as new elements appear on screen. Tack on a professional voiceover to explain what's going on and a complimentary soundtrack and you'll have viewers hooked while they learn something new.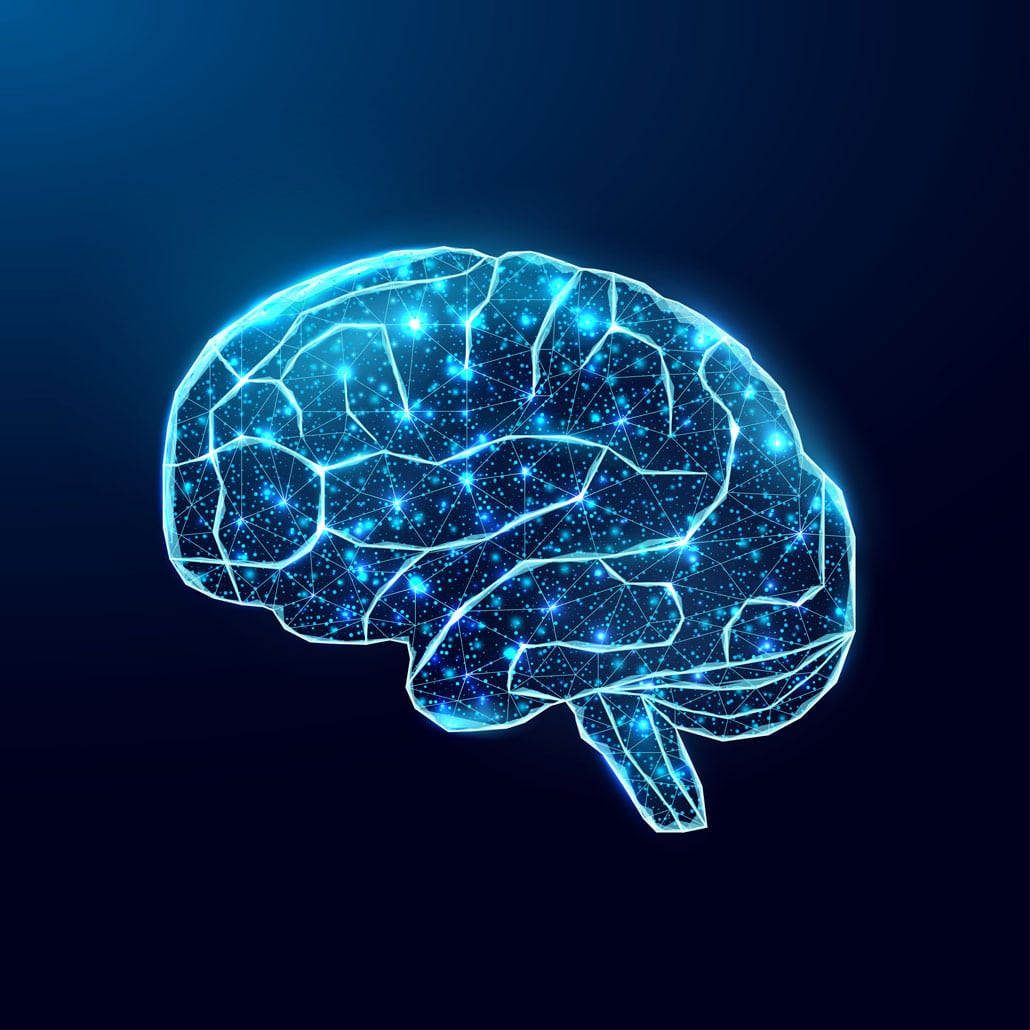 Animated videos help people remember information longer
Carefully crafted educational animated videos focus on the specific details that are necessary to convey new information. By creating simple metaphors, you make it easier for the viewer to not only understand the information, it also helps them retain the information longer.
Custom Animated Video Examples
How to make a custom animated video
Script
The first step to create a custom animated video is writing the script. The script is like the skeleton for the whole animation. It sets the pace for your animated video and informs what visuals need to be developed for each sentence of the script.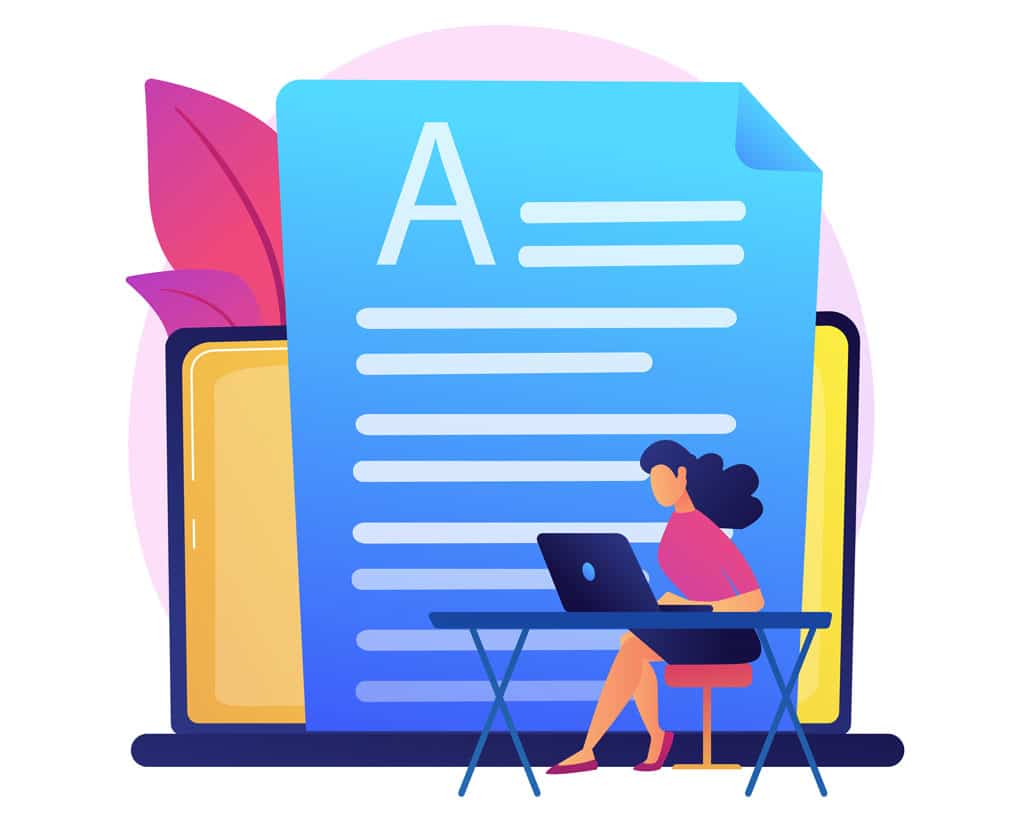 To learn how to write the script for your custom animated video, check out our new script writing guide.
Storyboard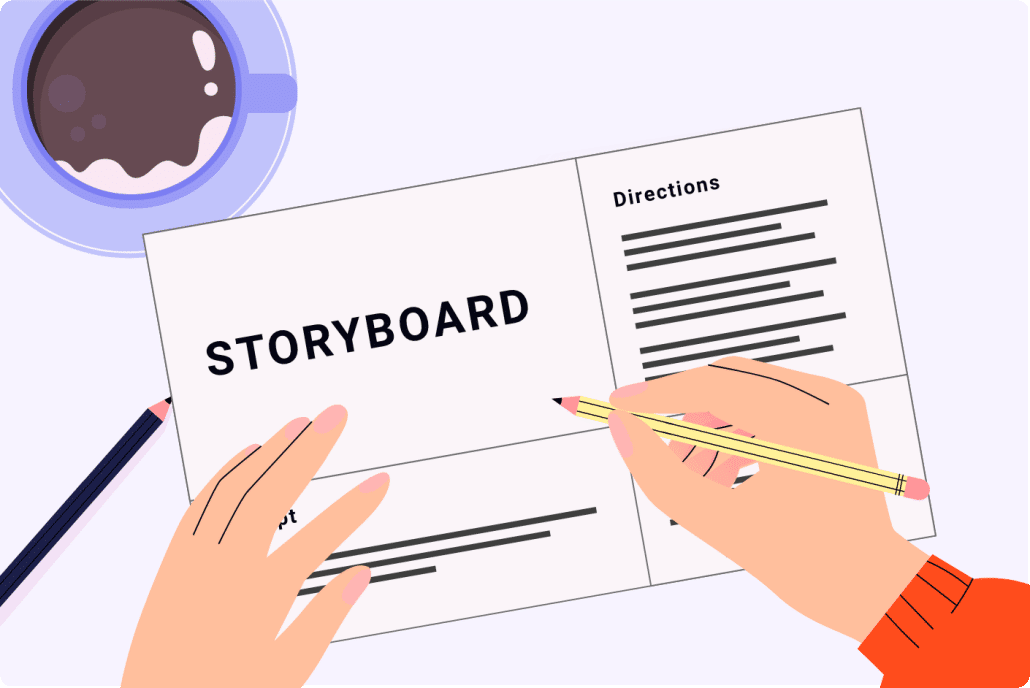 After your script is approved for production, it's time to create the storyboard for your animated video. The storyboard is the blueprint for your animated video. It tells the illustrators what art they are supposed to create. It also tells the animators how they should animate your video in sync with the voiceover. The page below shows an example of what information needs to be created and documented for each sentence of your script.
Budget Saver: You can save +$500/minute by creating the storyboard for your animated video. Download our free storyboard template.
Art
Now that your storyboard is approved, the art team can pick a key scene from the video and use it to develop concept art for your animated video. The art team will review your branding or the style references you provided and use that to illustrate a scene from your video using one or more original visual styles.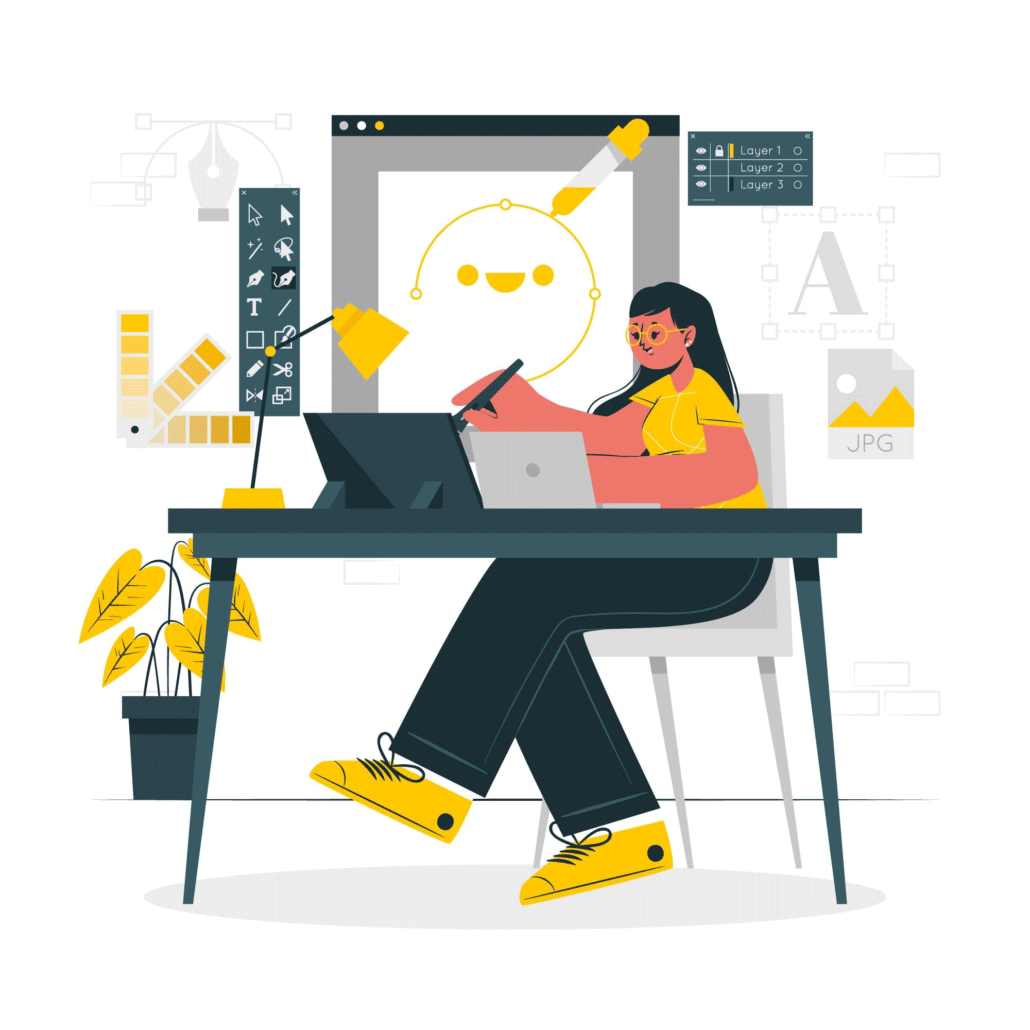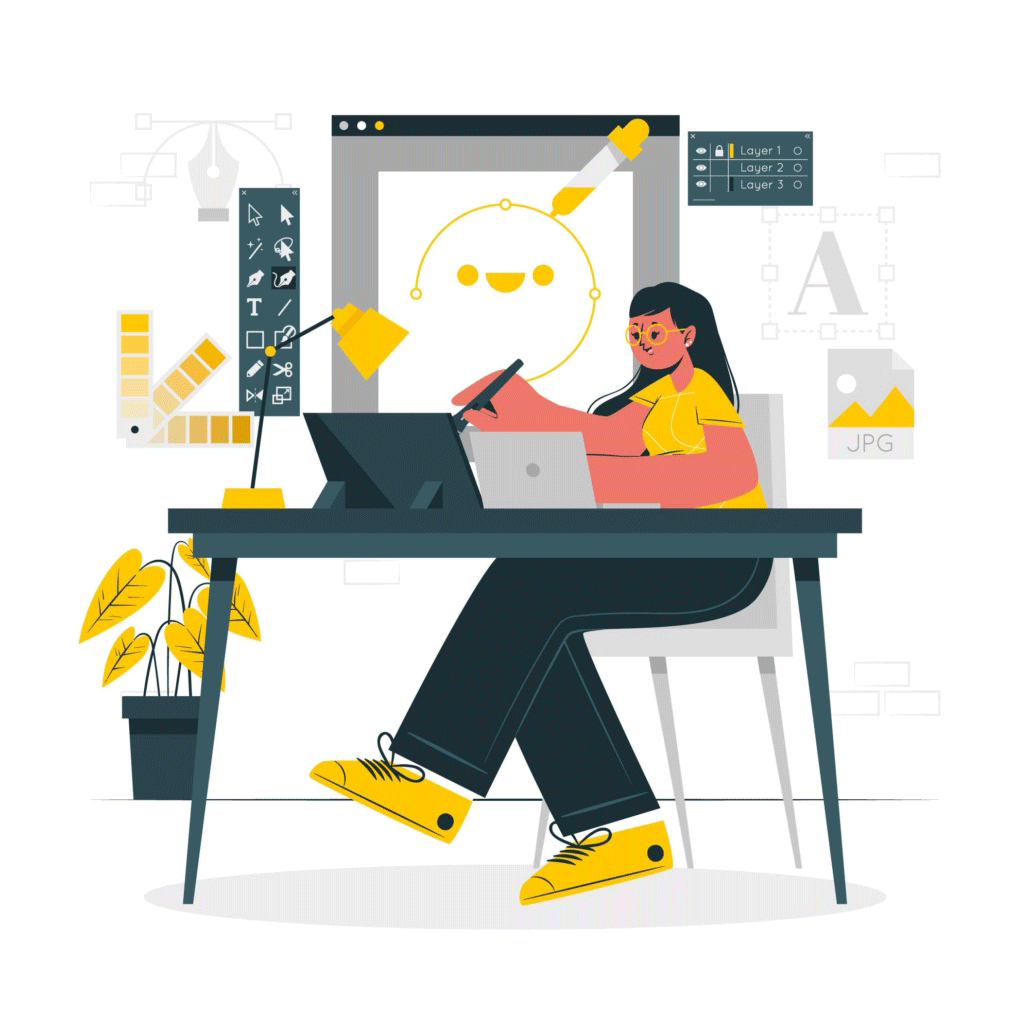 You get a chance to review the concept art and provide honest feedback so the art team understands what aspects of the visual design you like and which aspects need to be refined. They will incorporate your feedback and create an updated piece of concept art for you to approve or provide additional feedback on.

Once you are satisfied with the concept art, the art team will create the rest of the art for your custom animated video using the approved concept art as a reference. You will get a chance to review all the art and request revisions before approving it for animation.
VoiceOver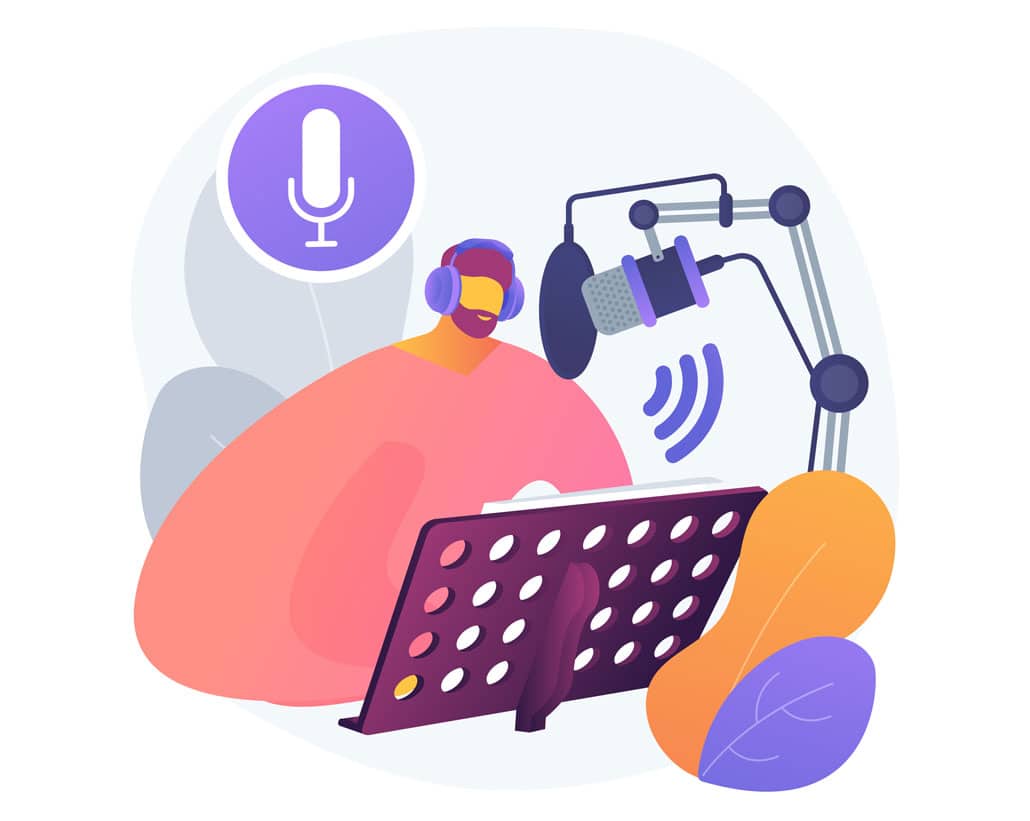 While the art for your video is being created, your production team will help you audition prospective voiceover artists for your animated video. Your production team will get 1-5 voiceover candidates to record an audition line from your script.  This way you can hear what kind of energy, tone and pacing they will bring to your unique script. It can be very helpful to include notes in your script so that the voiceover artist can understand what kind of energy you want them to use, when you want them to speed up, slow down, change their intonation or use a special inflection. It's also important to include pronunciation notes for difficult and uncommon words.
Soundtrack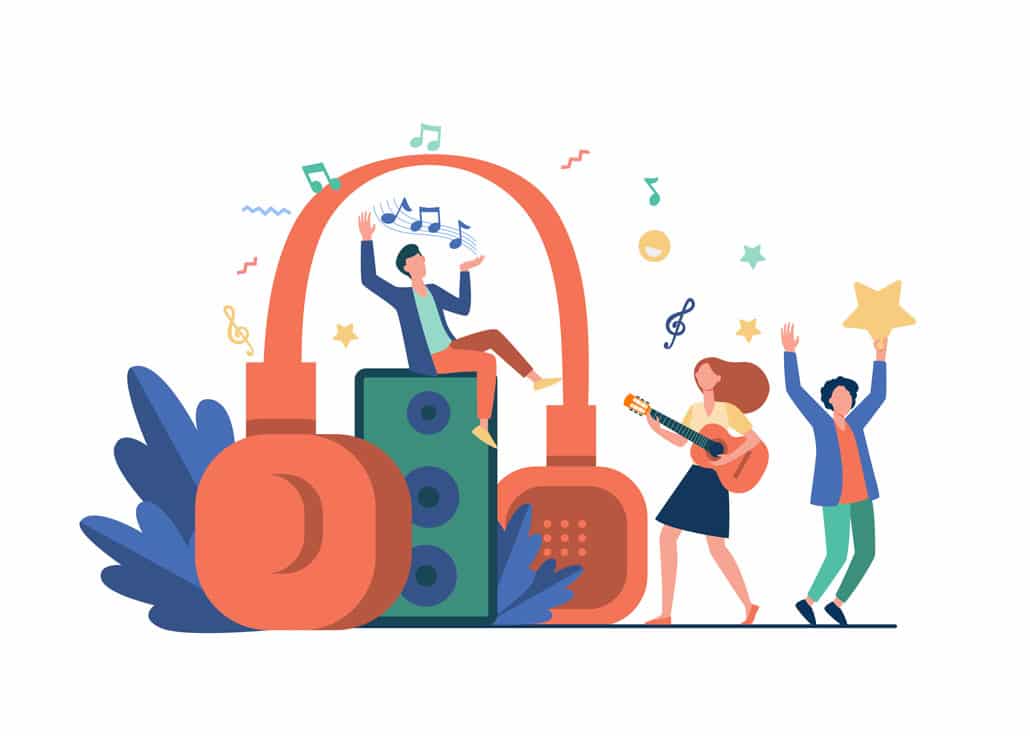 Sound helps to bring videos to life. Most videos don't have a budget to produce a custom musical score. Luckily there are many stock music websites with high quality music that you can license for your animated video. We recommend picking your favorite 2-3 soundtracks and downloading the free audio-watermarked versions for the animation team to use when creating the first draft of your animated video. This way, you can feel which song brings the right energy when you watch your video.
Check out this video if you want to learn how to select the perfect soundtrack for your animated video!
Animation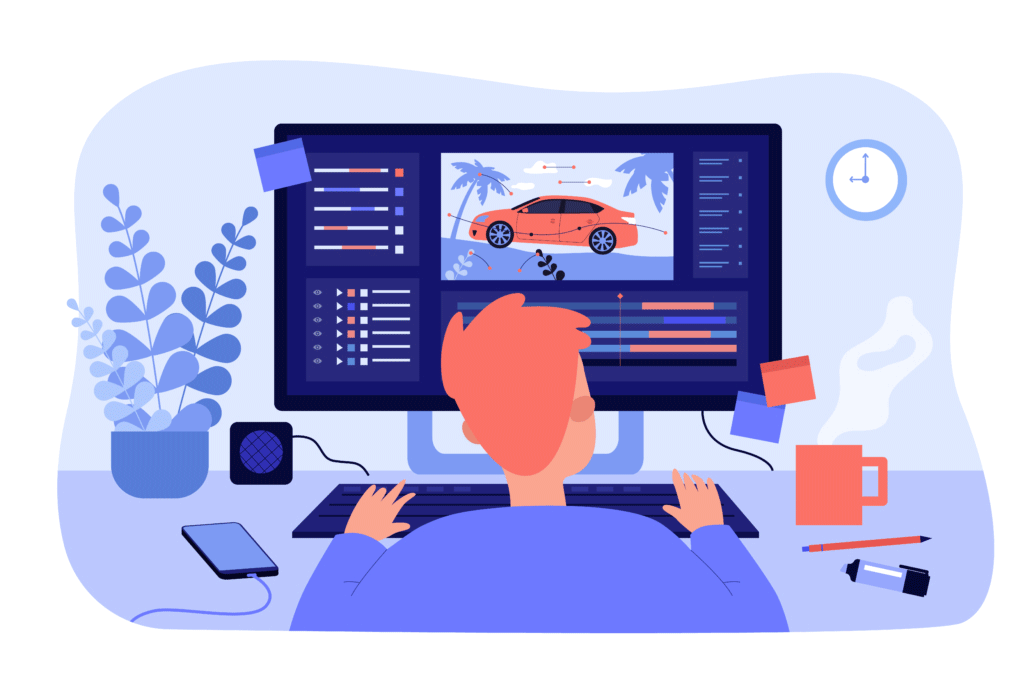 After the voiceover, soundtrack and art are signed off, it's finally time to animate. Animation takes about one week to create each 60 seconds of 2D animation. More complicated forms of animation like frame-by-frame animation (aka cel animation) and 3D animation require more time. When the first draft is ready to review, we recommend giving it a detailed review with your team and members of your target audience. If you need to make any last minute changes to your video, it's much more cost effective to do light touch ups now while you still have access to the animators who created your video. Revisions can be made down the line but it requires more time and a budget increase to make more substantial art and voiceover related changes.
Differences between making 2D and 3D animated videos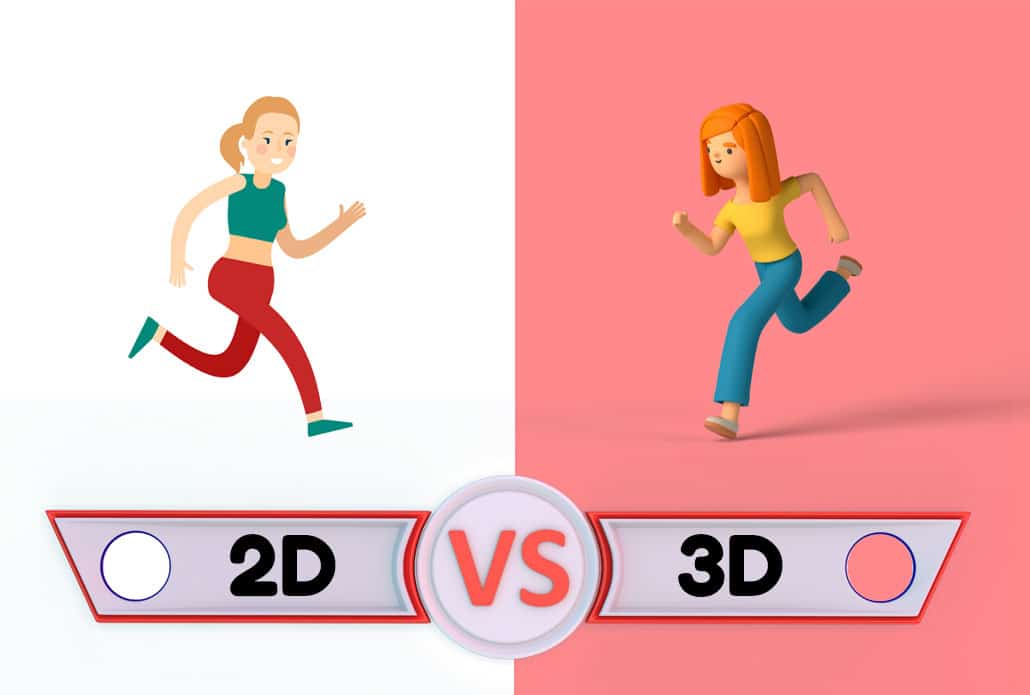 The production process for creating a 2D animated video or a 3D animated video has many overlaps but there are a few key areas where they differ. Script writing, voiceover creation and soundtrack selection remain the same. Storyboarding, art creation and animation deviate quite a bit.
Storyboard Creation
A traditional storyboard for a 2D animated video could work for a 3D animated video, however it may have more detailed 3D style renderings in the images to help the art team understand what they are supposed to create.
Storyboarding can go a step further creating something called an "animatic." An animatic is like an ultra rough draft of the animation. In most cases, its purpose is designed to help establish the pacing and timing of the animation's motion design to ensure details move with the right timing to achieve the intended effect for the viewer.
Animatics can be created with simple pencil sketches and flipped through like a flip book – or they can be grayscale 3D mockups of the scenes and characters in a video that has been lightly animated.
Art Creation
Art that is created for a 3D animated video takes more time to create because 3D art requires multiple steps to create. First, modelers will create colorless 3D shapes for all the characters, scenes and objects the viewers will see. Next, riggers will add a 'digital skeleton' inside the visual elements that will move. This provides structure for things like a character's legs, arms, neck, etc so that the animators have some structure to work with when they apply motion and animate the 3D characters, scenes and objects. Next, color and texture skins are layered onto to the outside of the 3D objects. Finally additional environmental effects are added – lighting, smoke/haze, even the effects of gravity can be adjusted.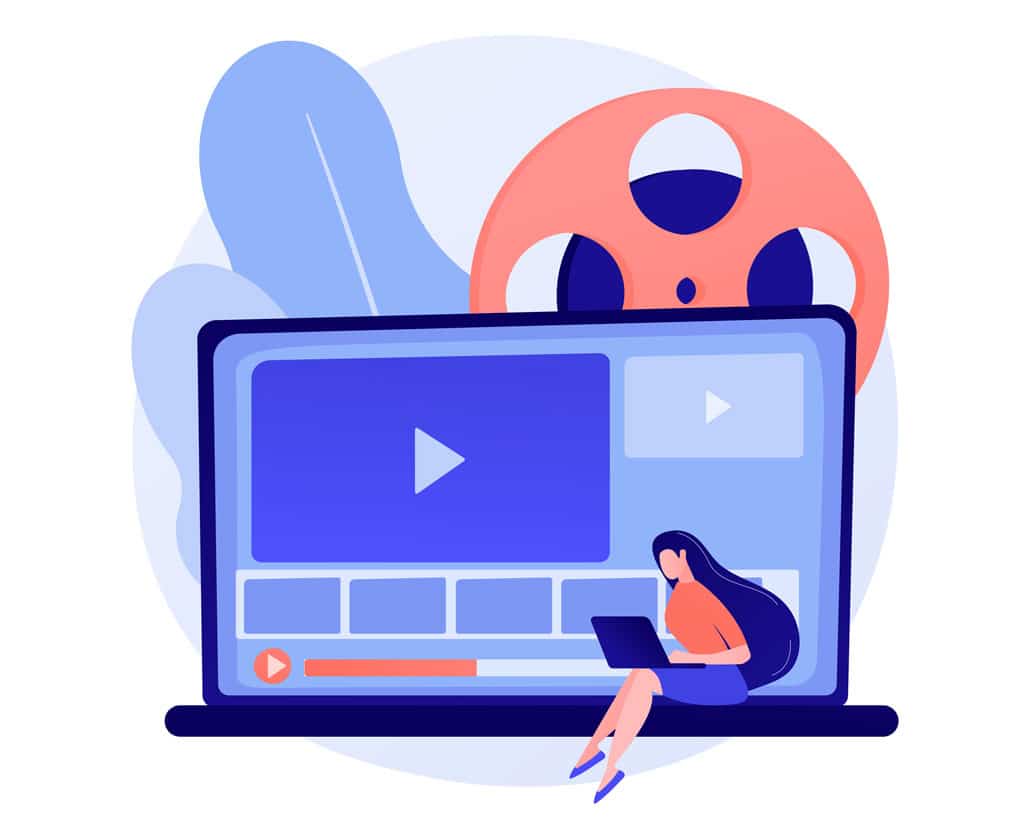 Animating
The 3D animated video production process requires more technical skills and expertise to achieve the desired level of realism or unique visual representation on screen. As such, 3D animated videos require substantially more time to animate and render out.  Unlike 2D animations which can be quicker to render out, don't expect your 3D animation team to be able to quickly render out multiple versions of your video. It saves a lot of time and budget to focus on creating a very polished first draft with minimal or zero revisions for a 2nd draft.
How to choose a producer for your custom animated video?
Looking for someone to make a custom animated video but not sure where to start? Whether you're looking to hire an animation studio, a freelance animator, or a production service like Video Igniter Animation, there are many factors to consider including: pricing, visual style, storytelling, customer service, production timelines and more. Here are some resources to help you figure out the right production option for your custom animated video:
– 9 Things to Look For When Hiring An Animator to create a custom animated video.
– Pros and Cons of Different Animation Styles
– What's the difference between hiring an animation studio, vs a freelance animator vs Video Igniter?
– Considering making the animated video yourself? Learn about DIY options.
– What is Video Igniter Animation?
Custom Animation Video Demo Reels At Different Budget Levels
Examples Of Custom 2D & 3D Animated Videos With High Production Budgets (+$7,500)
Examples Of Custom Animated Videos With Medium Production Budgets (+$3,000)
Low Cost Custom Animated Video Examples (+$1,000)
How long does custom video animation take?
Shorter 2D animated videos (30 seconds-2 minutes) take 3-8 weeks to produce. 3D animated videos easily take twice as long to produce. If your animated video is longer than 2 minutes, we recommend scheduling a call with our production team to help define the scope and timeline of the project. This will ensure you end up with an optimized budget that minimizes the need for rush delivery costs.
How long should my animated video be?
Great question! It depends what you are creating your animated video for.
Are you trying to get attention online?
We recommend keeping your video as short as possible 5-15 seconds is great, 30 seconds is still good. You can do it with a 60 second video but that's pushing it. The goal here is to convey a compelling message to your target audience with as little friction as possible. If you can get your pitch across in the 5 seconds before they click "skip ad" on YouTube – you're going to be golden. You want to present something that gets their attention and motivates them to click/tap on your ad to learn more. That's where you can go more in depth. For your main awareness building videos, the shorter the better.
Are you trying to educate customers about why your product/service is awesome?
Aim for 60, 90 or 120 seconds of animation – about 150 words per minute. This gives you enough time to present a compelling hook, introduce your solution, and show people a few ways your product/service will improve their lives. Your video should end with a quick call to action that inspires the viewer to take action to solve their problems – i.e. download our acupressure app to reduce your cancer related fatigue and get better sleep.
Are you trying to explain something?

Animated explainer videos don't have to be short (unless they're intended to be a commercial promotional video). In many cases, animated explainer videos are used to go in depth to explain a new topic or piece of information. The use of animated visuals, live action footage and stock footage can be combined together to create an educational informative piece. As such, there's no need to put a hard cap on the length of an animated explainer video. Be thorough and be concise. Don't be worried about making your video as short as possible. Explainer videos can be 5-60+ minutes long and still be informative and entertaining.
Just trying to be entertaining?
Length is less of a concern if you're creating something designed purely to be entertaining. Entertaining custom animated videos can be 3 seconds long and they can go well over 30 minutes long. Entertaining videos are less likely to be created with a business purpose in mind and are intended to be consumed for enjoyment so there's no need to rush through the message and deliver it as fast as possible.
What does it cost to make a custom animated video?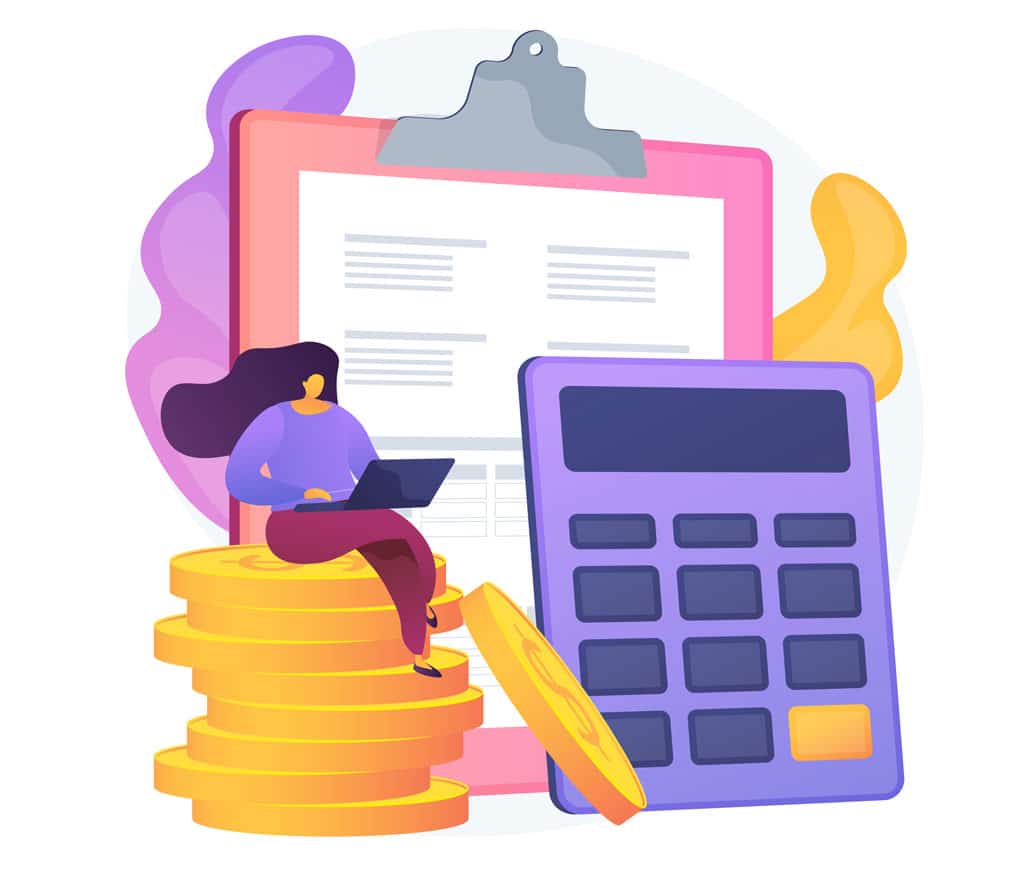 Custom animated video prices can range widely. Pixar's animated movies cost over $100 million to make. Cheap freelance animators will offer to make animated videos for less than $100. It's all about paying for production quality. And when I say production quality, I'm not just talking about pretty pictures put into motion. It's also about the storytelling and the pacing of how the message progresses and how the visuals are used to bring out the story. Ultimately, when it comes to animation, you get what you pay for.
To give you some loose numbers, consider these data points for costs related to creating a 60 second custom animated video:
Script Costs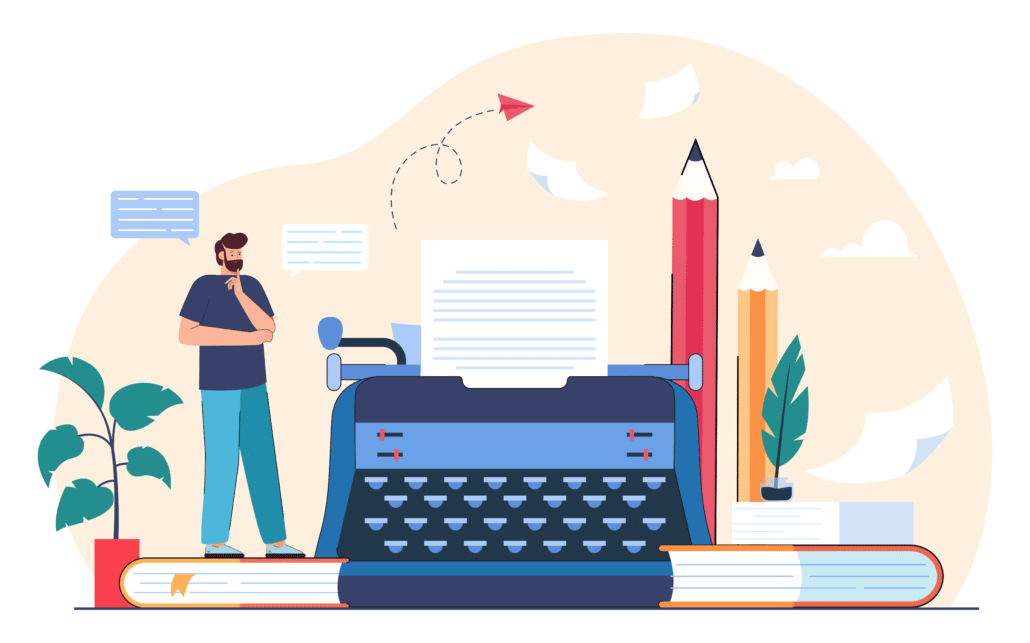 Script writing takes 2-10+ hours to research the company/topic/target audience, draft the script, present the script to the client, collect their feedback, integrate their feedback and present the 2nd draft of the script. Ballpark cost: $250-$1,000.
Storyboard Costs
Storyboard creation takes 4-10+ hours to brainstorm the visuals that will correspond with each sentence of your script. The storyboard artist needs to create a simple visual mockup for each scene, describe the motion that will happen on screen using unambiguous language, and list all the assets (visual and auditory) that are needed for that specific scene. After the first draft of the storyboard is created, it takes additional time to review the storyboard with the client and incorporate their revisions.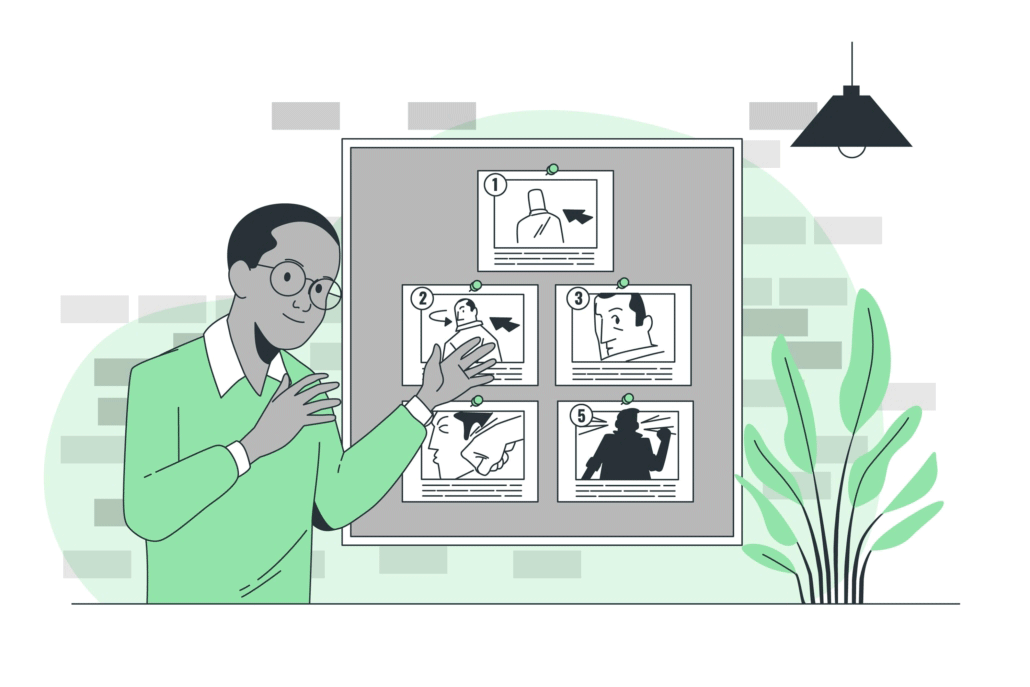 If the storyboard isn't well written, the illustrators may create the wrong art and the animators may animate the wrong details. This is why storyboarding is so important. Everyone can get consensus about what is going to be created so that there's no need for expensive rework in the design or animation phases of production. It also helps keep production running on time; otherwise, illustrators and animators need to sit and wait while a project manager gets clarification about what a client wants to have happen during a specific part of the animation. Ballpark cost: $300-$1,000+
VoiceOver Costs
VoiceOvers cost $10-$300 for non-celebrity, English-speaking voiceovers. Non-English voiceovers may cost more. Planning on using your voiceover for a paid media campaign (TV or online)? You may need to pay extra for the voiceover recording's broadcast rights.
Soundtrack Costs
Soundtracks also cost about $10-$300 for pre-created stock music. Expect to spend a few hundred extra dollars for the broadcast rights if you plan to promote your custom animated video on TV or online.
Illustration Costs
Creating the custom illustrations for a 60 second animated video usually takes 3-10 full days of work from an illustrator depending how intricate and unique the art is. Illustrators are paid $15-$45+/hour for 2D animations and even more for 3D animation.
Animation Costs
It takes about 30-60 hours to animate one minute of a 2D animated video. And that's if we're using computer animated graphics. If your animation uses frame by frame animation (aka where the illustrator is drawing every scene), it'll take even more time to animate your video. The average hourly rate for a 2D video animator is $25-$35/hour.
Project Management Costs
In order to keep production running smoothly, it's important to have a project manager organize client feedback and ensure the production team is delivering content on time and has everything they need to keep production moving forward.
Add all these expenses up and add some monthly overhead costs on top and it's easy to see why custom animated videos cost at least a few thousand dollars to create a high quality 60 second animation.
Check out our companion article for a more comprehensive breakdown on animated video production costs.
What are the different styles of animation I can use for my video?

2D Animation Styles:
1). Flash / After Effects 2D animation
2). Motion Graphics
3). Hand Drawn Animation (aka Frame by Frame or 'Cel' Animation)
4). Kinetic Typography
3D Animation Styles:
1). 3D Animation
2). Stop Motion
Deep Dive: Want to learn more about the different styles of animation?
How to keep your animated video cost low
If you're ok creating an animated video that isn't 100% custom created, consider the following cost-saving options to keep your animated video production budget low.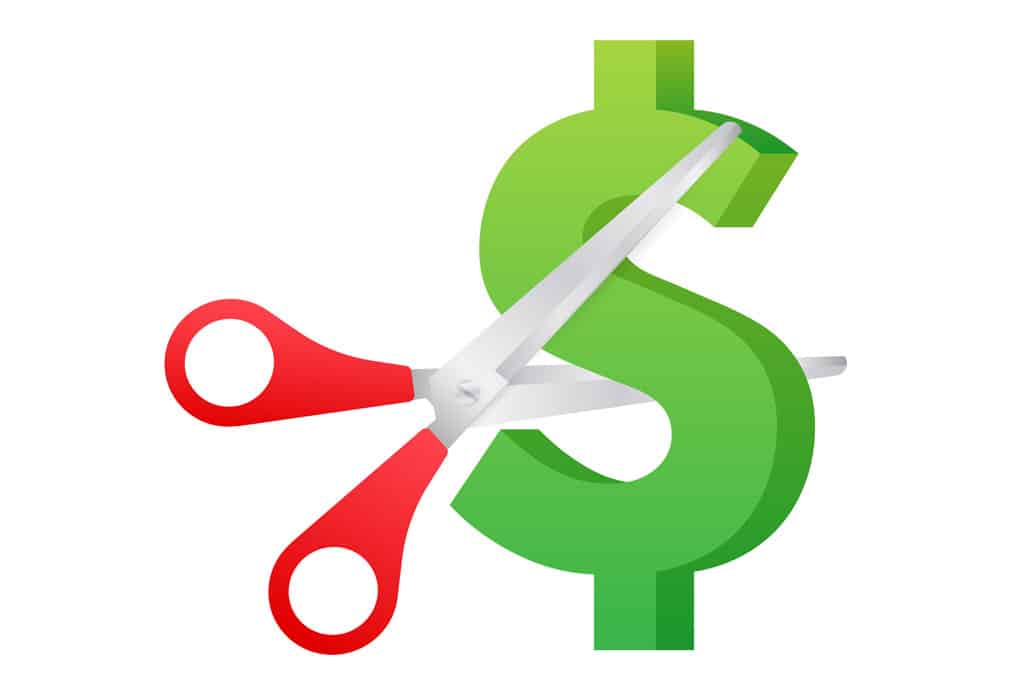 Create your script
Writing the script for your animated video can save you hundreds or thousands of dollars off the cost of your production budget. Freelance animators and animation studios are capable of helping you craft your script. However, as the originator of the idea for a video, the heart of the story is in your mind. You have the best chance of creating a first draft that will articulate the story you want to present. It doesn't need to be perfect; providing the first draft of your script to your animation team can still be enough to help you save money on your production budget. Your animation producers can help you polish your first draft and make it production-ready.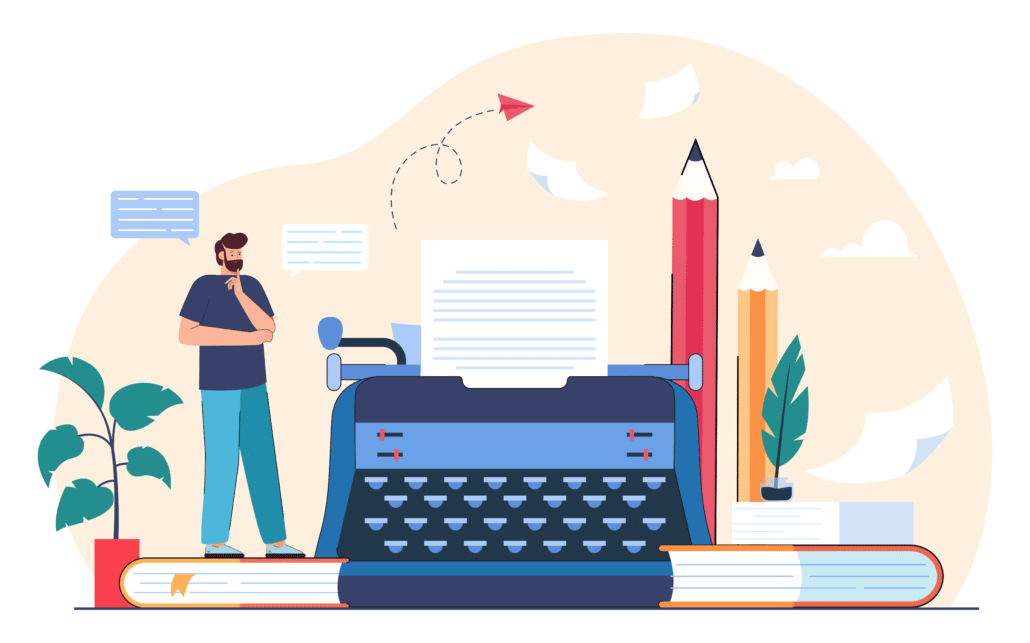 Here are a few resources to help you create a great script:
How To Write An Animated Explainer Video Script
7 Tips to Supercharge Your Explainer Video Script Writing
Examples Of Explainer Video Scripts + How To Write A Script
Get our free script writing template here.
Create your storyboard
Creating the storyboard for your custom animated video is another way you can save hundreds or thousands of dollars off the cost of your video's production budget. You don't need any artistic ability to create a storyboard. All you need to do is brainstorm visuals to correspond with each line of your script and create instructions for the illustrators and animators so that they have a clear understanding of what you want them to create for each scene.
Free Download: Get our free storyboard creation template.
Deep Dive: Building a great storyboard for an animated explainer video.
Record the voiceover
English-speaking voiceover artists tend to charge $10-$199 for 1-2 minutes of recorded audio. You can try sourcing low cost voiceover talent from Fiverr or VoiceBunny. You can also record the voiceover yourself for free! That's right – you can record a professional sounding voiceover without having to buy any professional equipment or expensive software programs. Check out Episode 3 of The Video Igniter Show (at 1:31) to see how you can record the voiceover for your animated video for free.
Use stock assets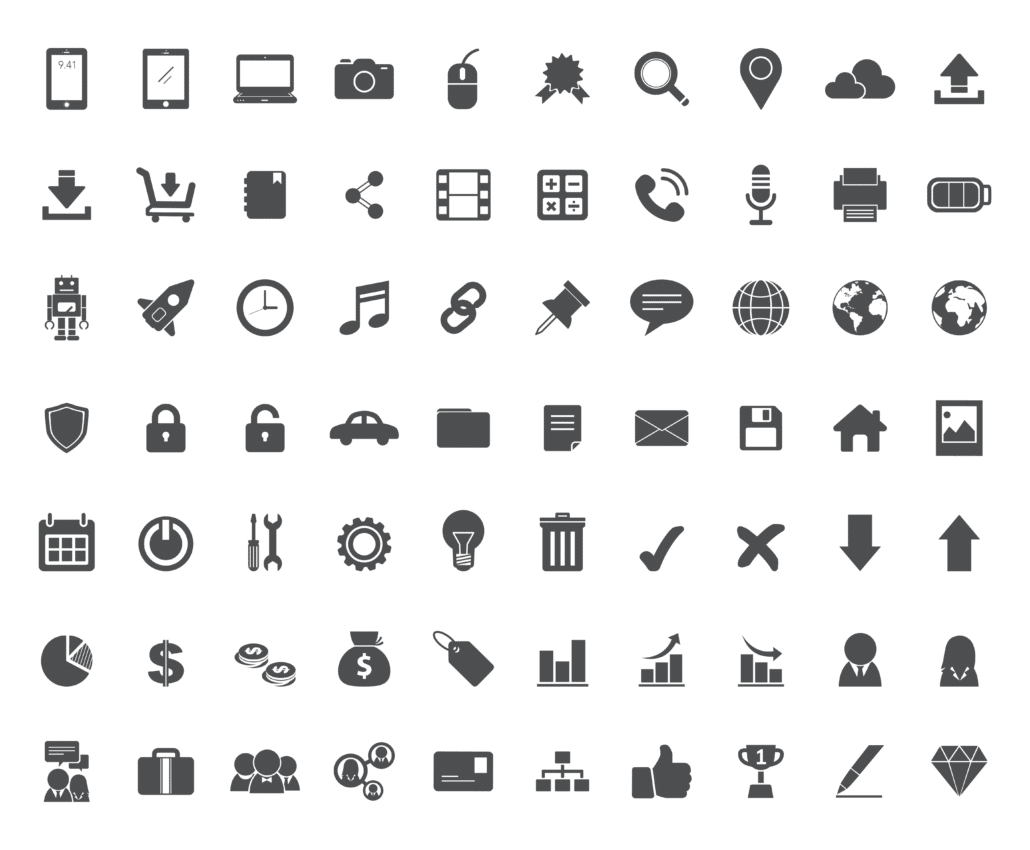 Not every visual for an animated video needs to be created from scratch. Using pre-created assets can help you keep your budget down because they usually cost less to buy or license than it would to create something comparable. Marketplaces exist to buy 3D models of common objects (lightbulbs, hands, houses, plants, etc) to save on your 3D animation budget. Free (or low cost) icons, clip art, stock images, fonts, graphs and video clips are available on sites like Mixkit, TheNounProject, Google Font Library and Envato Elements.
Use free music
Soundtracks typically cost $10-$299 each. If you plan to promote your animation using paid media (TV and or Online), you may need to pay even more for the broadcast rights to use the soundtrack in paid promotional campaigns. If you're looking for free, legal music you can use in your custom animated video, here are two sites to check out. The first is called Incompetech. Artist Kevin MacLeod provides his music for free – all you need to do is provide proper credit and attribution to him as the creator. Another great option for free music is Facebook's Sound Collection. There, you'll find an even larger variety of musical options you can use for free in your paid media campaigns.
How to create your own animated video for free online?
Custom animated videos typically require budgets of at least a few thousand dollars to produce. There are a growing number of cheap ways to make animated videos – but they usually require a lot of your time to learn how to use the program and even more time to actually create the videos. Additionally, these videos are rarely custom and rely on pre-created designs in order to keep costs low.
In recent months, Facebook has introduced Make-A-Video and Google researchers have introduced DreamFusion – a text to 3D animated video creation AI. These services can be used to make short custom animated video clips with small pixel dimensions and a moderate amount of photo realism. While they're still in their infancy, these new services are already generating impressive results.

How to create custom animated video from photos?
Another low cost way to make animated videos is to add motion to photos you already have. This is a great way to repurpose and extend the life of content you've previously created. The video below shows different ways that you can turn photos into short little animations.
How to make your own animated video
Now that you know what it takes to create an animated video, maybe you are considering learning animation so you can make animated videos yourself. If so, here are a few services and programs that are used to make animated videos – ranging from easy to complicated to learn:
Create Your Own Animated Video With Easy To Learn Animated Video Creation Software
Online animated video creation software like Wideo, PowToon and Vyond can be learned in a few hours and cost substantially less than professional animation programs.  These easy animated video makers can be used to create simple animated videos using pre-created scenes, characters, objects, text and icons.
Pros: Low cost. You can learn how to use the program in a few hours.
Cons: You have to teach yourself how to use the program. The videos use pre-created stock visuals (characters, scenes, objects, etc) which means that your video won't look completely original.
Advanced Animated Video Creation Software
Adobe After Effects is the go-to animation program for many professional animators. The program enables an endless list of visual creative possibilities and integrates with the Adobe Cloud ecosystem (so it's easy to work with Photoshop and Illustrator art).
Pros: You can make any kind of custom animated 2D video you can imagine.
Cons: Requires more time to learn and master the program.
Expert Animation Creation Software
Cinema 4D is the industry leading program animators use to create custom 3d animations.
Pros: You can create any kind of custom 3D animated video you can imagine.
Cons: Takes longer to master and requires learning multiple skillsets (rigging, lighting, modeling, etc).
How to get the most out of your custom animated video?
If you are making a custom animated video for a business or marketing purpose, there are a lot of things you can do during the production process and after the production has completed that will improve the success of your business outcomes. Here are some resources we recommend video marketers consume before, during, or after your next animated video project:
– 7 Tips to help you write a great script for your custom animated video.
– Pick the right visual style for your animated video.
– 6 Tips To Increase Viewer Engagement for your custom animated video.
– Review the Do's and Don'ts of Promotional Explainer Videos.
– 7 Tips For Using and Improving Your Businesses's Video.
– Learn how to interpret your video's viewer stats to see if it needs improvement.
– A/B Test variations of your animated video to improve its conversion rate.
What is the Video Igniter animated video creation platform?
Video Igniter offers animated video production online. Video Igniter modernizes the experience of creating a custom animated video to help you save on your production cost, and create custom content faster. We streamline the complex process of making a custom animated video and do all the work for you. All you need to do is tell us what you want us to create and then send feedback for the assets that we create for your animated video (script, storyboard, voiceover, soundtrack, art and animation).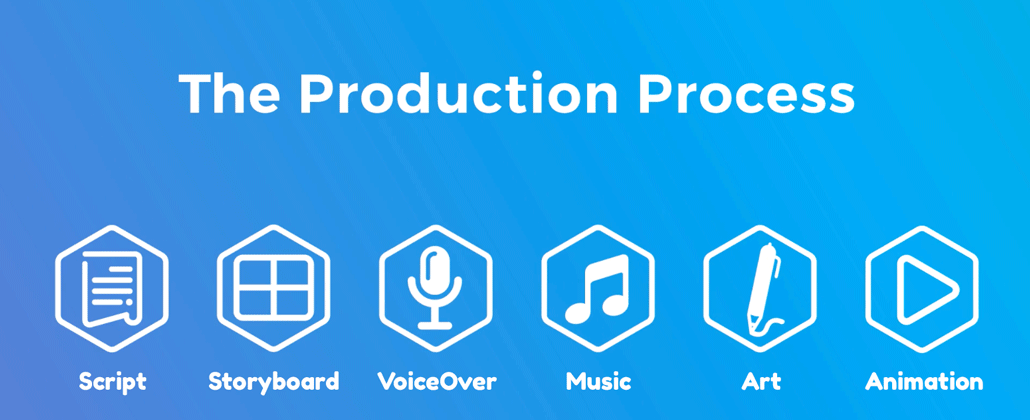 If you're looking for a website to make an animated video, Video Igniter is a new kind of custom animated video production service that enables you to create any kind of animated video you can imagine. Our talented staff collaborates behind the scenes to create custom 2D and 3D animated videos so you don't have to figure out if you have the right animator for the kind of animation you want to get created. We handle all the technical and creative talent sourcing for you in addition to helping you develop your script and storyboard (if you haven't already created them yourself).
Hire Video Igniter to make your custom animated video
World class animation and design talent at prices startups can afford.
We can make any kind of 2D or 3D custom animated video you can imagine.
+20 reasons companies love hiring us to create custom animated videos.
Custom Animated Video Demo Reel
Custom Animated Video Success Stories and Testimonials
"Video Igniter offered us the critical combination of creative value, clear communication, and patience with stakeholder feedback. We ended up with truly high-quality design assets for our video series largely due to the extra level of commitment — and the right balance of efficiencies with flexibility in the process when called for."
Larry Schlessinger – Sr. Creative Program Manager, Amazon Web Services
"My whole family and everyone on Facebook thinks you are amazing. My whole office is freaking out."
Patricia Shields – Real Estate Agent
"I run a video production company and outsource animation. The team at Video Igniter did a great job in taking the concept I very crudely drew out and made it into a beautiful animation. The review process was easy and their turnaround time was very quick. I'd def recommend them if you're looking for an animation project."
Pat Henderson – Founder, Path8 Productions
"Video Igniter came to us with a number of creative and engaging ideas and were able to create an exciting, impactful video in a short period of time. And the best part was that it cost much less than other options of similar quality. The video they made is a great marketing tool for us."
Alex Raymond – Founder, Kapta Systems
"I am beyond satisfied with my experience with Video Igniter. The first drafts of the work were almost exactly what I had in my head when developing the concept. After that each step along the way was seamless until arriving at a perfect finished product. And all this at a tremendous value. Anyone who has considered creating a marketing video should check out Video Igniter."
Anonymous Customer Feedback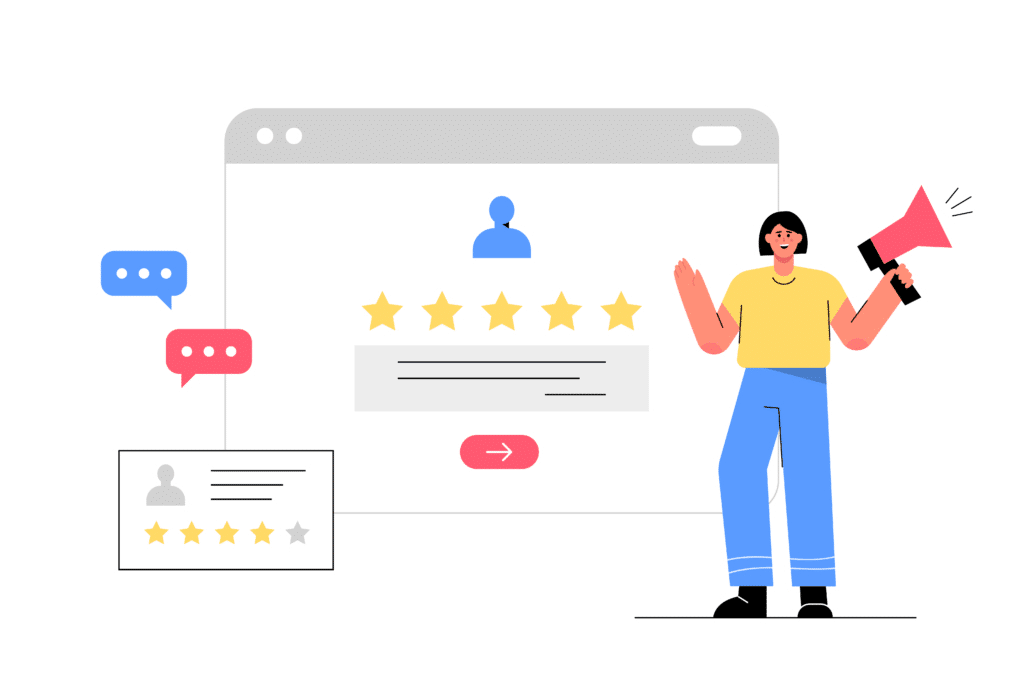 Get in touch about your custom animated video project
Schedule a call with our production team to discuss your custom animated video project.
Get a quote for your custom animation.
Request access to our newest price sheet.
Create your Video Igniter account, fill out a creative brief, and we'll start creating your animated video.

Video Igniter Animation Custom Animated Video
https://videoigniter.com/wp-content/uploads/2022/10/Custom-Animated-Video.svg
77.66
87.74
videoigniteradmin
/wp-content/uploads/2020/02/logo-v2.svg
videoigniteradmin
2022-10-25 01:35:31
2023-07-12 21:46:39
Custom Animated Video Frequently Asked Questions