2D animated videos are taking over the internet! Businesses are using them to acquire new customers. Media outlets are using them to explain new concepts and ideas. People are sharing them all over the internet and social media.  But why are they so popular? Why are people using them? And how do you make your own?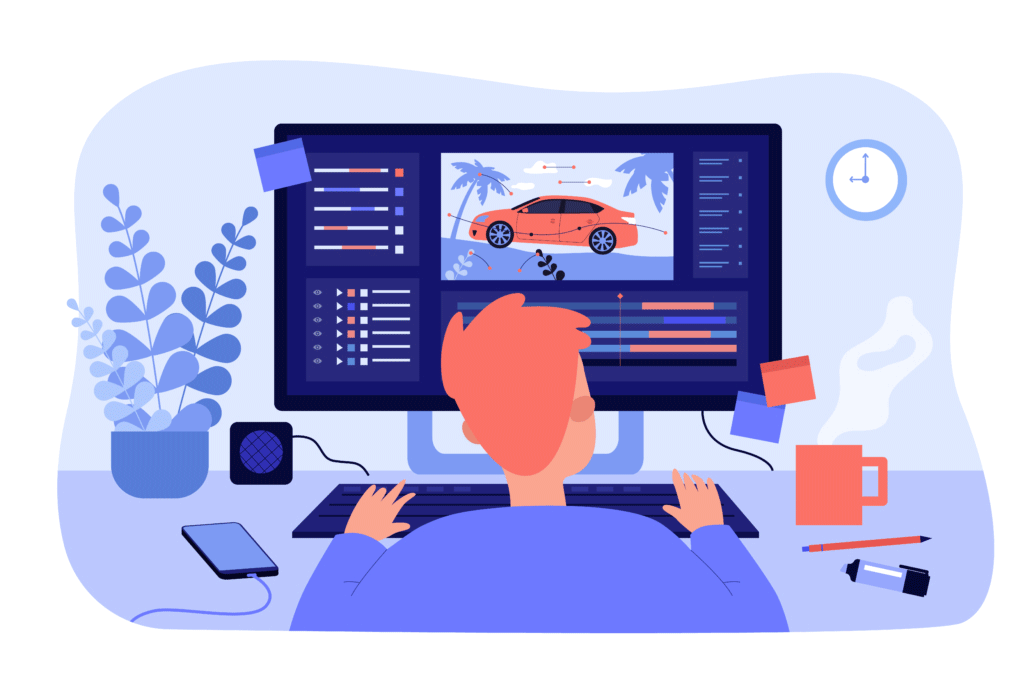 If you have a question about 2D animated videos that isn't answered in this article, you can use our contact form to ask your question or click the image below to schedule a call with a member of our production team:
How Do Businesses Benefit From Animation?
Businesses have been creating 2D animated videos to help explain what they do, get the word out about their business, and generate more leads and sales. The reason businesses are creating more animated content these days is because it helps their brand stand out in an ocean of live action video content. Animation enables businesses to communicate their unique brand personality to connect with their target audience in a way film can't match.
Additionally, animated videos do an exceptional job at helping viewers focus on the key message, understand it, and retain the information longer than if they had watched a video of a person explaining something.
2D Animated Video Demo Reels
Here are some examples of our favorite 2D animated videos our team has produced:
2023 Demo Reel:


Standard Design Reel:


Simple Design Reel:

For more examples of 2D animated explainer videos, check out our portfolio page.
Advantages Of 2D Animation
2D animation has some unique production advantages over other types of video content (live action/film and 3D animation). 2D animated videos are:
Fast to produce: compared to 3D animation. Simple 2D animations can be produced in a few days or weeks. 3D animated videos require a lot more time to create details accurately, add motion design, and render out the final animation (which could take weeks, months, a year, or more!)
Easy to change: if you want to modify part of your 2D animated video, all you need to do is contact your animator/designer/studio and explain the changes you want to make. As long as someone has the original project files, any video animator or designer could make the changes.  If you filmed a video and want to make changes, you need to book the same location and hire the same actors to come in to re-film something. Definitely not as quick and easy as some changes your animator could make from their laptop.
Faster production = lower production cost: 2D animated videos can be made by small teams in just a few weeks. This helps keep costs low. 3D animated videos can take months to years to produce and require a large, expensive team. Live action videos can be quick to produce but assembling a professional team on site with all their equipment quickly surpasses the costs associated with 2D animation.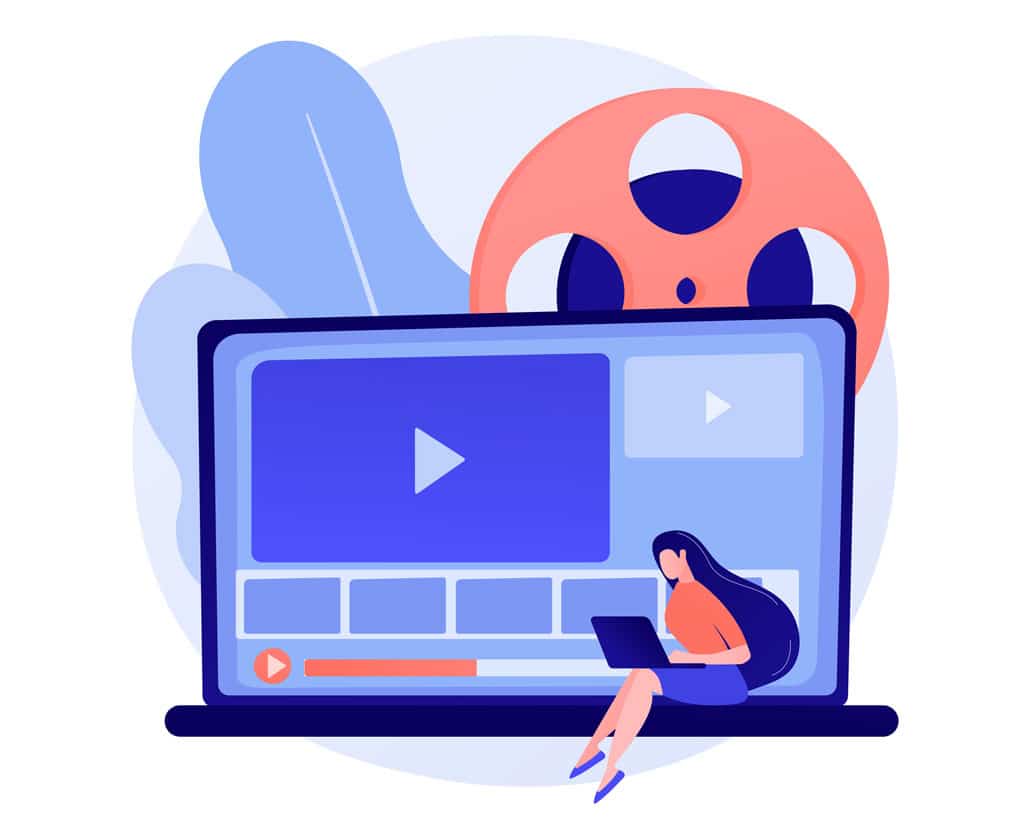 What Is The Production Process Like?
2D animated videos go through a sequential production process that looks like this: script -> storyboard -> art -> voiceover -> music -> animation.
1). Script:
First, you will start by creating the script for your 2D explainer video. You can create the script yourself or work with your animation studio/freelancer. Or you could just hire Video Igniter ;) If your 2D animated video is designed to support a business purpose, you should focus on concise writing that speaks directly to the problems your target customer is trying to solve. Start your script with a compelling hook to grab your audience's attention. Introduce your company/product/service as a solution to a problem your customer has. Illustrate the top 1-3 benefits they can experience from buying what you offer. Then, end your script with a compelling call to action that lets them know how they can do business with you.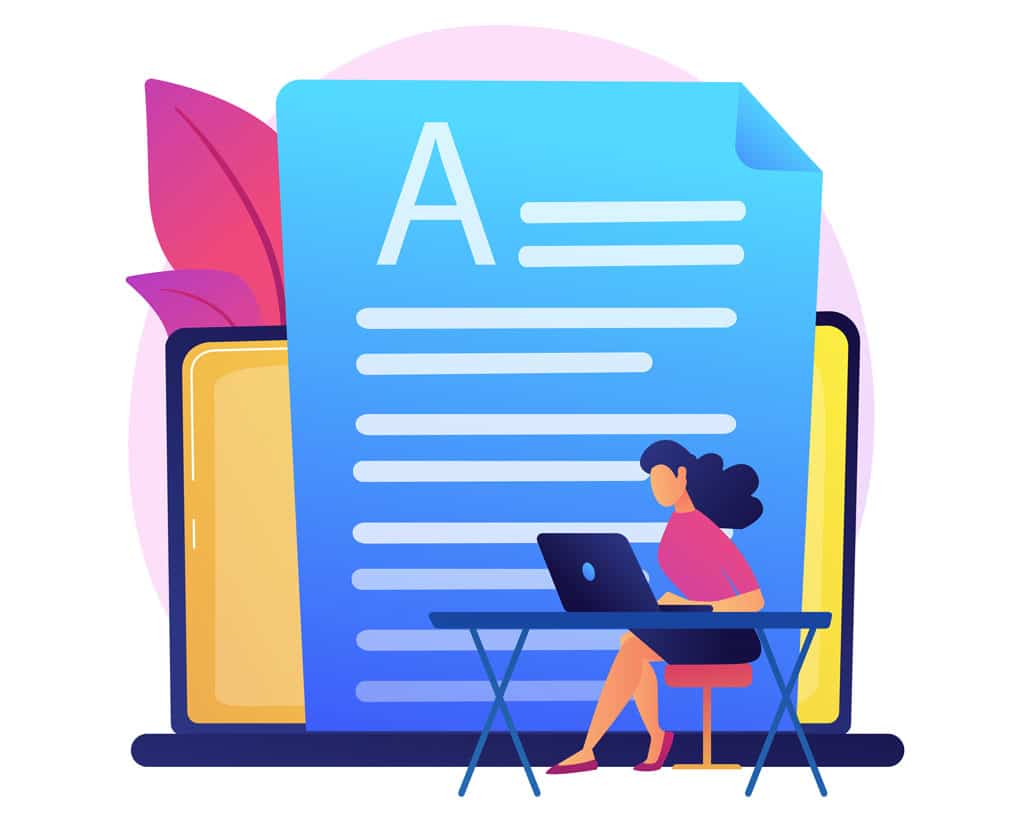 If you're creating a 2D animated video for fun, write out your script and include notes about what you think the corresponding visuals should be. This will help you simplify your storytelling and will make it easier for you to create your storyboard.
For more tips on writing a script for your animated video, check out this article: "How to Write An Animated Explainer Video Script." As a bonus, you might also like this companion article: "7 Tips to Supercharge Your Explainer Video Script Writing."
2). Storyboard:
Next, you should turn your script into a storyboard so that the design and animation team know what you want them to create. The storyboard is essentially the blueprint for your 2D animation explainer video.
Each page of a storyboard includes four parts:
Visuals
Direction
Script
Asset List
To create your storyboard, put one sentence of your script on each page of the storyboard in the lower left corner (Download our storyboard template here). If a sentence is particularly long, you can break it up over multiple slides.
In the upper left corner of the storyboard, create a rough mockup of the scene that corresponds with that part of the script. You can sketch it out on paper, take a photo and paste it into the document. Or, you can use free images you find online to mock up the scene. Artistic ability is not important. Stick figures are ok. The point is to provide a basic visual reference for the design team. They just need to know how you roughly intend for a scene to be laid out. They will take care of making the art look great for you.
In the upper right corner of the storyboard, create a bullet point list of instructions for the animator. Provide sequential instructions that specify what motion details should happen in what order. The more specific you can be, the better.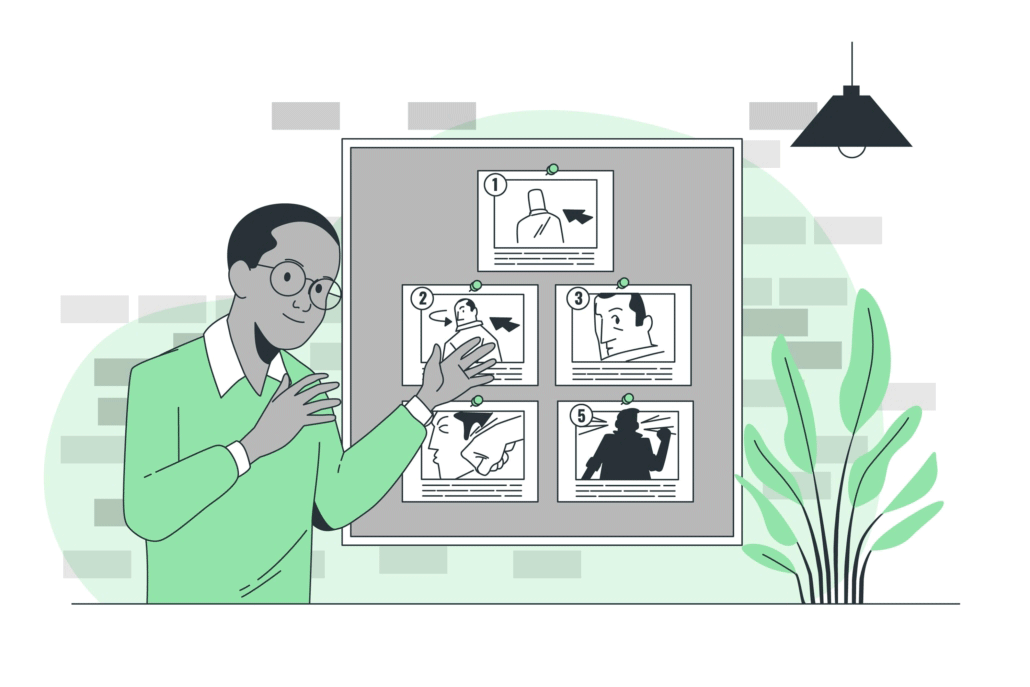 Finally, in the lower right corner, provide a list of the assets that are needed for each slide. Include details like background/scene design, characters, items, sound effects, and more.
Want more tips to learn how to create a storyboard for your animated video? Check out this companion article. "How To Create A Storyboard For An Animated Video."
3). Art
After the storyboard is approved, your designer will create concept art for one of the scenes of your 2D animation. Usually they will provide multiple pieces of concept art so you can choose your favorite. When you select your favorite concept, you can provide feedback to refine the visual style. Once you've approved the concept, the illustrator will create all the art for your animation.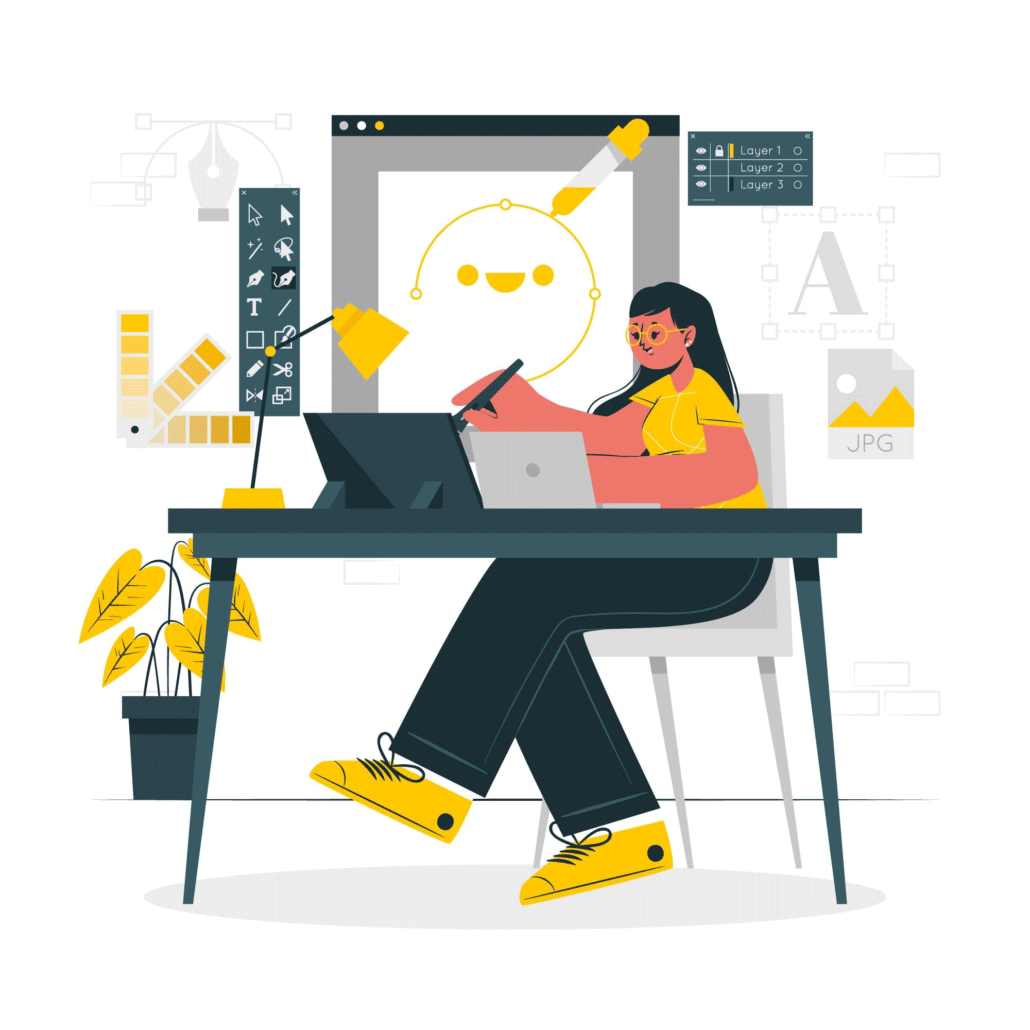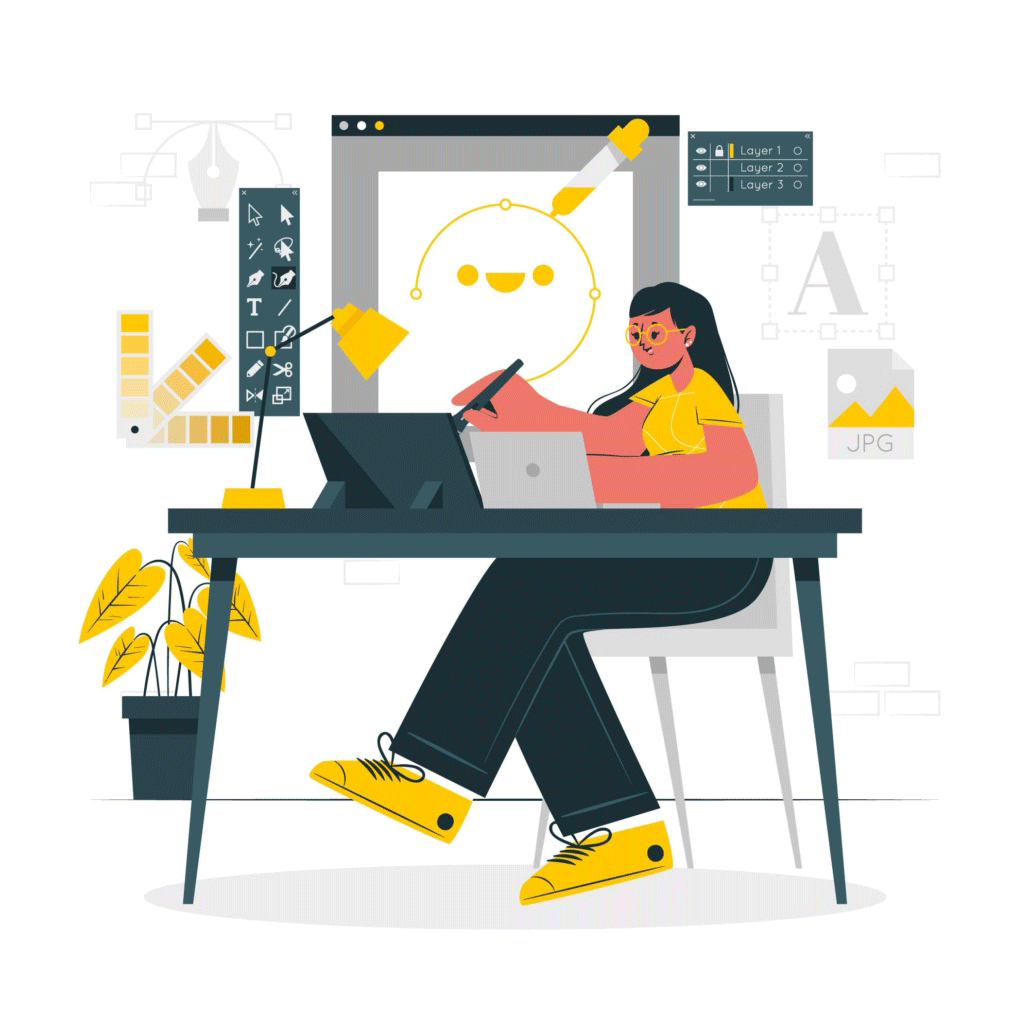 You'll get a chance to review all the art and request edits before animation begins.
4). VoiceOver
VoiceOver creation typically happens in parallel with art creation. Your animation project manager will audition some voiceover talent and send you recordings to review. Once you select your favorite audition, your project manger will procure the full voiceover. You will get an opportunity to review it and ask the voiceover artist for edits.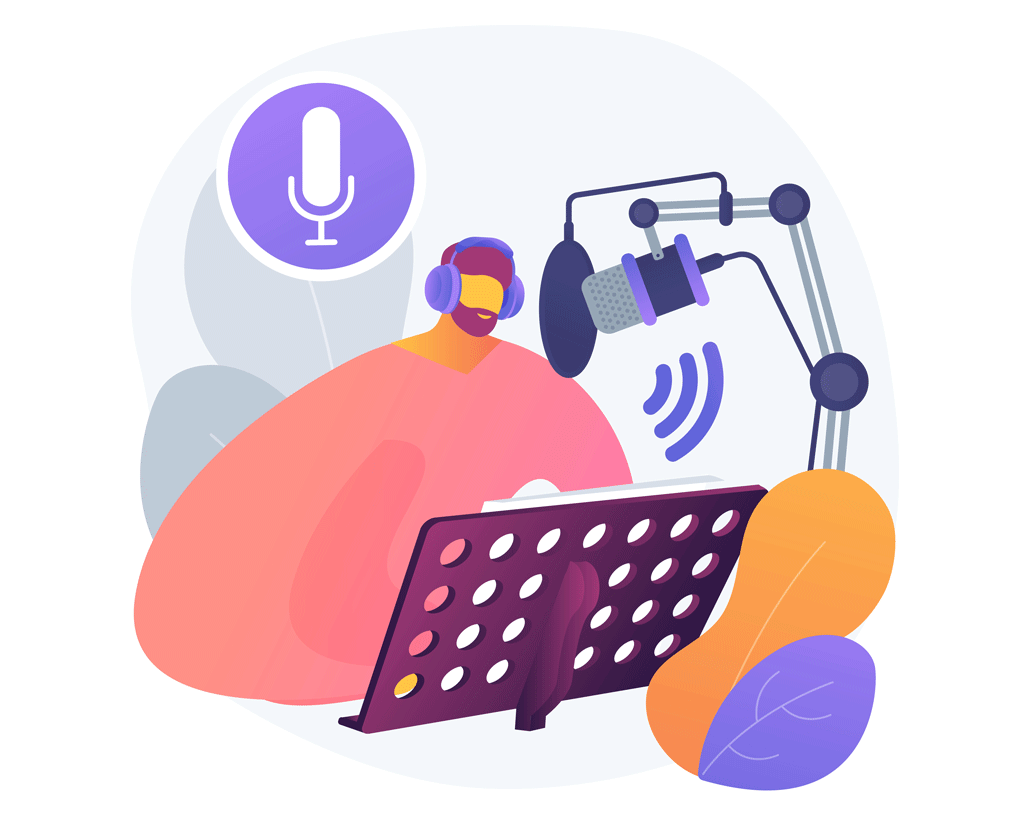 For tips on making your own professional sounding voiceover for free, watch Episode 3 of The Video Igniter Show.
5). Music
Your project manager will also select soundtrack options for you consider for your animation. Sometimes this phase happens in parallel with the voiceover auditions & concept art creation. Other times, it makes sense to wait to pick out a soundtrack after you've seen the first draft of your animation.
6). Animation
Finally, after everything has received your approval, the animation team follows the instructions in your storyboard to animate your video. 2D animated videos take about 1 week for one animator to animate one minute of video.
In total, the 2D animated video production process takes about 3-5 weeks.
For a more in depth look at the animation production process, check out this companion article: "Understanding The Animation Production Workflow."
Why Should You Work With Video Igniter?
1). High Quality For The Price
Video Igniter's production service offers the unique ability to get the quality of a $5,000-$10,000 2D animated video for half the price – or less! (Request access to our pricing page here.) Our online production platform streamlines the production process which means we put more of your production budget into production quality and creative storytelling because we save significant costs on production management and company overhead.
2). Attention to Detail
We want to ensure you are 100% satisfied with the final draft of your animated video. We go step by step through the production process to ensure all components of your video are designed to speak to your target audience. Everything from the visuals to the voiceover and music must work together to present a cohesive and compelling narrative.
3). World Class Storytelling
Video Igniter produces content for world-class brands like T-Mobile, Amazon Web Services, Snoop Dogg and more! We know what kind of storytelling works for big name brands and we can bring that magic to your project as well. Even if you're a small independent business, startup, agency or video production company.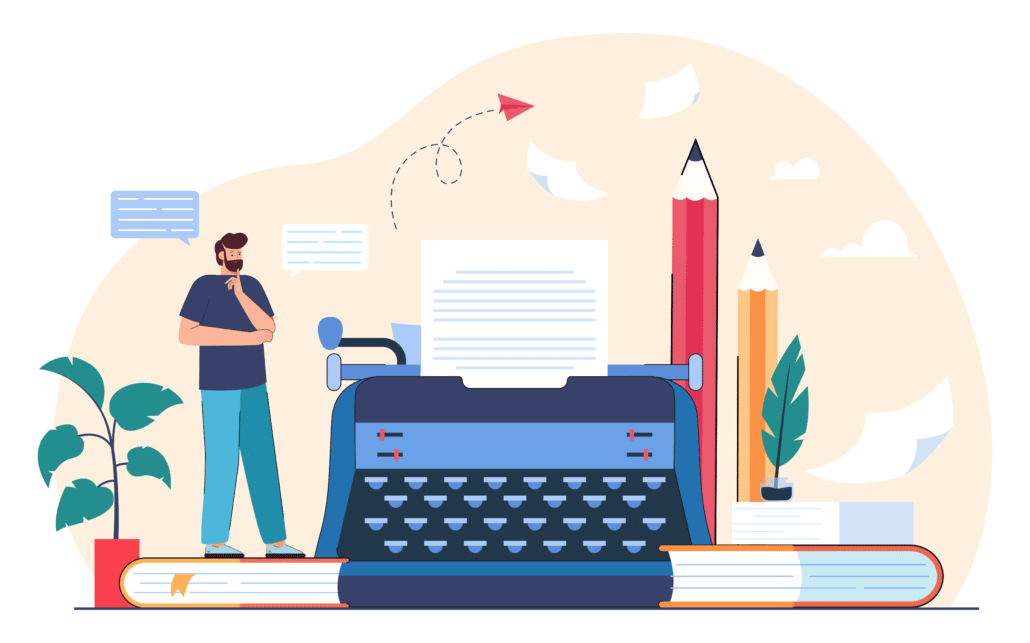 Get a Quote For Your 2D Animated Explainer Video:
Want to get a quote for a 2D animated video? Click here to get a quote.
Animated 2D Video FAQ:
How long does it take to make a 2D animation video?
2D animated videos take 3-5 weeks to produce. If you need to guarantee delivery in less than 3-4 weeks, rush delivery options are available (contact start@videoigniter.com). For more information on the timeline for a 2D video explainer, check out this article.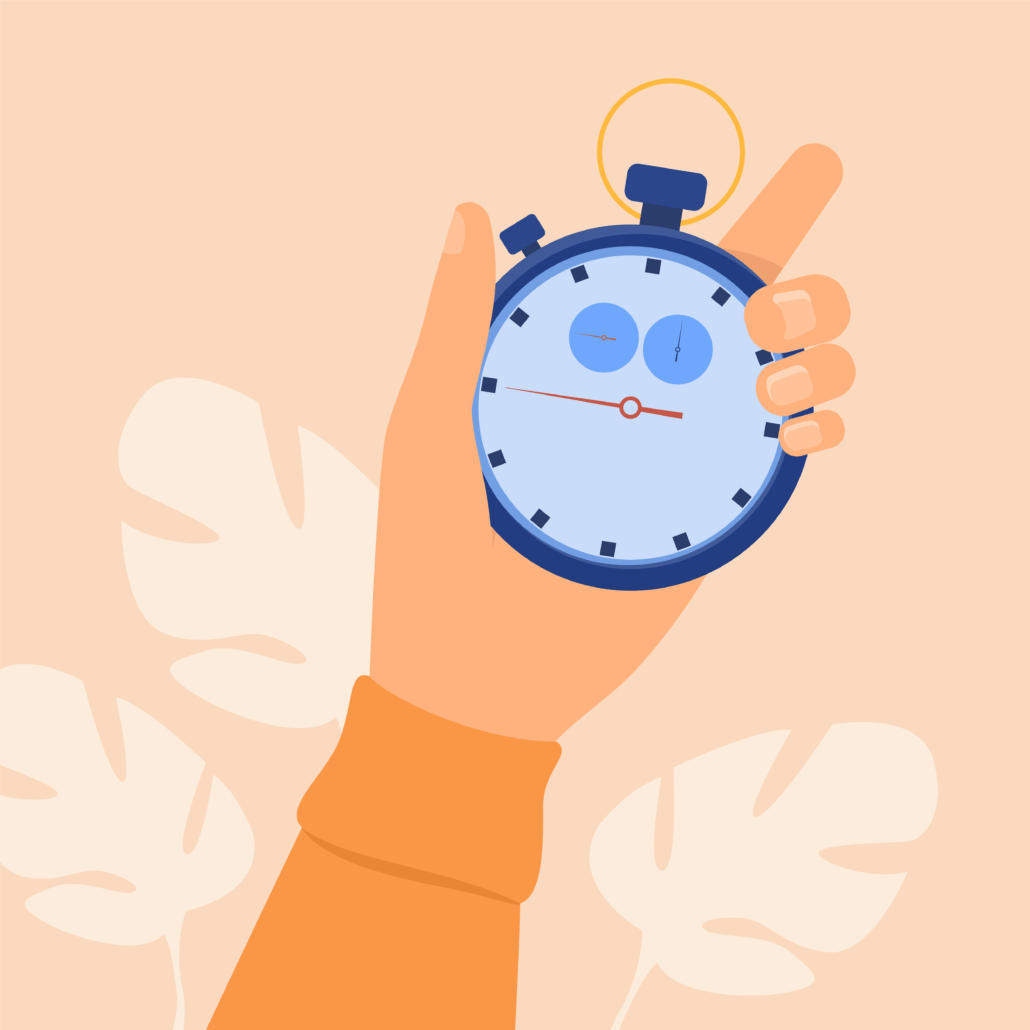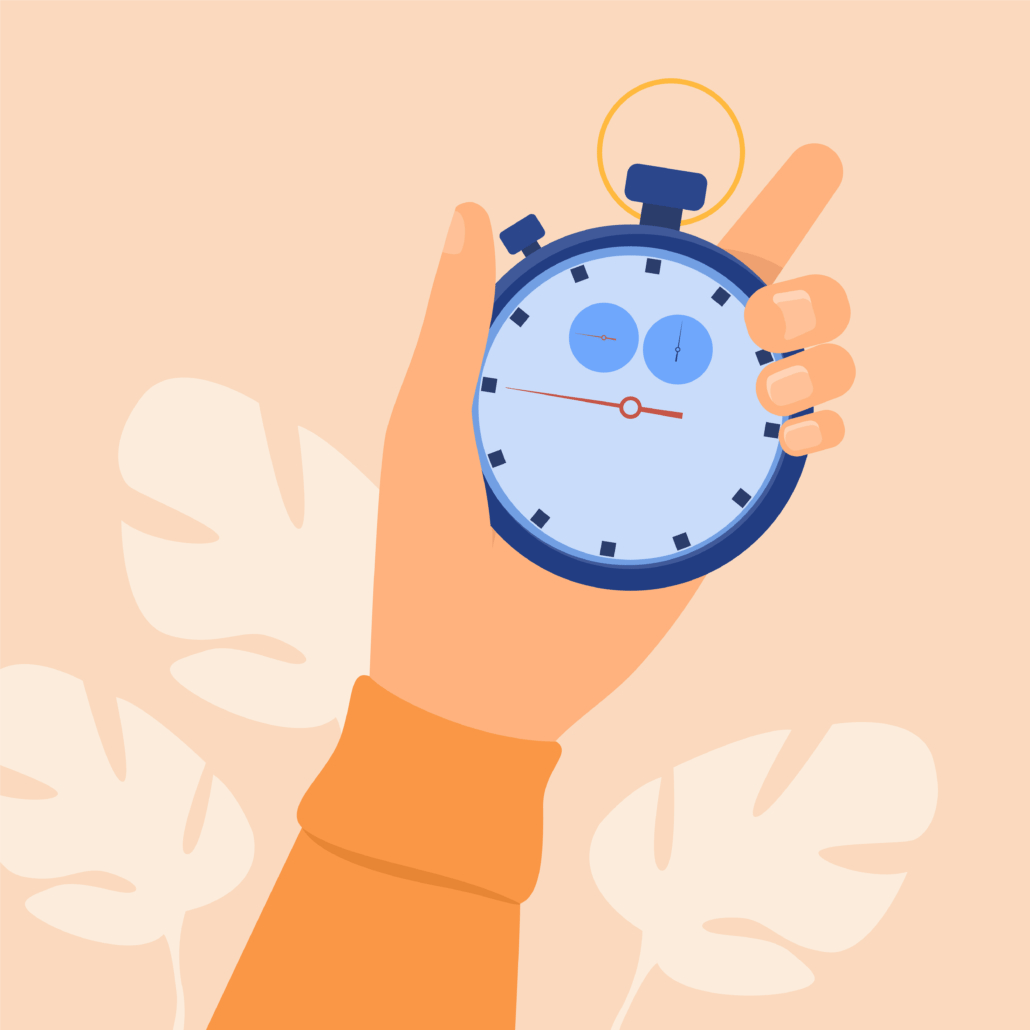 How much does it cost to make a 2D animation?
2D animated videos cost $500-$10,000+ per 60 seconds of animation. For more specifics on budget considerations, check out this article or click here to get a quote for your 2D animation.
How does the 2D animated video production process work?
The production process works by creating a script, then a storyboard for the animation. This tells the production team what art to create and what voiceover(s) to procure. Once you're happy with the art and the voiceover, the animation team will produce your video.
How to do I get the maximum impact out of my 2D video animation?
This guide explains how you can A/B test your video to get more people to click play, watch your video longer and take action when they've finished watching your 2D animation. For 6 more tips on how to increase engagement for your animated video, check out this article.
Can you produce videos in other languages besides English?
Yes!
Contact Us:
If you're interested in speaking with someone about your 2D animated video project, click here to schedule a call with our production team.
Or…
You can fill out a creative brief to help us understand what kind of animation you want to create.

What is Video Igniter Animation?
https://videoigniter.com/wp-content/uploads/2022/08/2D-Animated-Video.svg
77.66
87.74
videoigniteradmin
/wp-content/uploads/2020/02/logo-v2.svg
videoigniteradmin
2022-08-24 00:49:04
2023-08-04 20:02:31
2D Animated Video