How To Pick The Right Visual Style For Your Animated Video
Computers have broadened the possibilities for different animation styles and techniques that were never possible with hand drawn 2D animated videos. When your imagination is the only limit for the style for your animated video, it can be daunting to figure out the right animated video style for your project. In this article, we'll present a set of questions to help you think about narrowing down the right style for your animated explainer video.
If you have a question about animated video styles that isn't answered in this article, you can use our contact form to ask your question or click the image below to schedule a call with a member of our production team:
Questions to ask yourself to figure out which of the different types of animation styles is right for your animated explainer video:
1). Who is your audience? (What does their current design taste look like?)
2). 2D vs 3D
3). High end vs cheap?
4). How much time do you have?
5). When to use hand drawn or 'frame by frame' animation?
6). When to use types of non-computer animation (stop motion, paper cut out, whiteboard, screen recordings)
1). Who is your audience? (And what does their design taste look like?)
This article is going to make you think about design in many different ways but the most important factor is knowing who your audience is and understanding their design preferences. If you're making an animated video to teach kids, then a simple, cartoon animation style is what you're looking for. On the other hand, if your audience is comprised of C-suite executives who are watching your animated explainer video to see if they want to try your product/service, a more sophisticated animation style or motion graphic would be appropriate.
Whomever your audience is, spend some time looking at websites, social media pages, and other types of custom animation that your target audience would watch. Find what's already resonating with that audience and save those examples to share with the designers that are going to work on your animated video. They will be able to take in the examples you share along with your branding and come up with a unique style that fits both criteria.
2). 2D vs 3D Animated Video
In many cases, 2D is the way to go. It's an infinitely versatile visual storytelling medium. You can get intricate and complicated with the design to make something that stands out, or use a simple animation style without losing your message. 2D videos are quicker and less expensive to produce than 3D animated videos. 2D videos are also easier to make changes to mid-way through production if someone gets a great idea they want to incorporate.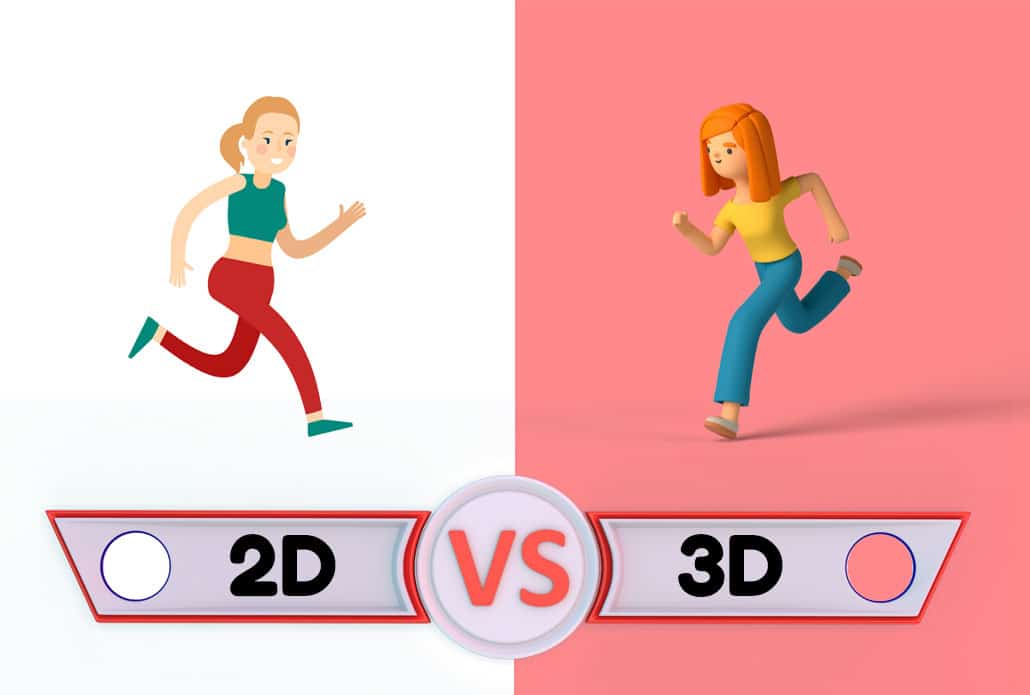 3D animations are the ideal style for your animated video if you want to take a viewer on a journey inside a 3D space to show what an environment is like or to understand the inner workings of a machine or system. 3D animation also works great for your standard explainer video if you want to go for a high impact visual style that stands out from the bunch. Just note that if you want to make a 3D animation, it will take more time and a larger budget to produce than 2D animation.
3). High end vs cheap? OR Knowing how your budget will affect style
The size of your budget will greatly impact the style, quality and length of your animated explainer video. If you only have a few hundred dollars, your video will likely use a simple animation style consisting of stock images, icons and characters. Budgets of a few thousand dollars can get you a simple or modern looking 2D animation with custom graphics and smooth animations. For a high end 2D animation (frame by frame animation), you'll likely want a budget of more than $5,000 per minute of animation in your video. Custom 3D animations usually cost more than $10,000 to create 60 seconds of content. You might be able to find animators that will do this work for less, but expect to pay more than $10k/min if you want good quality custom graphics and animations.
4). What is your deadline?
How much time do you have to get your video made? Are you weeks away from a product launch and trying to get things done in a short timeline? If so, you'll want to stick with some form of 2D computer animation or maybe a whiteboard style video. 3D animation and frame by frame animation (or hand drawn animation) generally requires a few months to do all the work. 2D animations are easier to change and modify the style so that they can be produced in a shorter time frame.
5). When to use hand drawn or 'frame by frame' animation?
Frame by frame animation (aka hand drawn animation) is what most people are familiar with when they think of animation. Think back to the original Disney movies and Looney Tunes cartoons that were created by artists who illustrated each frame by hand. 24 individual images were created per second of video – each with slight adjustments that appear as continuous fluid motion when played as a video. These days, frame by frame animation is usually done on a computer. Artists will design characters and scenes and then animators will adjust that image slightly for every single frame of the video to make it look like the image is in motion.
While technology has made this art form easier and more advanced than it has ever been, it is still a tedious and time consuming process. Frame by frame animation is the way to go for your video if you want to have beautiful fluid motion in your characters, scenes and transitions. The extra time is worth the effort for the visual effect this animation style enables.
6). When to use types of non-computer animation (stop motion, paper cut out, whiteboard, screen recordings)
Stop motion animation, paper-cut out animation, whiteboard animation and screen recordings are all styles of animated videos that you can use for your business – and potentially even create them yourself! While there's no clear cut answer to when or why you should use one of these different animation styles, they tend to be easier to produce and require a lower budget. If you are making a stop motion video, a paper cut out video, or a whiteboard recording, the only equipment you need is your phone's camera (and maybe a whiteboard and a pen). Screen recorded videos are best for when you want to show someone how an app or a website works. Sometimes written instructions can be vague, but a screen recording provides unambiguous instructions to viewers about what steps to do next.
Interested in seeing examples of what these different animation styles look like? Check out this article: Animation Style Guide: Different Types of Animated Explainer Videos.
Another great way to figure out the visual style for your animated explainer video is to start by creating the script for the video. This will help you figure out what sorts of visual elements could make an appearance in your video and subsequently inform which visual styles are better suited for your video. For tips on how to write the script for your animated explainer video, check out this article: How to write an animated explainer video script.
With so many different types of animation styles, it can still be difficult to find the right balance between style, your production timeline, and budget. Contact our team to schedule a call to talk about your video and we can talk about your video style options.
Hire Video Igniter to Create Your Animated Video
World class design talent at prices small businesses can afford.
We can make any kind of 2D or 3D animated product video you can imagine.
Check out our portfolio!
+20 reasons companies love hiring us to create product videos.
Animated Video Demo Reel 
Animated Video Success Stories & Testimonials
"Video Igniter came to us with a number of creative and engaging ideas and were able to create an exciting, impactful video in a short period of time. And the best part was that it cost much less than other options of similar quality. The video they made is a great marketing tool for us."
Alex Raymond – Founder, Kapta Systems
"My whole family and everyone on Facebook thinks you are amazing. My whole office is freaking out."
Patricia Shields – Real Estate Agent
"I am beyond satisfied with my experience with Video Igniter. The first drafts of the work were almost exactly what I had in my head when developing the concept. After that each step along the way was seamless until arriving at a perfect finished product. And all this at a tremendous value. Anyone who has considered creating a marketing video should check out Video Igniter."
Anonymous Customer Feedback
Get in touch to discuss your animated video project
Schedule a call with our production team to discuss your animated video project.
Get a quote for your animated video.
Request access to our newest price sheet.
Create your Video Igniter account, fill out a creative brief, and then we'll make an animated video for you.

https://videoigniter.com/wp-content/uploads/2021/11/Animated-Video-Style.svg
77.66
87.74
videoigniteradmin
/wp-content/uploads/2020/02/logo-v2.svg
videoigniteradmin
2021-11-22 12:12:25
2023-07-31 19:16:27
How To Pick The Right Visual Style For Your Animated Video