How to Make A Homepage Video That Helps You Grow Your Business
Do you want to create a homepage video for your website that helps you:
✅  Generate More Leads
✅  Educate Customers
✅  Increase Sales
If so, you're in the right place! Video Igniter's guide to animated homepage videos teaches everything you need to know about how to create a high performing marketing video that will help you grow your business.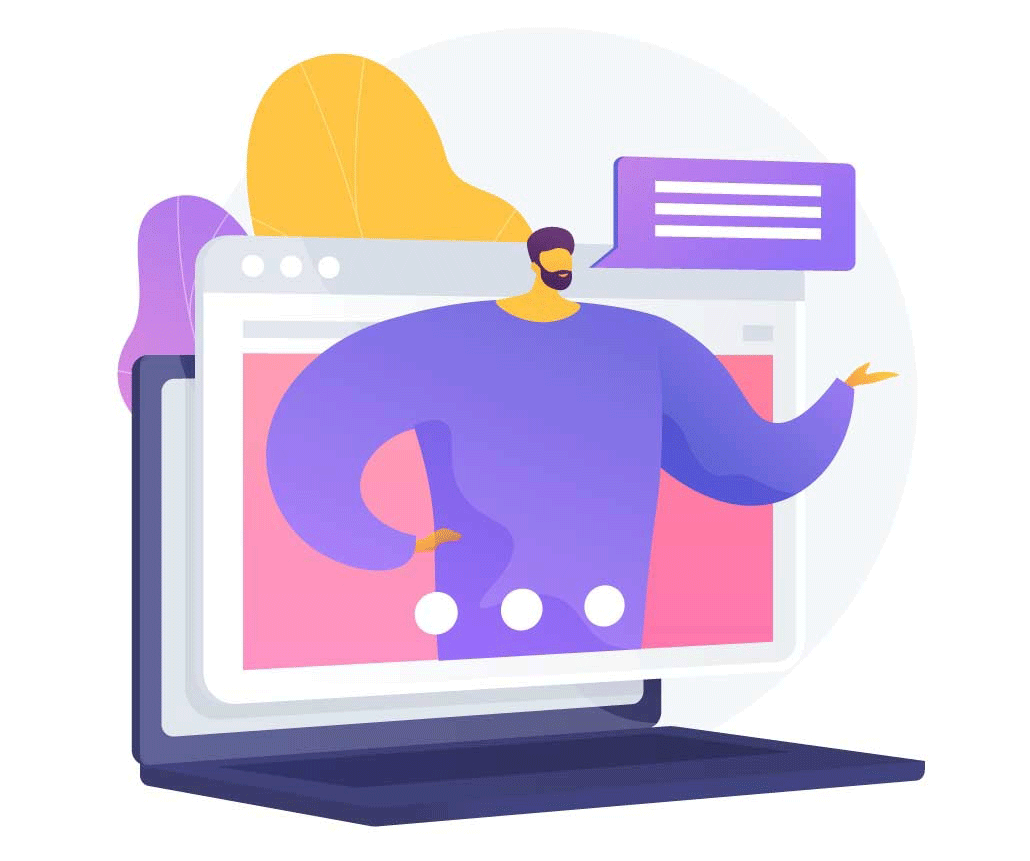 In this guide, we cover topics like:
What are the benefits of having a video on my homepage?
How do I create a video for my homepage?
How long does it take to make a homepage video?
What does it cost to make a video for my homepage?
What do I do after my homepage video is finished?
Let's dive in! First, let's take a look at some animated homepage video examples.
Animated Homepage Video Examples

What are the benefits of having a video on my homepage?
A properly designed animated marketing video can drive huge business results when you add it to your homepage. Here are some of the benefits you can get from adding a high performing custom animated video to your company's homepage:
Generate More Leads ✅
Adding an animated video on your homepage is a direct and concise way to communicate what your business does and generate more leads for your business. The video can provide the full pitch for your product or service and show the benefits in 30-90 seconds. At the end of your video, you can display a text box for people to input their email address to learn more or you can present them with an image to click on to take them to buy your product/learn more/download an app, etc.
All homepage videos should include a call to action at the end of them – something that you want the viewer to do when they're done watching your captivating video. This is how you direct people to the next step towards doing business with you. That could mean scheduling a call with a sales person, downloading your app, creating an account, etc.
When your video is designed with a compelling narrative that speaks to the problem your target audience experiences, the call to action at the end of your video should be an easy, logical way to tell them how to take the next step towards becoming a customer.
Increase Sales ✅
Time and time again, (quality) videos have been shown to increase sales when used they're added to a landing page or a sales page.
Go search for a product on Amazon right now. You'll be hard pressed to find one of their 'best seller' products that doesn't include a video along with images and a writeup about the product. That's because videos are able to show and explain how the product/service works better than text and images alone. When customers get a strong sense of trust and understanding about what your product or service does, they're much more likely to have the confidence to buy from you.
Increase Time On Site = SEO Boost ✅
Adding a video to your homepage gives visitors an easy way to learn about what your business does. A wall of text is intimidating. An animated explainer video encourages people to click play and stick around for a while. The benefit here is that Google can tell people are staying on your site longer – which they see as a sign that your website is useful. The more useful Google thinks your website is, the better they will rank your website in their search results. Adding an animated video to your homepage is one of the easiest things you can do to encourage your website visitors to stick around longer.
Well Educated Customers ✅
Making an educational animated video for your homepage makes it easier for your leads and prospects to understand how your business can help them.
This helps you separate qualified leads from unqualified leads.
People who watch your video(s) and understand how they will benefit from your product or service won't waste your time. People who are less qualified potential clients will be less likely to reach out and waste your time if it isn't going to be a good fit for them.
How do I create a video for my homepage?
1). Pick a producer for your animated homepage video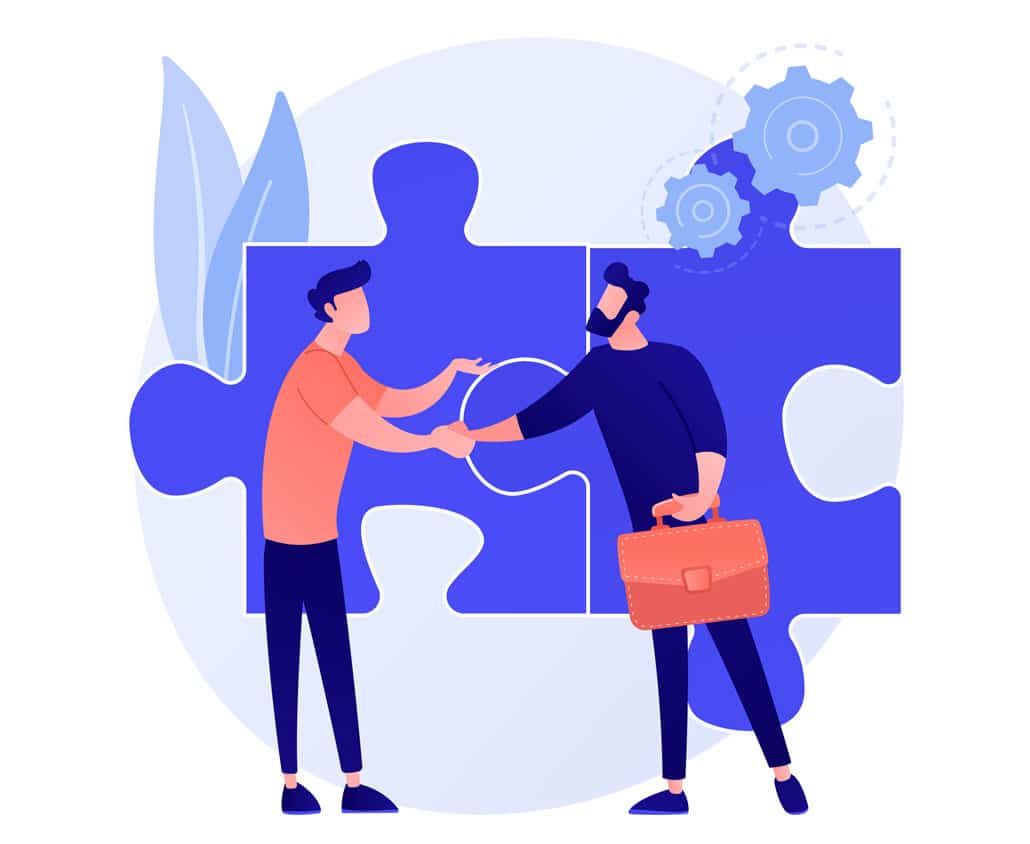 Choosing the producer for your homepage video is one of the most important parts of the animated video production process. Here are some resources to help you pick the right animated video production company to make your homepage video:
2). Kick Off Call / Questionnaire
Now that you've picked out a producer for your animated homepage video, it's time to do a deep dive on your goals and expectations for the project.
Your animation producer will either send you a questionnaire or set up a kick off call to learn more (or both!) The types of information your animation producer wants to know include:
What is your goal for the video?
When people are done watching your video, what do you want them to do?
What do you want to say in the video?
Who is your target audience?
What problem(s) do your customers experience?
What kind of visual style do you want to use for your video?
3). Write the script for your homepage video
After the kick off call/questionnaire, we'll process the information we received and use it to develop your script. Our team will create the first draft and send it to you to review. Our goal is to develop a narrative that speaks to the unique problem(s) your target audience experiences and then highlight how your product or service can solve this problem for them. At the end of the script, they should be so excited for your solution that they'll be waiting for your call to action to learn how they can become a customer.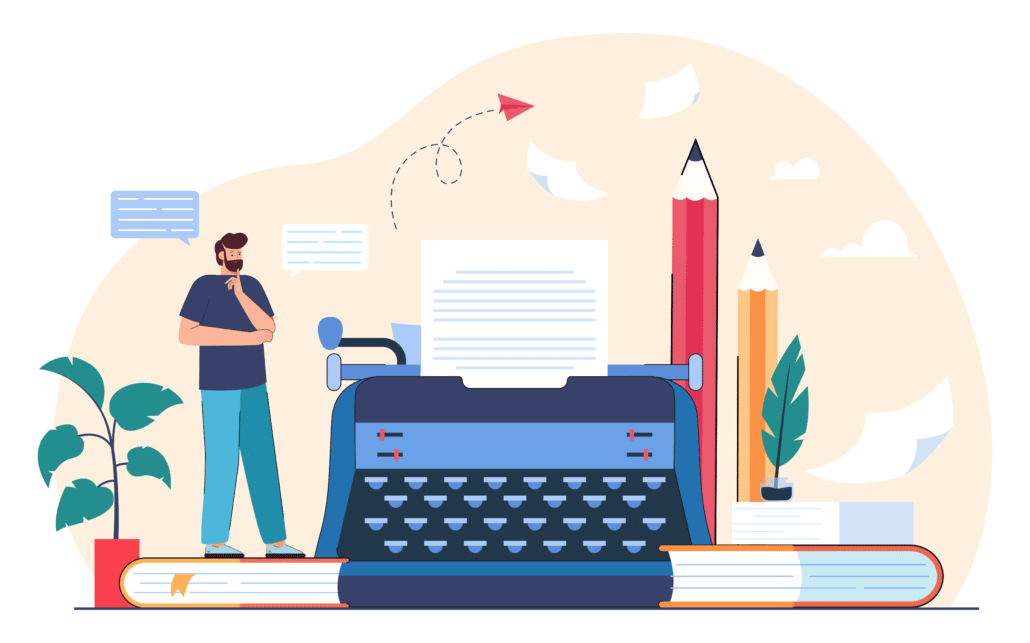 Give the script a detailed review at your company. In an ideal world you should share it with members of your target audience and get their feedback as well (or we can help with that). Collect everyone's notes and send them to us so that we can revise your script. You will get an opportunity to review the script and approve it for production or request another round of revisions.
4). Create the storyboard
Once your script is approved for production, it's time to create your storyboard.
What is a storyboard you ask? A storyboard is a set of instructions that tell the illustrators and animators what to create.
It includes a mockup of the visuals and a set of directions that explain what illustrations need to be made and how they should move.
When you review the storyboard, focus on the visual storytelling aspects. Does the story and visual presentation of ideas speak to your target audience?
Collect all your revision notes and send them to us to revise. We'll incorporate your edits and send you an updated draft to review and approve for production.
5). Design the illustrations
Now that your storyboard is approved, we can develop the illustrations for your homepage video. Our art director will start by creating some concept art. This helps us establish the visual style for your homepage video before we spend time creating all of the illustrations. The art director will review your branding guidelines and select a key scene from your storyboard. Then, they'll illustrate that scene using one or more custom visual styles.

Share your honest feedback with the art director. The art director will work with you to refine your preferred piece of concept art until you love it. Then, the art director will oversee the creation of all of the illustrations for your homepage video.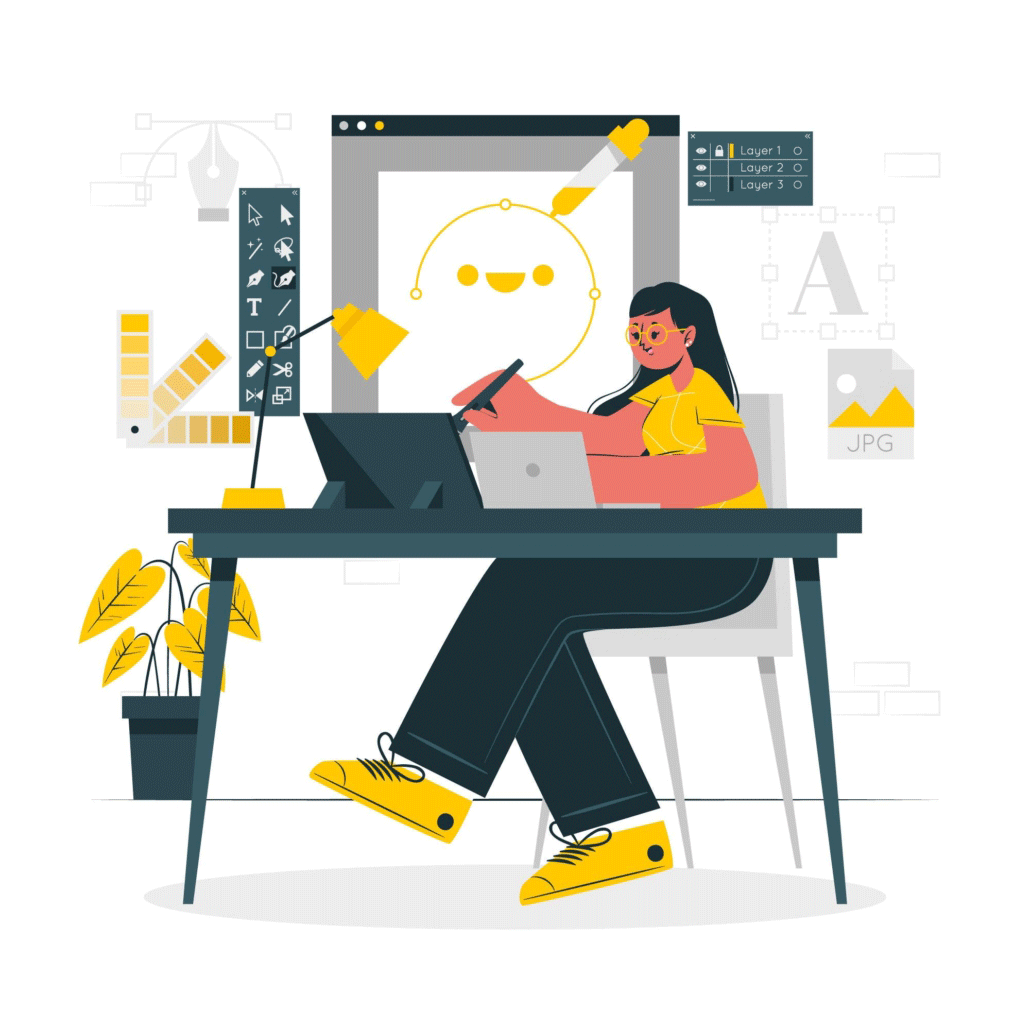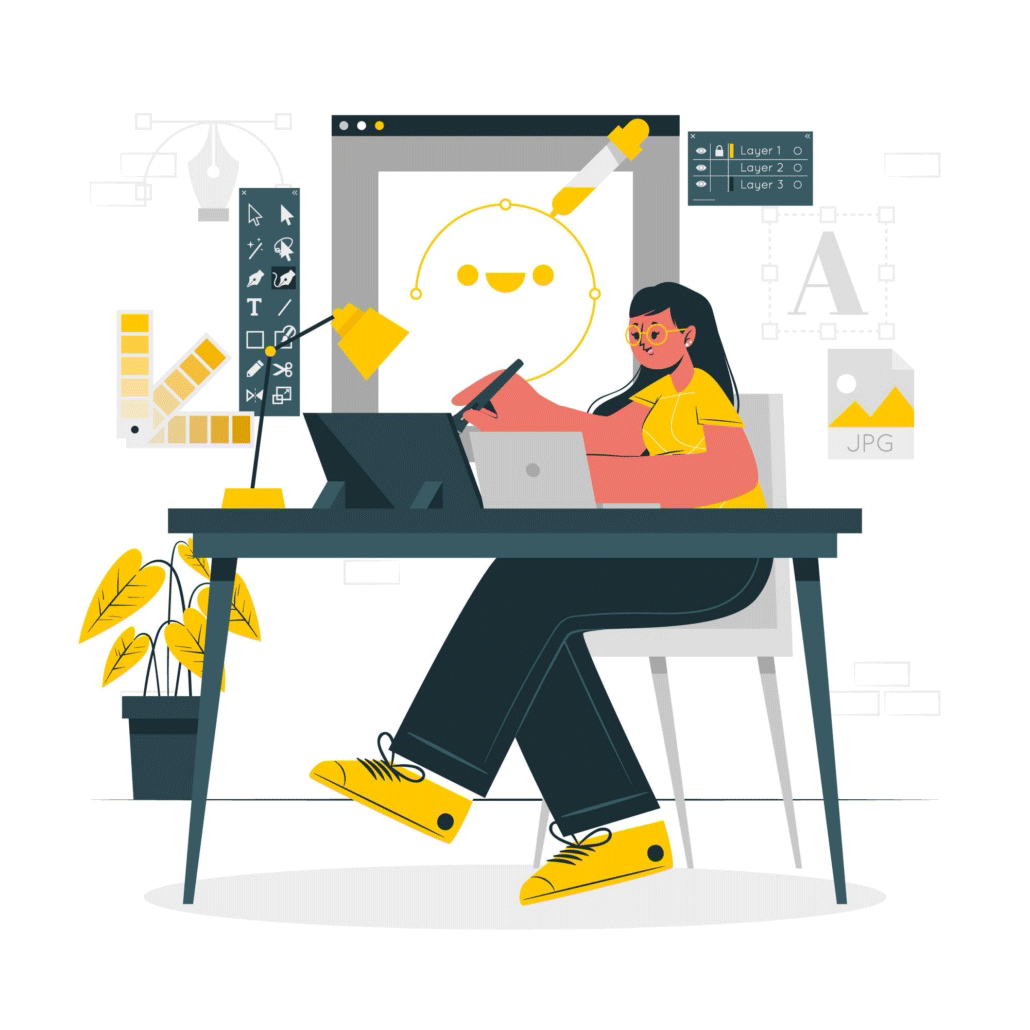 You get an opportunity to review all of the illustrations and request revisions before approving the art for production.
6). Record the voiceover
We're also going to need a voiceover narration to accompany your homepage video. Our team will audition several voiceover artists and send you the recordings to review. Let us know which artist you prefer and then hire them to record the full voiceover.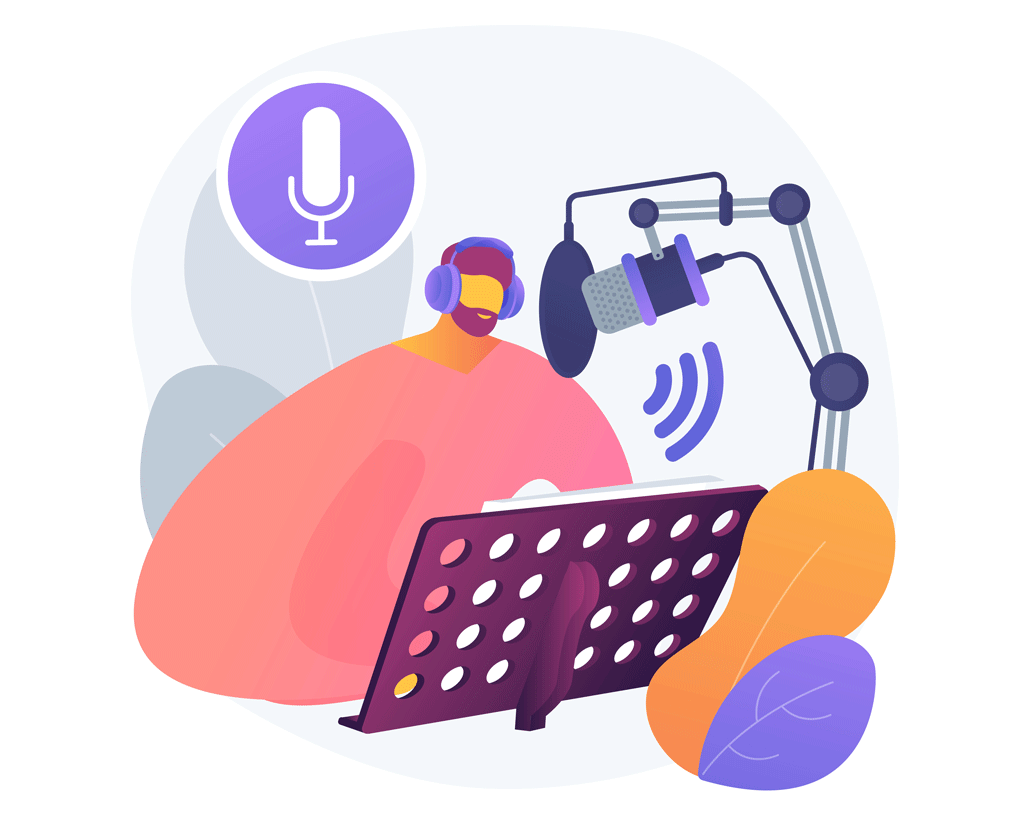 We'll help guide the VO talent so that they use the proper pronunciation, intonation and pacing when they record your voiceover. You will get to review the full voiceover and request edits before approving the voiceover for production.
7). Pick out some music
We'll also select a few soundtracks that we feel will enhance the presentation of your animation. You get to have the final say and pick which option you like best. After that, we'll procure the license so that you can legally use the soundtrack in your homepage video.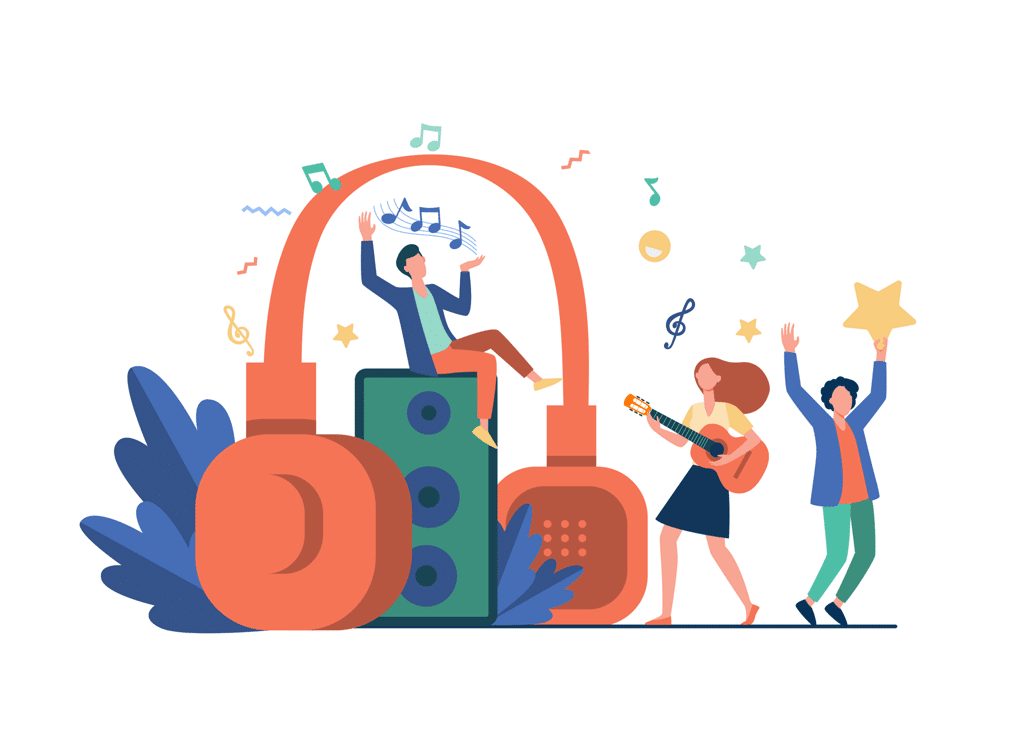 8). Animate your homepage video
It's finally time to animate! The voiceover and illustrations are approved and we can work our magic.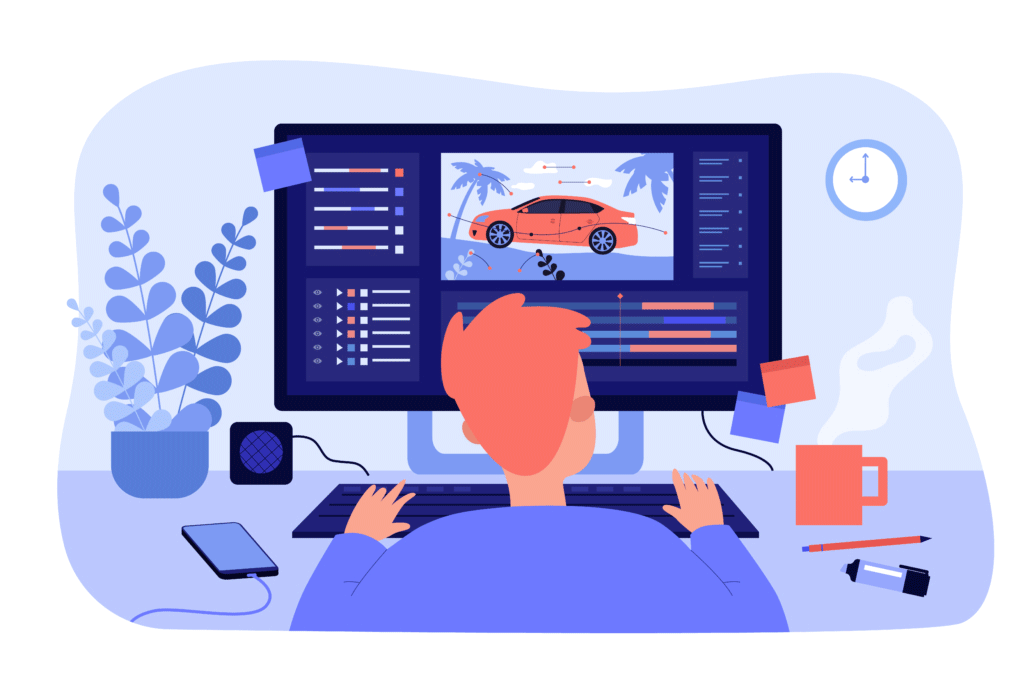 When the first draft is ready, give your homepage video a detailed review. Ideally, share it with some of your leads and clients to get their feedback. Collect everyone's notes and send it to us so that we can incorporate your revisions and render out the final draft of your homepage video.
What do I do after my homepage video is complete?
Add the video to your homepage
There are many great video hosting services out there with a variety of different features and benefits for your homepage video. If you're just looking for something simple and free, YouTube, Vimeo and Wistia are all great options. They even have analytics built in so you can see how long people watch your video.
Upload the final draft of your video to one of these services, copy the embed code and send it to your developer to add to your homepage.
If you use a hosting service like Wistia, you can customize the look and feel of how the video appears on your website. It even gives you the option for people to give you their email address at the end of the video if they want to hear from you. You can also add an image or a link at the end of your video for people to click on to direct them to create an account, download your app or buy your product.
Add a compelling thumbnail!
The thumbnail for your video is the first impression for your video. Without a compelling thumbnail, you won't get a lot of people clicking play to watch your video. We recommend designing several different thumbnails and testing which one gets people to click play the most often.
After you have several months of data and can see which one people click on most often, make that the official default thumbnail and remove the other version that people don't click on as often.
For a deep dive on how to do this, check out our guide called "How To Improve The Conversion Rate Of Your Video."
Optimize for Video SEO
Optimizing your video for SEO means that when people search for terms similar to what your company does, your video might appear in search engine results on YouTube, Google, Bing, Instagram, TikTok, etc. While it isn't possible to guarantee a video will appear in search results, there are some standard practices you can do to increase the odds of this happening. Check out our guide on Video SEO to learn more.
As a bonus, adding a video to your website keeps people on your site longer because they're busy watching your video content. Keeping people on your site longer makes your website seem "useful" in the eyes of Google. This is a good thing. Google wants to recommend useful websites to people – so the longer you can keep people on your site, the better your search rankings will be.
Promote your homepage video!
Once your video goes live, don't forget to promote it! Send a message to your email lists to invite people to come watch it. Upload copies to your social media channels as well.
Watch your stats and analytics to see how people engage with your video
Video hosting services usually include statistics and analytics to help you see how many people have watched your video & how long they watch your video.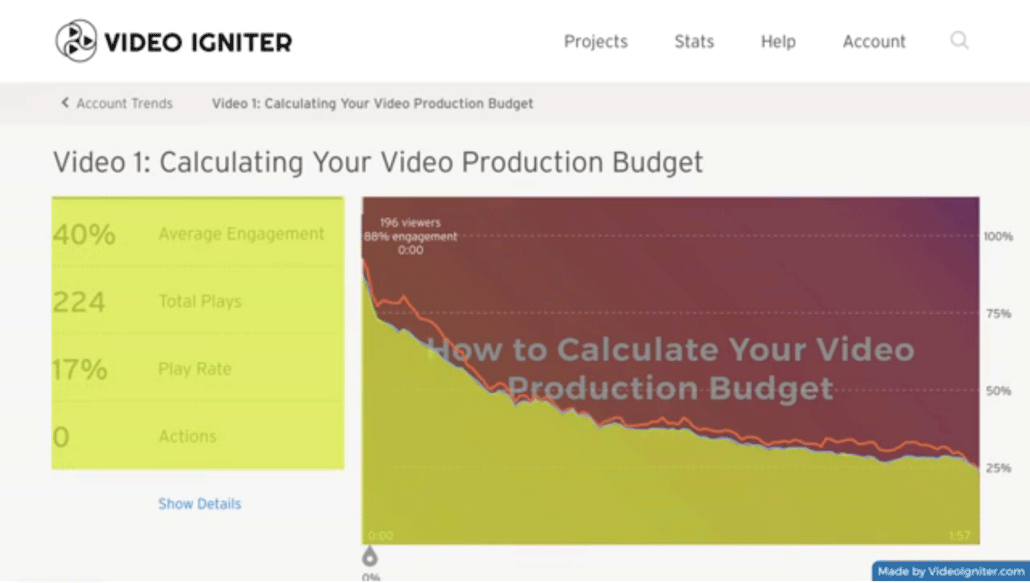 Check out this article for a deep dive on how to review and interpret stats for your video.
Optimize and update over time.
One of the great things about animated videos is that you can update and improve them over time.
If you notice a certain % of people stop watching at a specific part of your video, it's possible to update and improve that section of your video so that in the future, more people keep watching your video until the end.
Live action (non-animated) videos are much more difficult and expensive to retroactively make changes to. You need to get the film crew, actors and set back together to reshoot part of the video. If you want to make revisions to an animation, in most cases, as long as you have all the project files, you don't need to work with the original animators and illustrators to modify sections of your animated homepage video.
Create more videos to answer your client's questions.
Your homepage video typically serves one purpose: explaining to your target customer who you are, what you do and most importantly, how you can help your clients with their problems.
But then what?
People who are interested having your company solve their problems are going to want to learn more!
How does this work?
What does it cost?
How long is it going to take?
Each of these questions could (and should) be answered with their own videos.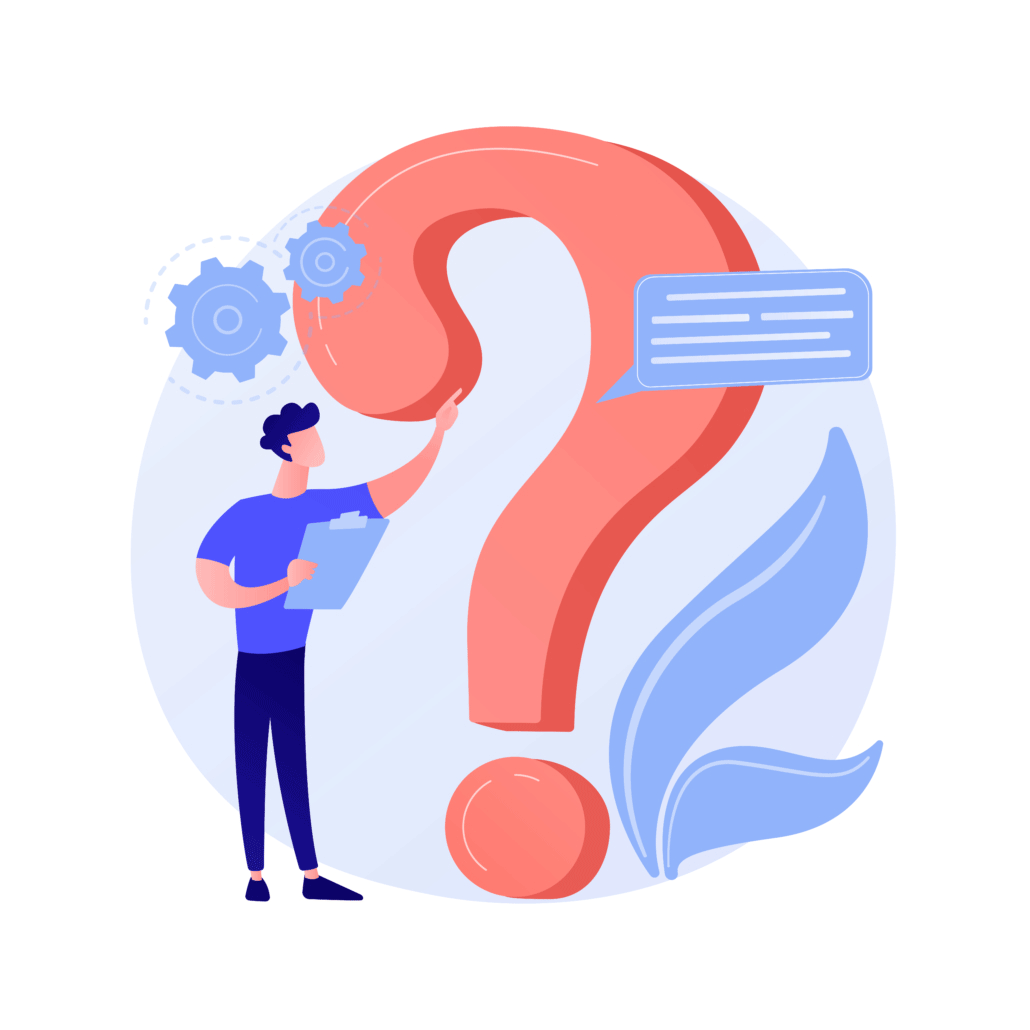 You should have a video answer for all of the most popular questions you frequently receive from leads and clients. When you launch a new product, service or upgrade, create a video to illustrate what is new and better about your latest offering. Creating a video for your homepage is just the beginning.
How long does it take to make a homepage video?
Most videos can be created in 4-6 weeks (or less!) If you need to guarantee delivery of your homepage video in less than 3-4 weeks, we offer rush delivery animation to speed up production.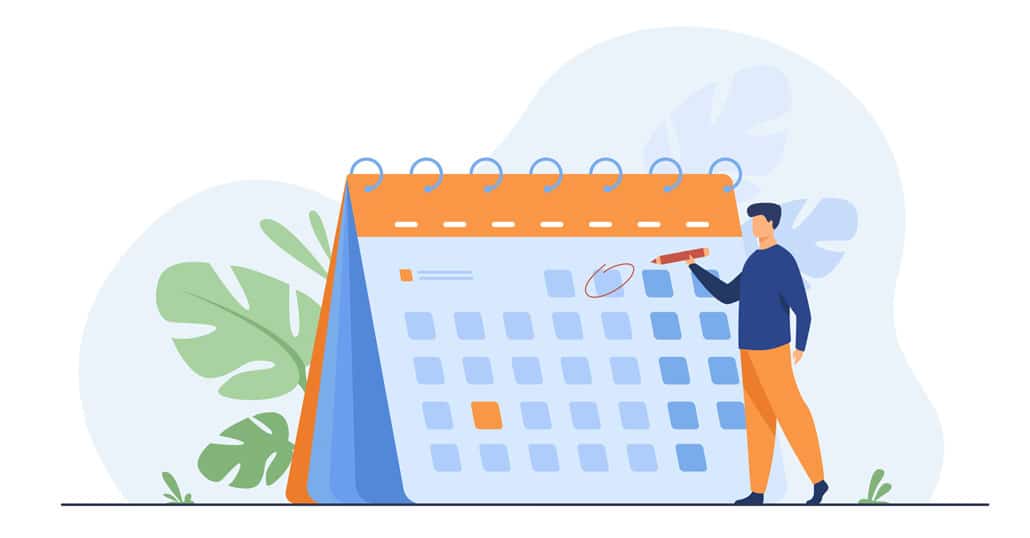 What does it cost to make a homepage video?
The cost of your homepage video largely depends on two things: the length of your video and the visual style used to illustrate and animate your homepage video.  Most homepage videos can be created for $1,000-$15,000. Click here to get a quote for your homepage video – or you can request access to our newest price sheet.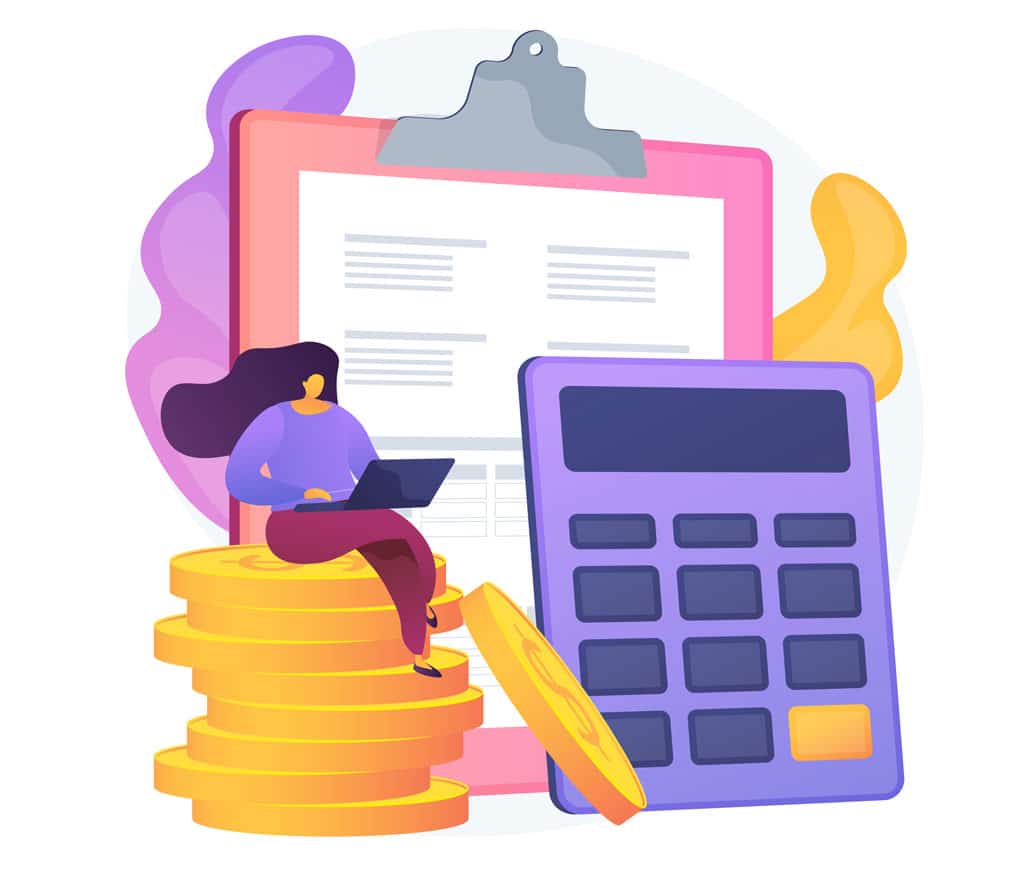 Still have questions about homepage videos?
Do you have a question about making a video for your homepage that wasn't addressed in this FAQ? Use this form to send us your question and we'll follow up with an answer. We'll also post the question and answer to this page so other people can benefit from the knowledge.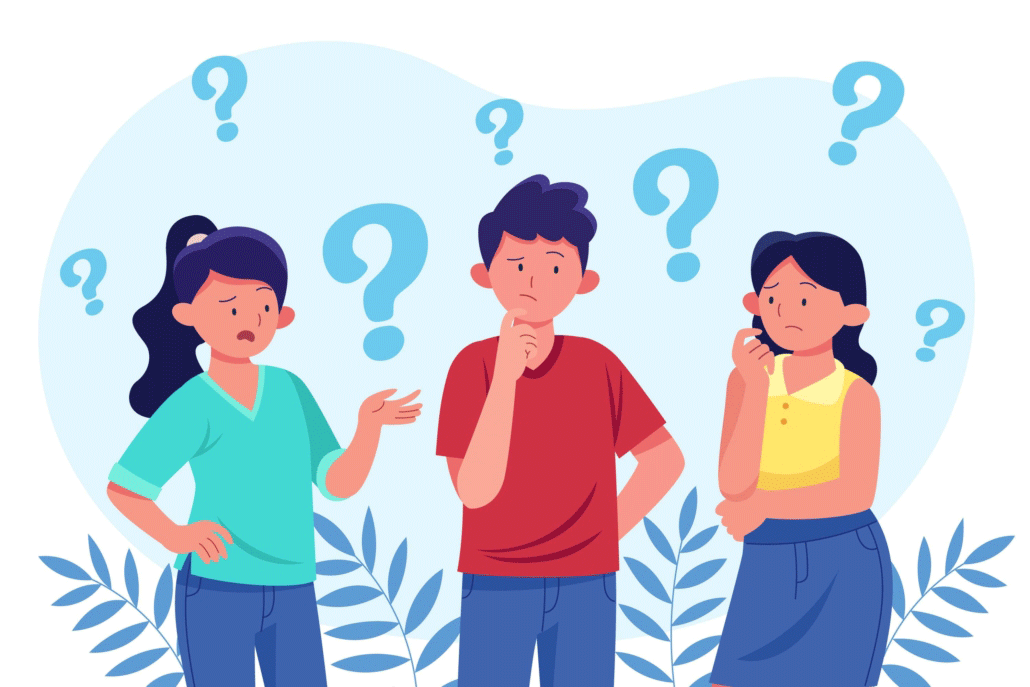 What is Video Igniter Animation?
Video Igniter Animation is an online animated video production service. By working with our team online, you can get your custom animated video produced faster and for less than hiring a brick and mortar animation studio.
We can help you create any kind of 2D animated video or 3D animation you can imagine. Check out our animated video portfolio!
Need help syndicating your animated video? Ask us about video promotion!
Watch our explainer video on our home page to learn more about how we can help you create an animated video. For examples of the kinds of animation our team can produce, check out the demo reel below:
Looking For An Animated Video Company In The U.S.?
Video Igniter is headquartered in Seattle, Washington.
Success Stories & Testimonials
"Video Igniter offered us the critical combination of creative value, clear communication, and patience with stakeholder feedback. We ended up with truly high-quality design assets for our video series largely due to the extra level of commitment — and the right balance of efficiencies with flexibility in the process when called for."
Larry Schlessinger – Sr. Creative Program Manager, Amazon Web Services
"Video Igniter came to us with a number of creative and engaging ideas and were able to create an exciting, impactful video in a short period of time. And the best part was that it cost much less than other options of similar quality. The video they made is a great marketing tool for us."
Alex Raymond – Founder, Kapta Systems
"I am beyond satisfied with my experience with Video Igniter. The first drafts of the work were almost exactly what I had in my head when developing the concept. After that each step along the way was seamless until arriving at a perfect finished product. And all this at a tremendous value. Anyone who has considered creating a marketing video should check out Video Igniter."
Anonymous Customer Feedback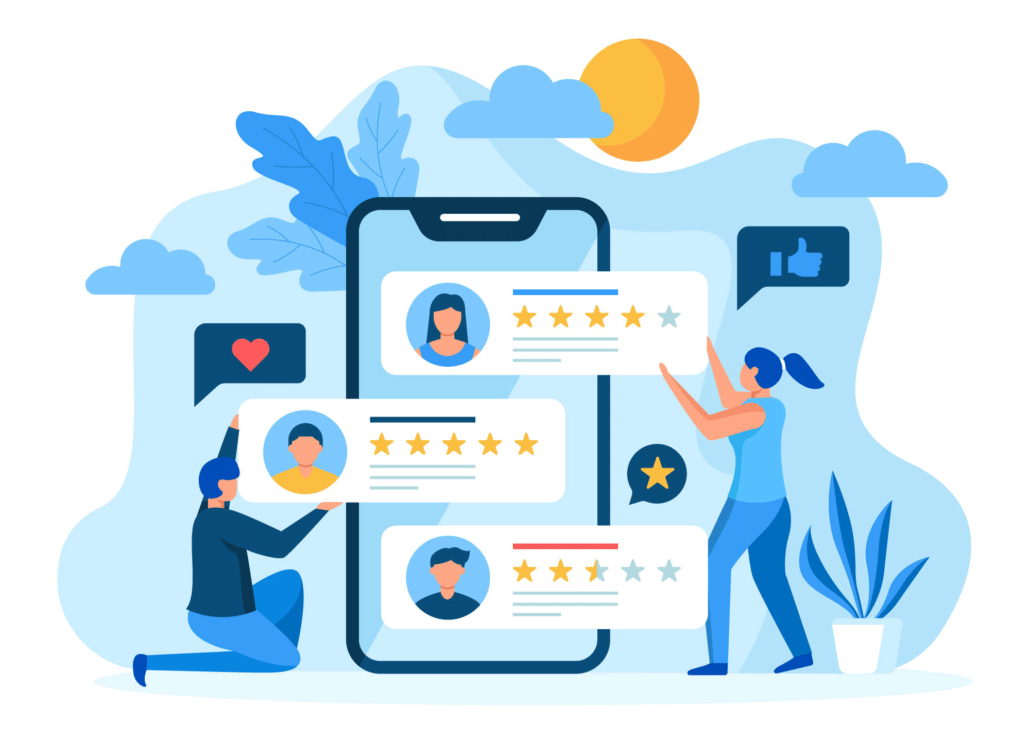 Get in touch!
Schedule a call with our production team to discuss your animated video project.
Get a quote for us to create your animated video.
Request access to our newest price sheet.
Create your Video Igniter account, fill out a creative brief for your video and we'll begin production as soon as we receive your production deposit.
https://videoigniter.com/wp-content/uploads/2023/03/Homepage-Video.svg
86.1397
85.9103
videoigniteradmin
/wp-content/uploads/2020/02/logo-v2.svg
videoigniteradmin
2023-03-24 01:04:41
2023-05-08 23:03:11
How to Make A Homepage Video That Helps You Grow Your Business