Thinking About Getting An Animated Company Video?
If you want to help your company stand out online, getting an animated company video can make your marketing and communications rise above the ocean of noise.
If you have a question about making an animated company video that isn't answered in this article, you can use our contact form to ask your question or click the image below to schedule a call with a member of our production team:
Why do companies make animated videos?
Capture Attention: Animated videos capture attention in the ocean of live action content online. When everything looks like a video someone filmed on their phone, animated company videos are more likely to stand out and get people to stop and watch to see if they're interested.
Hold Attention: Furthermore, animated videos for businesses hold viewer's attention longer than live action or talking head videos. By constantly introducing something new in motion, animations keep the viewer's attention focused.
Makes it easy to understand new and complex ideas: Corporate animated explainer videos do a great job of breaking down a complex idea, or a company's product/service offering, and make it easier for your target audience to understand what they offer.
People remember the message longer: Since business animated videos use a combination of narration and visuals that reinforce the narration, it not only becomes easier for the viewer to understand the content but the visual metaphors also make it easier for the viewer to retain the information longer.
Improve conversions and generate more leads: Adding an animated business video to your company website can improve your website's conversion rate. You can use videos to increase sales, generate more leads, encourage more app downloads, get people to sign up for your service and contact your sales team for a demo.
Increase SEO: Animated videos can boost your company's SEO in two ways: 1). Having people watch videos on your site keeps them on your site longer which helps your site rank higher on Google 2). Getting your video to show up in Google Search results makes it more likely for people to click on your video and visit your website.
Examples of Animated Business Videos:
How To Make An Animated Company Video:
1). Pick An Animated Video Production Company or Freelancer
The first step in creating an animated video for your business is figuring out how your animated video will be produced. Are you going to make it in-house? Hire a freelancer? An animation studio? Or an animated video production company like Video Igniter Animation? You'll want to make sure you can find a company that has experience producing animated videos for businesses. You should also make sure their portfolio reflects the level of quality expect for your brand. For more tips on what to look for when hiring an animation studio or service provider, check out this article.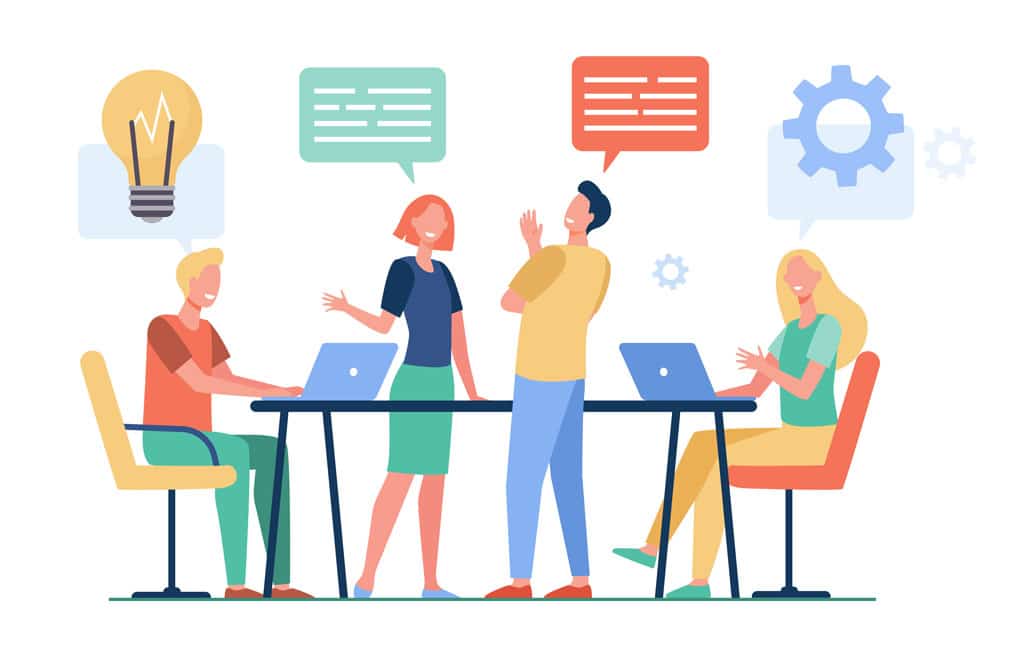 In addition to looking for quality visuals, make sure you pay attention to the storytelling capabilities of the service providers you are looking into. Lots of companies can make pretty visuals but lack compelling storytelling.
Learn More: Learn the pros and cons of working with an animated video freelancer vs hiring an animation studio vs hiring Video Igniter to make your animated business video.
2). Script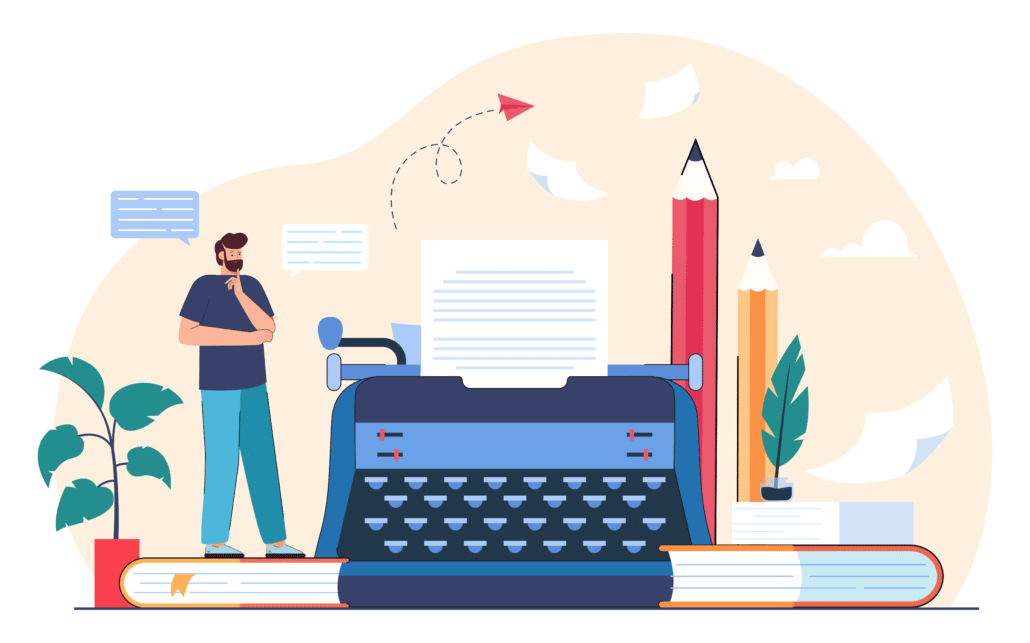 Now that you've picked an animator for your video, it's time to develop the script. Many animated video production companies are capable of helping you organize your thoughts to create a script for your video. You can save hundreds or thousands of dollars on your production budget by creating the script yourself. Aim for 140-180 words for a 60-second script.
Script Writing Resources: 
How to write a script for an animated explainer video.
7 tips to super charge your explainer video script.
Download our free script writing template:
3). Storyboard
Next, it's time to create the storyboard for your company video. The storyboard is like a blueprint for your illustrators and animators. It tells them what to design for each scene. It also tells them what should move in each scene and how to transition from one scene to the next. Animation companies prefer to create the storyboard and share it with their clients for feedback. This is because animation production companies have a better grasp on how to articulate the motion and scene design details in a way that animators and designers will understand what to do.
That being said, video animators are also comfortable working from a storyboard that you provide. You can save hundreds or thousands of dollars on your production budget by creating the storyboard yourself so it's worth considering. If you want to learn more about creating your own storyboard, check out our storyboard creation guide and download our free storyboard template.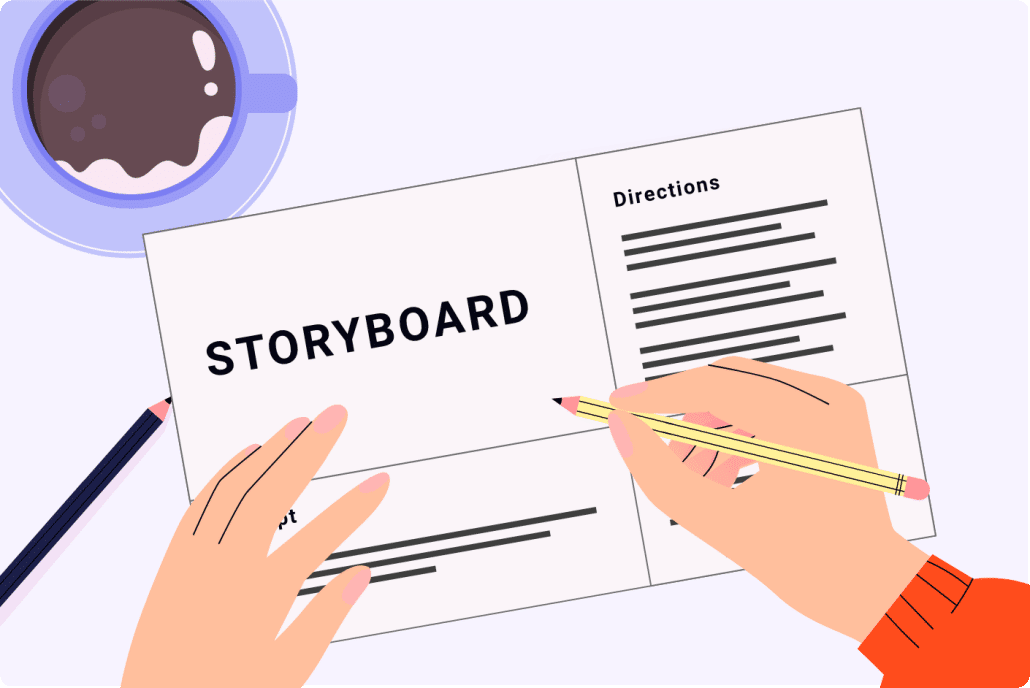 4). VoiceOver
You'll want to ensure you have a professional sounding voiceover to represent your company. You can get quality sounding voiceover artists from websites like Fiverr, Voices123, and VoiceBunny. We recommend auditioning 3-5 of your favorite candidates by having them record the first few sentences of your script – instead of paying for them to record the full script all at once. After you've reviewed the voiceovers, you or the animation studio you work with can hire the VO talent to record the full voiceover. Some VO artists charge extra if you plan to use their voice in a paid media campaign (online and or on TV). Make sure to let your VO artist know how you plan to use the video so that you don't get in trouble with voice licensing costs down the line.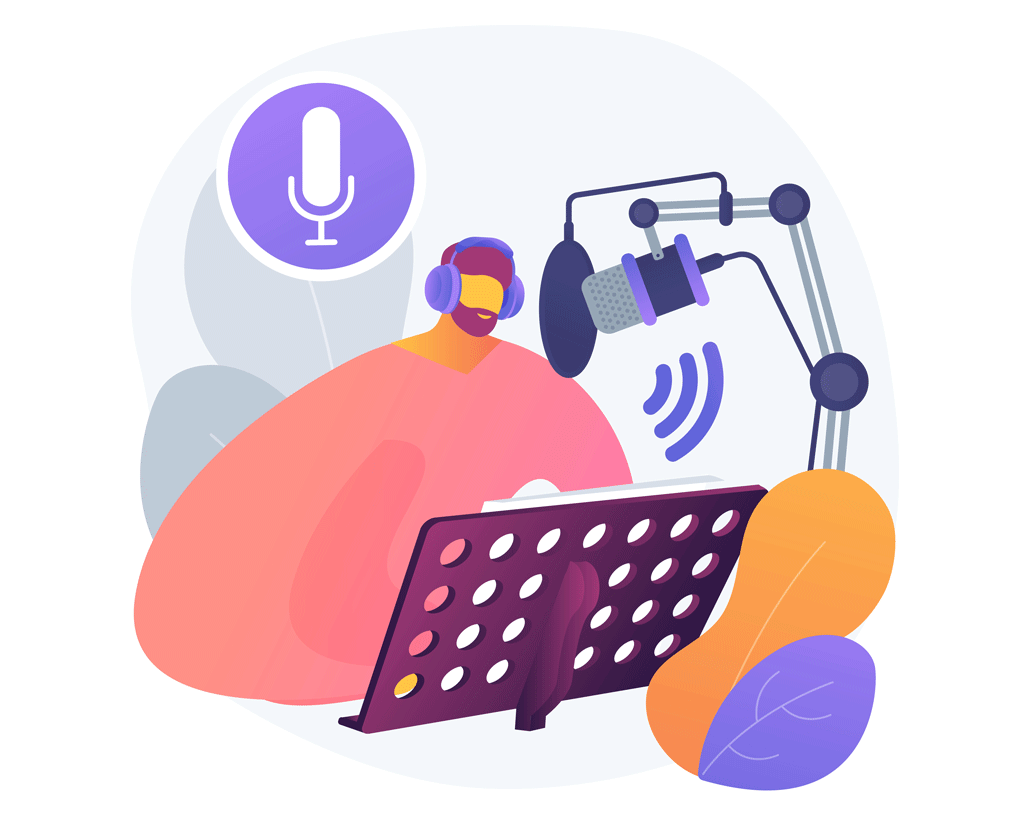 When you share your script with your VO artist, we recommend including speaking notes (in parenthesis like this) with the voiceover. Let them know how to pronounce difficult words. Where to speed up or slow down the rate they're speaking at. When to modify the inflection of their voice, etc.
Budget Saving Tip: You can save $ on your production budget and record your own professional sounding voiceover for free without needing to buy professional equipment. Check out 1:30 in the video below:

5). Soundtrack
The next thing to think about is soundtrack selection. Don't overlook the importance of this step. Picking the right soundtrack for your company's animated video can have a big impact on whether or not people continue watching your video. Obviously, if you choose some off-putting music, people will stop watching or mute your video. We recommend picking a few soundtracks and rendering out versions of your company's animated video so that you can see and feel how they go together. If you pick 3-5 options, usually one will stand out as a clear winner.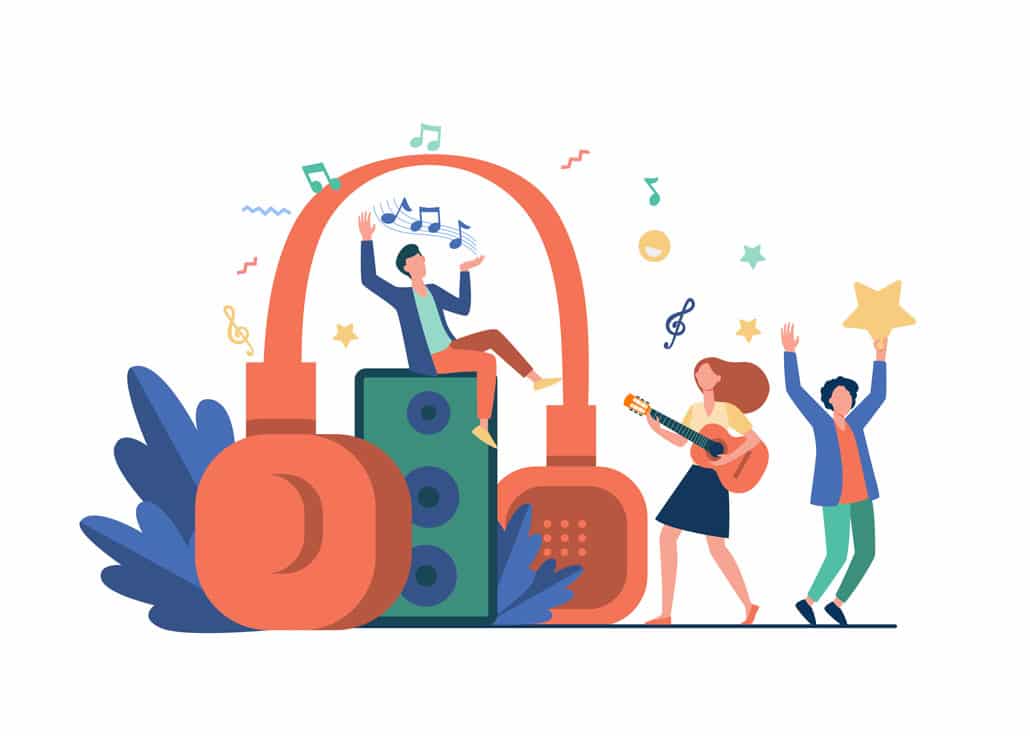 Check out this video for tips to help you pick the perfect soundtrack for your animated video!
6). Art
This is one of the most fun parts of the animation production process. Seeing the concept of your animated video come to life. The art team will start by creating concept art from a few key scenes of your company's animated video.

When you review the options, your job is to figure out which style you like best and if there are any specific refinements you want to make to the concept art before the rest of your art is created. After the concept art is locked in, the art team will create all of the art for your animated video. You get another chance to review the art and request small edits before production begins.
7). Animation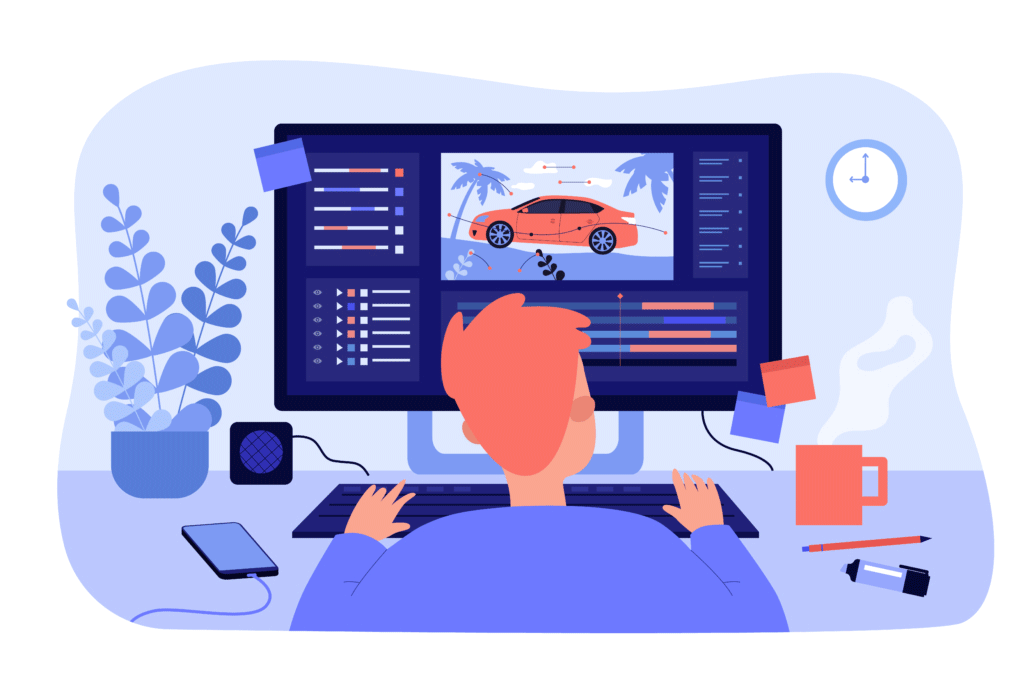 Finally, it's time for the magic to happen. One animator can animate about one minute of video in a week. When you view the first draft of your animated business video, show it to members of your target audience to ensure they understand the message and key takeaways of the video. Collect your feedback and send it to the animation team to wrap up the final draft of the video.
How long does it take to make an animated company video?
2D animated videos take about 3-5 weeks to create a 60 second animated video. 3D animated videos require about twice as much time. You can shave a week or two off of your production timeline if you provide the script and or the storyboard for your company's animated video.
If you need your animated video produced faster, rush delivery options are available. Schedule a call with Video Igniter's production team to discuss.
For more details on the animated video production process & timeline, check out this companion article.
What does it cost to make an animated video?
It costs between $1500-$5000 to produce a quality 60-second 2D animated video. 3D animated videos require a custom quote.  There are ways to make cheaper animated videos but the lower production quality may result a decreased perception of your brand. Check out this article for a more in depth look at what goes into the cost of an animated video:
Hire Video Igniter To Make Your Company Video!
We're an animated corporate video production company that makes custom animated videos for world-class brands like T-Mobile, Amazon Web Services and Snoop Dogg @ prices startups can afford. Check out our portfolio.
Interested in getting some pricing info? Get yourself a copy of our latest rate sheet.
+20 reasons companies love hiring Video Igniter to create corporate animated videos.
Animated Company Video Demo Reel:
Animated Company Video Success Stories & Testimonials
"I run a video production company and outsource animation. The team at Video Igniter did a great job in taking the concept I very crudely drew out and made it into a beautiful animation. The review process was easy and their turnaround time was very quick. I'd def recommend them if you're looking for an animation project."
Pat Henderson – Founder, Path8 Productions
"Video Igniter came to us with a number of creative and engaging ideas and were able to create an exciting, impactful video in a short period of time. And the best part was that it cost much less than other options of similar quality. The video they made is a great marketing tool for us."
Alex Raymond – Founder, Kapta Systems
"I found exactly what I needed: custom animated production with lots of options, fair price and fast communication. I loved working with the Video Igniter Team. Million thanks."
Antonina Rome, MD – Bioresona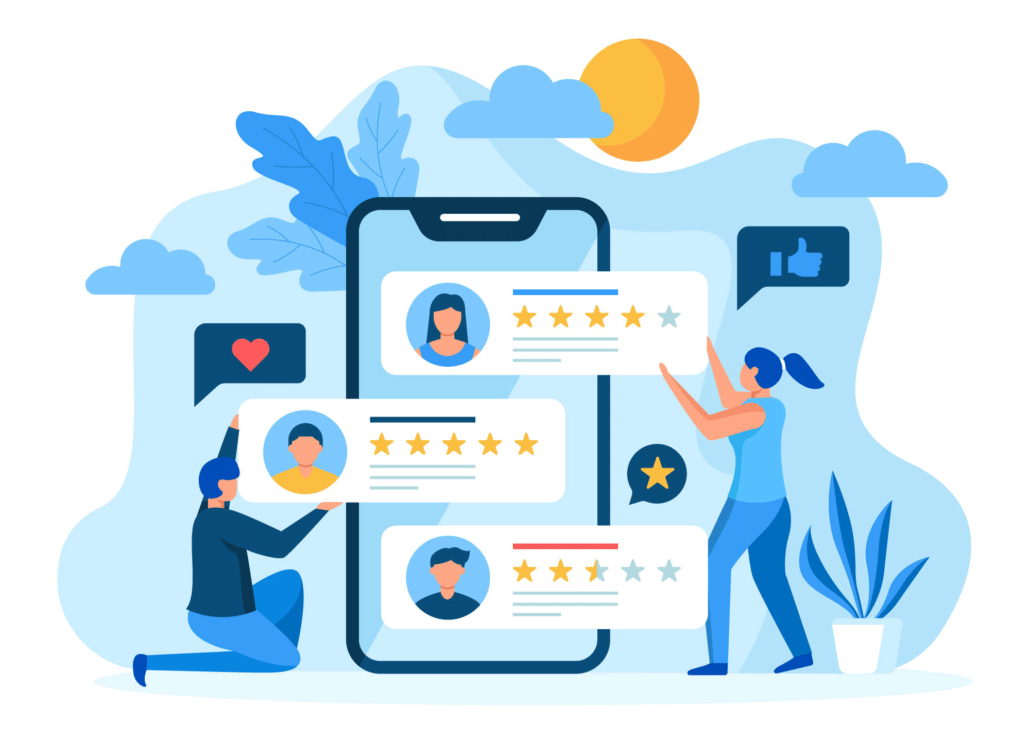 Get An Animated Video For Your Business!
Schedule a call with our production team to discuss your animated company video.
Get a quote for your animated business video.
Request access to our newest price sheet.
Create your Video Igniter account and start making your corporate animated explainer video.
https://videoigniter.com/wp-content/uploads/2022/09/Animated-Company-Video.svg
77.66
87.74
videoigniteradmin
/wp-content/uploads/2020/02/logo-v2.svg
videoigniteradmin
2022-09-16 20:23:23
2023-08-07 17:44:50
Thinking About Getting An Animated Company Video?